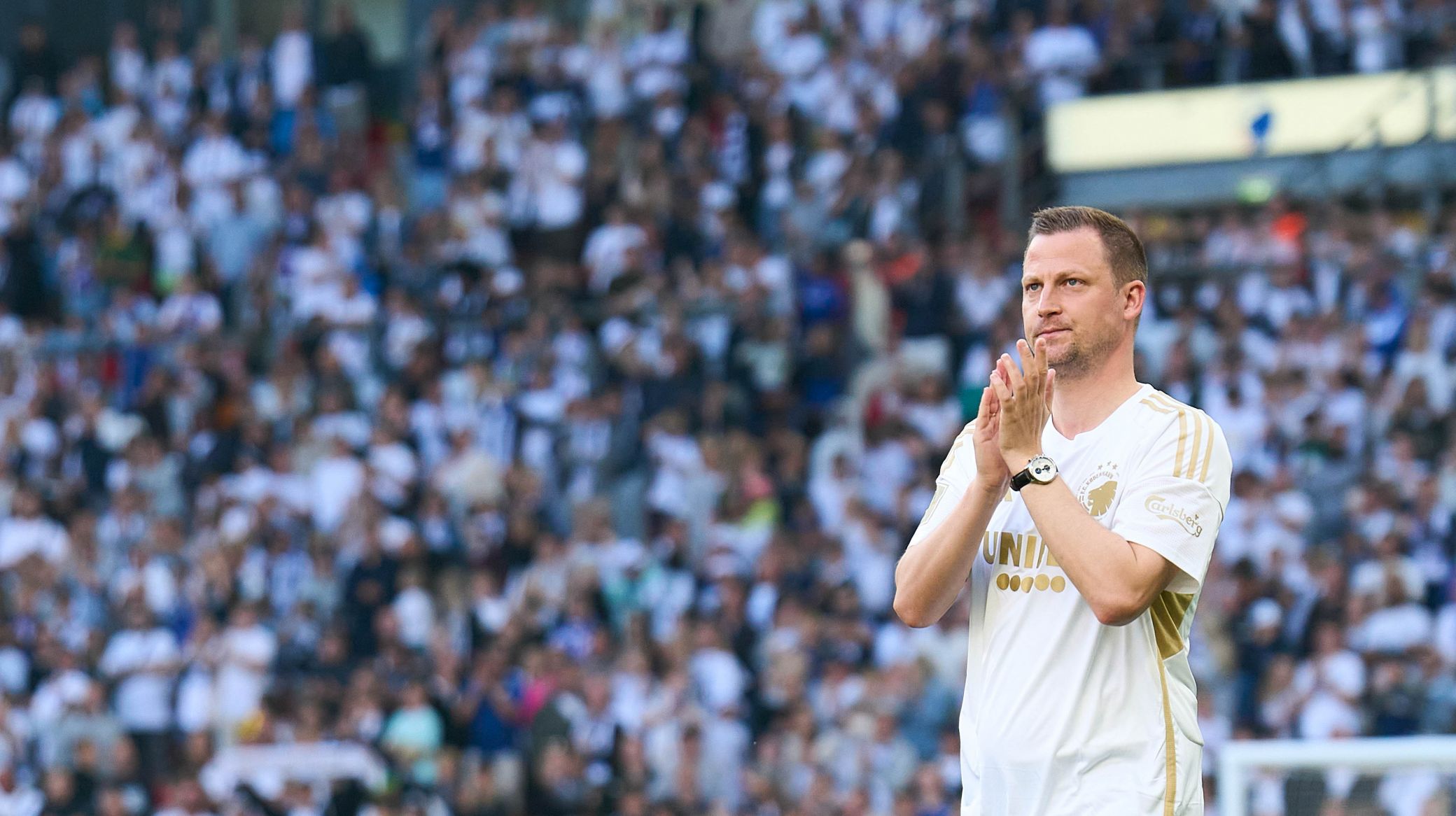 Lars Rønbøg, Getty Images
Neestrup reflects on winning the double
06/06 2023 11:57
F.C. Copenhagen head coach Jacob Neestrup says he's ready to celebrate before focusing on next season after seeing out the 2022/23 campaign with a 1-1 draw against Randers.
FCK can look back at a successful season in which the Lions won the Danish Cup and Superliga title.
The fans celebrated with their customary 14th-minute inflatable bonanza in the Parken stands on Sunday, and after the game the players were presented with the Superliga trophy.
Reflecting on the game and the season as a whole, Neestrup said: "I guess there isn't much to say about the match itself, apart from the inflatables!
"Of course it's more fun to end with a draw than a defeat, but that's how it often happens when everyone has worked so hard for so long to achieve what we've all dreamed of.
"So now it's just about celebrating! I didn't celebrate on Monday [when the title was confirmed], I just went home early because I was simply so tired. It was so physically hard for me to get through that Viborg match!
"It's been a crazy season, but I've always believed in us and even though we lost in Farum, I had faith that we could win our final few games. There has been enormous pressure on everyone, and we have contributed to that ourselves, but that may also be what has helped to carry us through.
"There are many people who have had a big part in this, first and foremost the group of players who have stood together through thick and thin, but also everyone else around the team who has worked hard to ensure that we've reached this point, where we can stand here and celebrate a championship after we were 10 points behind in the autumn.
"Now I have a few different things to do at home for the next week, but then I'm going on holiday in Crete for a few weeks with the family. Of course I'll have the mobile on, because that's the way it is. And I am looking forward to the new season, where there are many things we can improve.
"Amongst these, we need to recapture our style we had until a month ago, because in recent games we have had to be ultra cynical to ensure that we crossed the finish line first. We have to develop our game and I'm looking forward to us getting several key players back from injuries.
"For long periods of the season we've had 30% to 40% of our player budget sitting on the sidelines, but it is the most expensive players who have to be the mainstays, so that will increase the probability of success when they are ready.
"I'm also looking forward to a season where everyone starts with the same number of points, because next season the competition might never been greater. Several clubs have taken big steps this season including AGF, the way Viborg play, Nordsjælland, who we have had some crazy matches with, and we should expect that Midtjylland and Brøndby will be better after the break.
"So we have to be prepared for that. But now we and all our fans must celebrate these titles and then relax a bit before we start again on a new season."