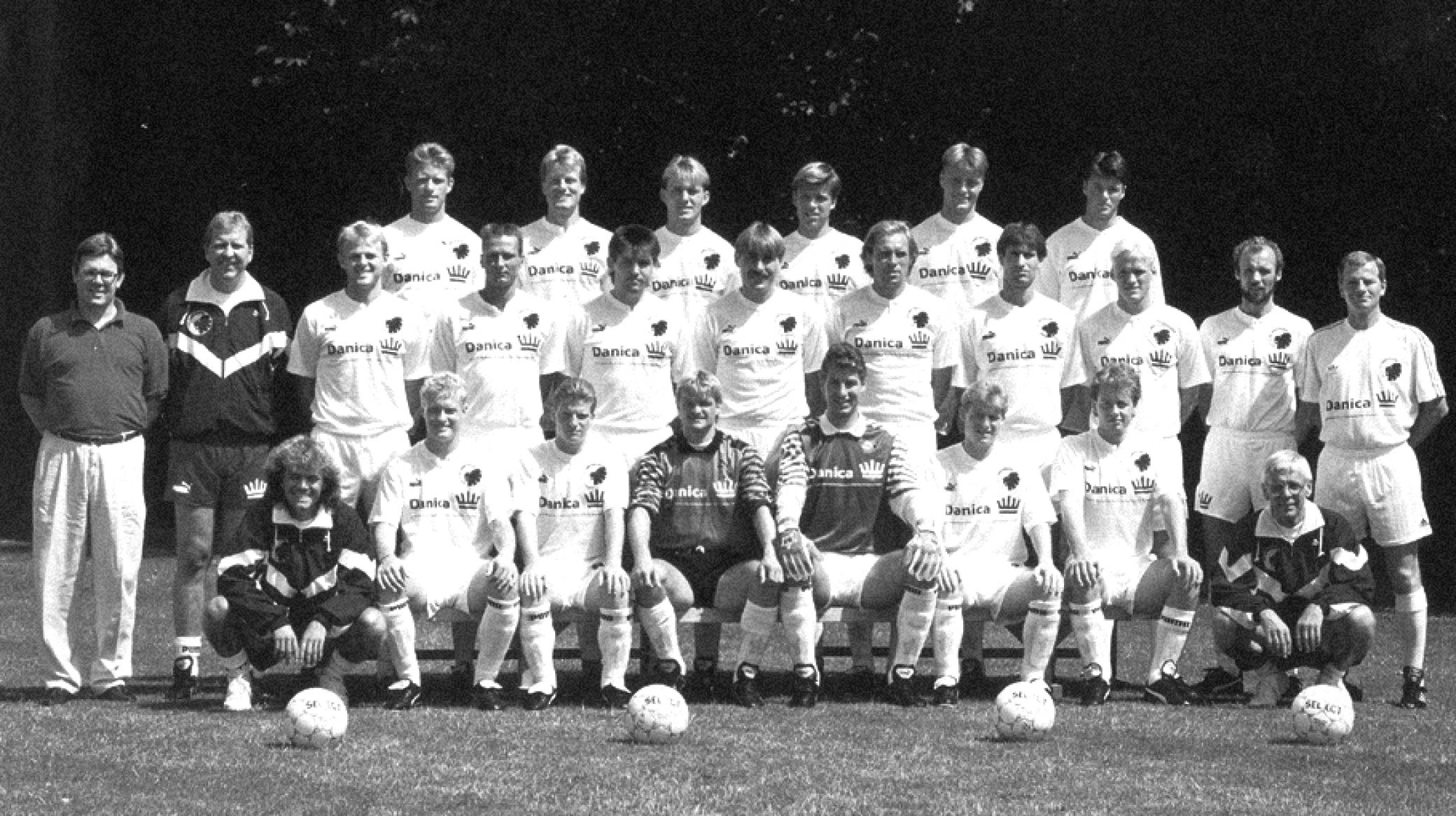 Squad 1992
History
Football Club København (F.C. Copenhagen) is in many ways both an old and a new club. Even though the club was established in 1992, it is nevertheless rooted in over 100 years of club tradition.

F.C. Copenhagen is unique in Scandinavia, as the clubs first team represents two separate clubs : Kjøbenhavns Boldklub - KB - (mainland Europe's oldest football club) founded in 1876 and Boldklubben 1903 founded in 1903.

The timing is right...
Football clubs are proud of their heritage and history and KB and B1903 are as fiercely individual as any other clubs. KB were the very first winners of the Danish league and have won the national championship 15 times. B1903 have been champions on seven occasions and cup winners twice, and both clubs have set their mark on Danish football through the last century.

KB had actually attempted to run professional football on two previous occasions in the 1980's but both times had failed to muster enough financial support, and for many members of KB, it had been a long time since they had enjoyed football success at the highest level. B1903 on the other hand was an established top club in the Danish Superliga right up until 1992, with disappointing attendances (average gates under 2,000) but with the all important financial backing of a local entrepreneur: Alex Friedmann. KB were therefore keen to have a team playing professional football while B1903 had a good squad of players but an uncertain future, after it was clear that.

Friedmann was unable to guarantee his support for much longer - the scene was set for a "fusion". Another event coincided to make the new club possible. The rebuilding of Denmark's national stadium - PARKEN - meant that the new club had a ready made top-modern stadium to play in and could therefore come away from the rather feudal facilities available at B1903 and KB.

B1903 and KB continue to fulfil an important role today as two clubs rooted in their local communities in Copenhagen. They are now bases for talent development for their "shared" first team - F.C. Copenhagen.

The new club F.C. Copenhagen was established on the 1st July 1992.

Ambitions and expectations...
1992 remains one of the golden years in Denmark's sporting history, and it is not just because F.C. Copenhagen was formed in that year! 1992 was of course the year that Denmark surprised the rest of Europe and won the European Championship. - after being late replacements for banned Yugoslavia. F.C. Copenhagen therefore started on a wave of football interest and national football pride... the timing was right.

The club's original ambitions were:
- To be among the top 3 in the Danish Superliga and/or win the Danish cup and therefore qualify for one of the European competitions every year. - To have a responsible economy - To build up a local fan base and establish a wide corporate backing. - Play attractive positive football. - In the long term - to spearhead the Danish attack on European club honours.