F.C. Copenhagen season tickets and monthly subscriptions are now on sale for the 2022/23 campaign.
The Lions have already broken the club record for the most season tickets sold, with at least 18,200 supporters securing their seat for the upcoming season.
FCK will defend the Danish Superliga title in 2022/23, and will also compete in either the UEFA Champions League or the UEFA Europa League. What's more, the team will be eyeing a first Danish Cup win since 2017.
You can buy your season ticket or subscription today for all four sections of Parken Stadium. The new season kicks off in July – so don't wait to secure your seat for Copenhagen's biggest sporting events!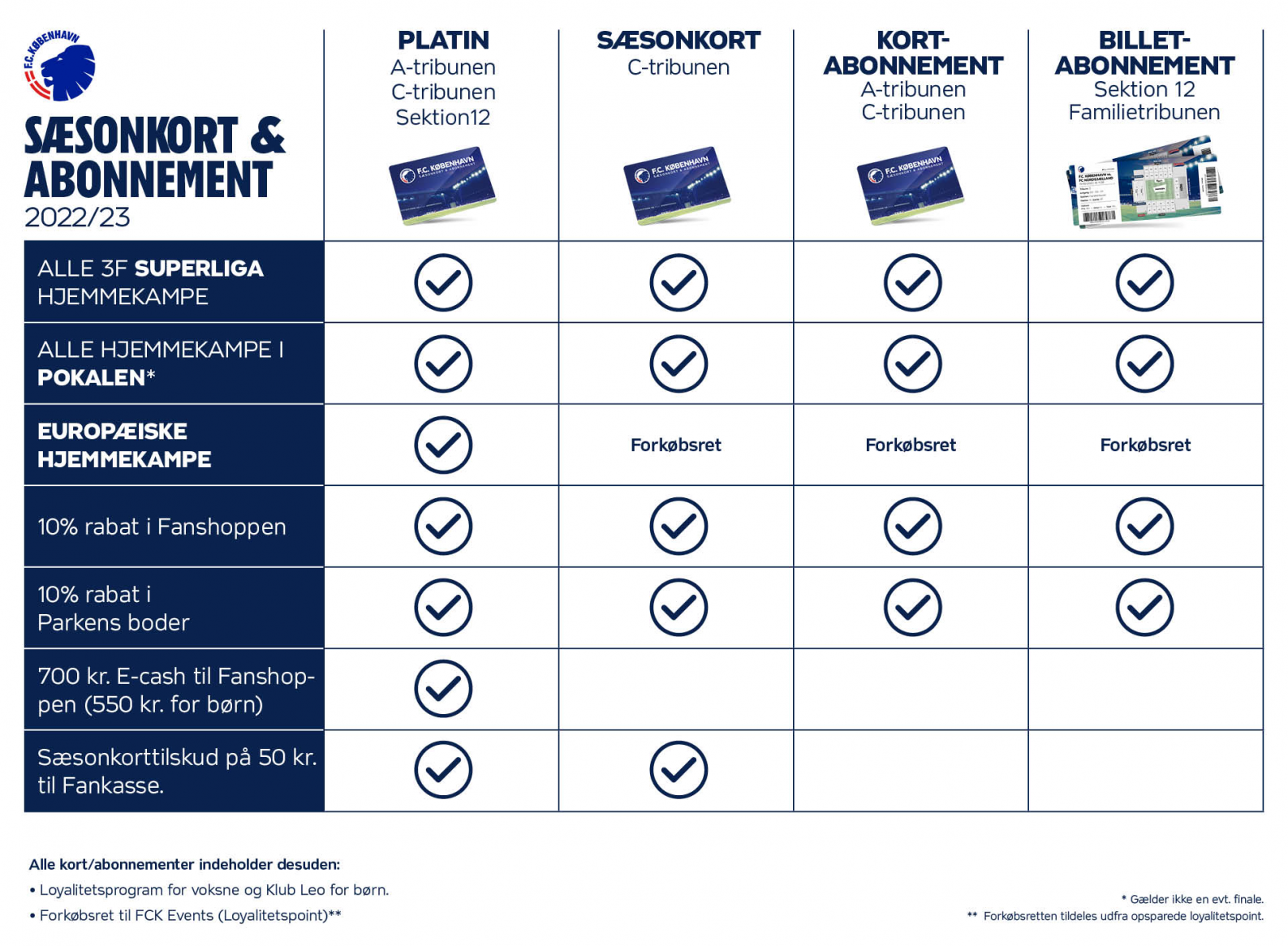 WHICH STAND SUITS YOU? THERE IS SPACE FOR EVERYONE IN PARKEN!
F.C. Copenhagen has room for everyone and to come to watch football. You can get season tickets and subscriptions to all four stands, and find the place that's right for you. Whether you want to come with your kids, make noise behind the goal or sit back with a magnificent view of the stadium, we've got you covered…
Lower C Stand - This is one of the most vocal areas of Parken, where standing supporters come together from all walks of life in Copenhagen. The Lower C is an iconic stand that has passionately supported the team since 1995.
>>> Look for Lower C tickets here
Sektion 12 - FCK's most active and noisy fans stand behind the home goal in Sektion 12. This is where you'll find the famous FCK tifos and where many chants originate throughout matches. Sektion 12 is only open to fans aged 15 or over, and is currently sold out. However, you can join the Sektion 12 waiting list for a season ticket or subscription.
>>> Look for Sektion 12 tickets here
The Family Stand - Families from across Copenhagen can come and enjoy the football in a safe and secure environment in the Family Stand. There's also entertainment for the kids, with autographs, selfies, football darts, PlayStation, competitions and other amazing activities to enjoy. You can also dine at the Klub Leo Lounge with the whole family before kickoff.
>>> Look for Family Stand tickets here
Upper C Stand - Get the best views in Parken and enjoy a total overview of the game from the Upper C. More and more supporters are choosing the relaxed atmosphere and comfy seats in the Upper C!
>>> Look for Upper C tickets here
Upper A Stand - A new launch for FCK, it is now possible to once again sit in the A Stand's upper tier and enjoy fantastic views of Parken Stadium.
>>> Look for Upper A tickets here