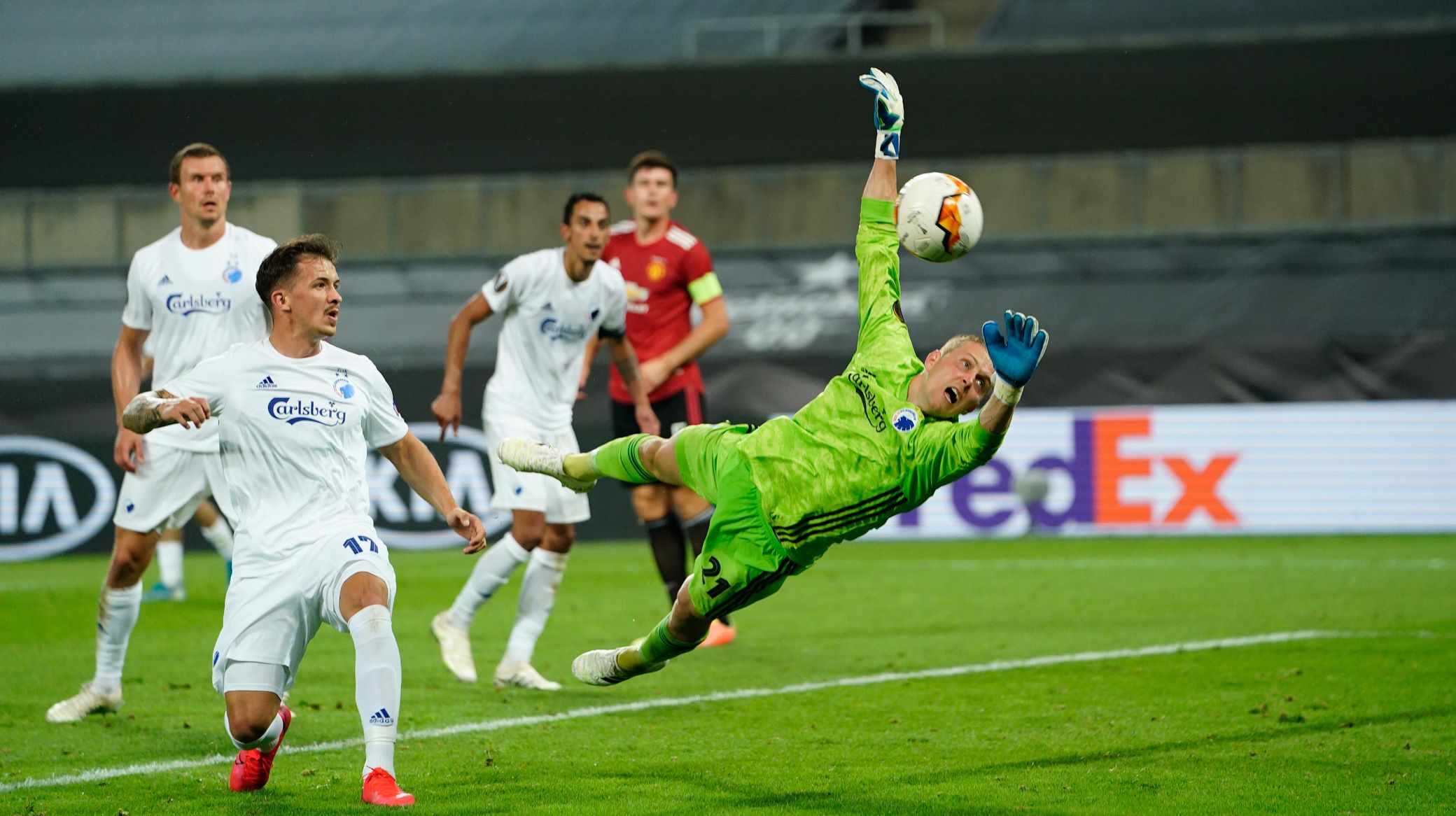 Lars Rønbøg, Getty Images
Kalle Johnsson: 13 saves probably my personal record
11/08 2020 11:37
F.C. Copenhagen goalkeeper Kalle Johnsson called upon a number of times in the UEFA Europa League clash with Manchester United on Monday night.
The shot-stopper produced 13 saves to keep the Lions in the tie, but United eventually won 1-0 after extra time thanks to a Bruno Fernandes penalty.
Former England striker and Match of the Day presenter Gary Lineker called his performance's "ridiculous", while Cesc Fabregas tweeted: "Game of his life this keeper. Incredible."
And Johnsson was pleased with the praise he received, even though the result didn't go the right way.
"It's fun," he told FCK.dk. "You're happy to read it.
"I'm just trying to do my job and help the team. But it is nice that your performance is noticed."
According to the BBC, Kalle produced 13 saves in the match - the most for a goalkeeper in a Europa League tie for over 10 years.
Karl-Johan Johnsson has made 13 saves this evening - the most by a goalkeeeper in a single #UEL game since 2009

Follow 👉 https://t.co/lprskPai1G
Listen 📻 https://t.co/B0PYRrbnB9#bbcfootball #MUNCOP pic.twitter.com/BwrCzpx7wH

— BBC Sport (@BBCSport) August 10, 2020
And the Swede admits he had a busy night in Cologne.
"This is probably my personal record. I remember once in a match in France I had 11 saves against Lyon," he said.
"It was probably the most - until yesterday! In terms of results, it was a bit annoying, but in terms of performance, it was probably the best way to end the season.
"We should all take that with us into next season.
"It was a good match, both for the team and for myself. I got into a good flow, even though I actually felt that didn't start well - they got, among other things, a goal ruled out for offside after all.
"But after that I got better and made some important saves, which always helps with self-confidence. It was a pity that we did not get a good result, but I am happy with my performance all in all against such a strong United team."
The FCK players will now head on holiday for a few weeks before preparations start for the new European and domestic seasons.