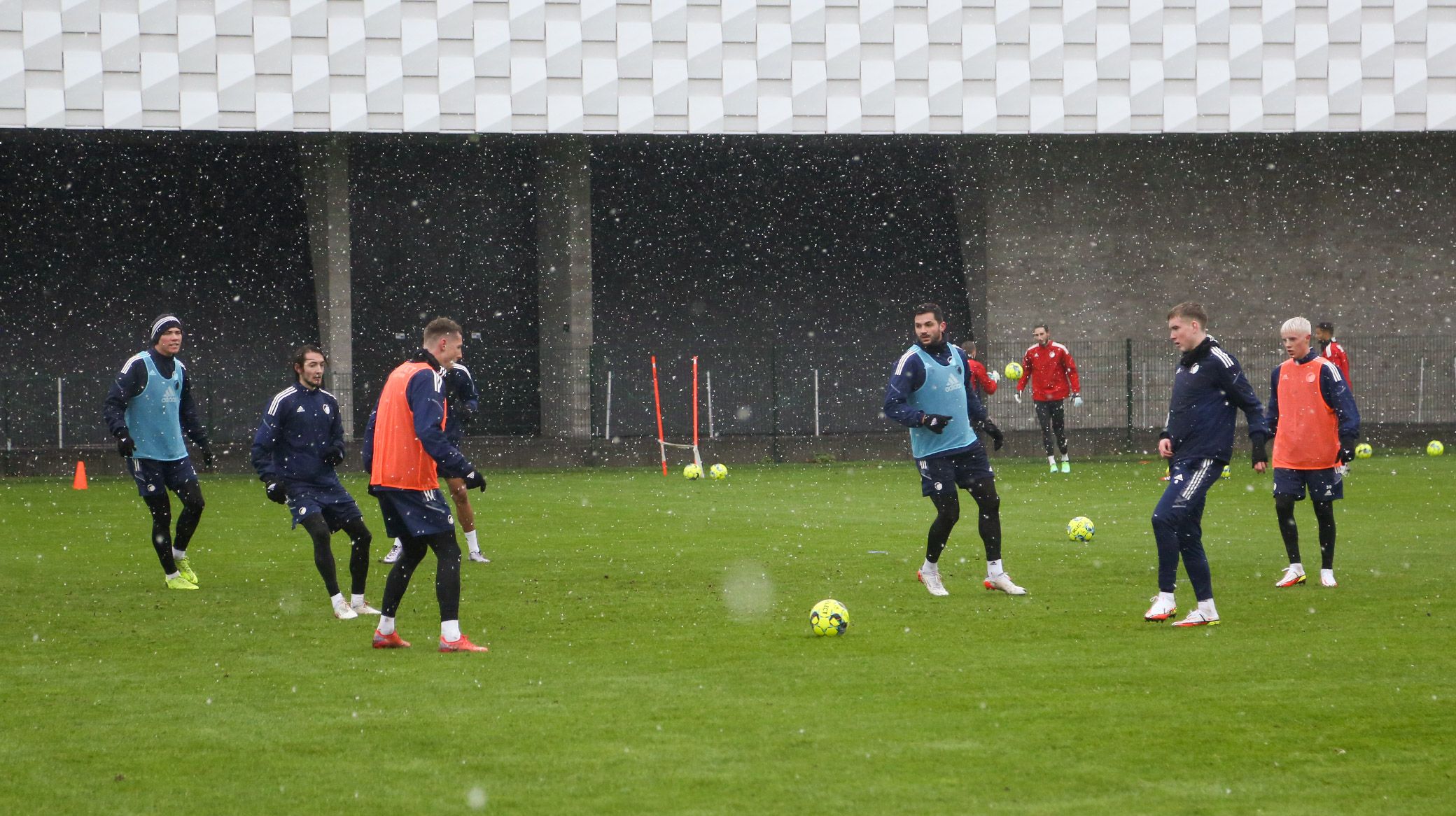 Torkil Fosdal, FCK.DK
FCK squad status
10/01 2022 16:49
F.C. Copenhagen's squad returned to training on Monday following the Christmas holidays, and preparation now begins ahead of the Danish Superliga's return.
FCK will take on OB in their first game back after the winter, in Parken on Sunday 20 February. Between now and then the players have a few weeks to get back into shape, while there are plans to conduct a winter training camp in Portugal.
Here, fck.dk provide some updates about the team and the club's plans for the players over the coming weeks…
Covid-19
As with many other clubs at home and abroad, Covid-19 remains a challenge.
We have had both players and staff members infected during the winter break, and some still are. But in general, we will not be providing continuous Covid-19 updates specifically in relation to individual players or staff members, until we reach the return of the Superliga season, unless a situation arises that has an impact on the entire team.
We expect there to be ongoing instances of players who cannot participate in training because they are either infected or are withdrawn as a precautionary measure, because they were close contacts with the infected person or may be suspected of being infected in general.
Injury status
FCK headed into the winter break following the home game against Slovan Bratislava on 9 December, where as many as 12 players were ruled out for various reason. A month later and the status of injuries in the squad is that everyone is expected to be ready for the resumption of the league on 20 February, except for long-term absentees Carlos Zeca and Valdemar Lund.
Of course, new injuries and setbacks may occur, but this is the assessment we have today. However, not everyone is ready to train to their full extent right now, so here is a brief overview of the players who were sidelined at the end of 2021:
Zeca and Lund
Carlos Zeca is recovering after his cruciate ligament surgery, and Valdemar Lund is recovering after a hip operation, which was performed shortly before Christmas.
Boilesen and Ankersen
Nicolai Boilesen and Peter Ankersen underwent minor operations in early December and are rehabilitating according to plan.
Our assessments lead us to conclude both men should be back in full training come the camp in Portugal, and should therefore be ready for the restart of the season.
Falk, Stage and Lerager
Rasmus Falk was out for large parts of the autumn but is now ready again to train fully.
Jens Stage and Lukas Lerager didn't face Slovan Bratislava in December due to minor injuries, but are also ready to train fully again.
Diks and Baldursson
Kevin Diks and Andri Baldursson missed the last four games of the autumn and have recovered according to plan, and will participate partly in training until they are ready to go at full throttle.
Singh
Luther Singh is back at Number 10, where he is following an individual training programme. It has not yet been decided when he will fully participate in first-team training.
First friendly match on Wednesday 19 January
We have scheduled our first friendly match to be played against B.93 on Wednesday 19 January at 3:30pm.
It has not yet been confirmed whether this game will be played at Number 10 or somewhere else in the Copenhagen area, and we are currently investigating the opportunities to stream all our training matches.