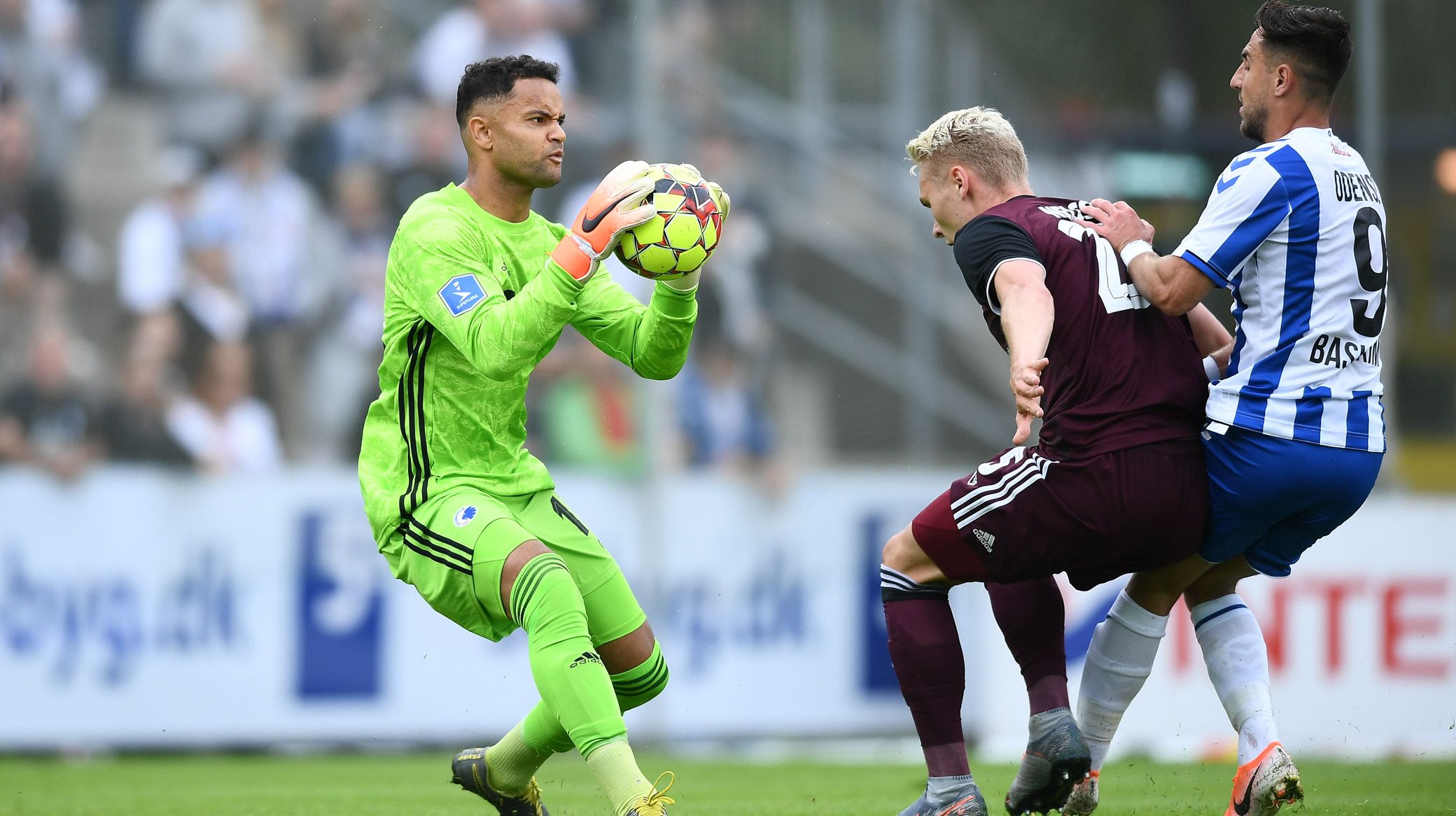 Lars Rønbøg, Getty Images
FCK manager and debutants react to win at OB
15/07 2019 12:54
FC Copenhagen manager Ståle Solbakken was delighted with the resolve of his team after a 3-2 fightback win over OB on Sunday.
The Lions found themselves two goals down at 31 minutes of the new 3F Superliga season.
But a Jonas Wind strike and two goals from Dame N'Doye secured three points.
"It became a very uneasy fight, where both teams were better offensively than defensively," said Ståle.
"Almost all of OB's many chances came in battles because we either lost easy balls or because we made the wrong decisions.
"However, I would say OB's first goal was very well created and not caused by our mistakes, but their second was our fault.
"We knew that players such as Robert Skov and Viktor Fischer are not yet 100 per cent fit, but it is a very severe balancing act because we need to get them ready for the European qualification matches, and so they have to play.
"Fortunately, we had Dame N'Doye at the very top today, he was just excellent and he is a great example for the team both on and off the field."
FC Copenhagen also had a number of debutants playing their first competitive games for the Lions on Sunday.
And FCK.dk caught up with them after the match.
Victor Nelsson
"We had to fight hard right to the end, but we got the victory, and that was the most important thing. Performances come second.
"OB were clearly the best before the break, where we threw too many balls away and were not solid enough on the pitch. But we were much better after the break, where we stood more compact and showed great morale by turning the game into a victory.
"I have joined the team a little late because of the U21 European Championships and my holiday, so there are still some minor adjustments in my defensive game. But I do know the FCK system well from the Superliga, and I think it suits me well, so there is not much more needed before it's all natural for me."
Jens Stage
"We showed really strong character today by turning a two-goal deficit into a victory. It was great to be subbed on and get my debut when some of the others got a little tired and I just went in to knuckle down and do my best.
"It was a perfect start with three points - and now I look forward to it also being fun on Friday when we meet AGF!"
Sten Grytebust
"Of course it was a bit special to have my debut here, where I played a little over a month ago, but I have known for a week that I would be in goal, and the closer we were to the game, the more I just looked forward to it. And it was nice to end it with a victory!
"Defensively it was not our best match, because they got too many chances, especially before the break, but we got it right in the end."
Next up for FCK is our first home game of the season in Telia Parken against AGF on Friday, July 19.
And there are still plenty of tickets available for the match!