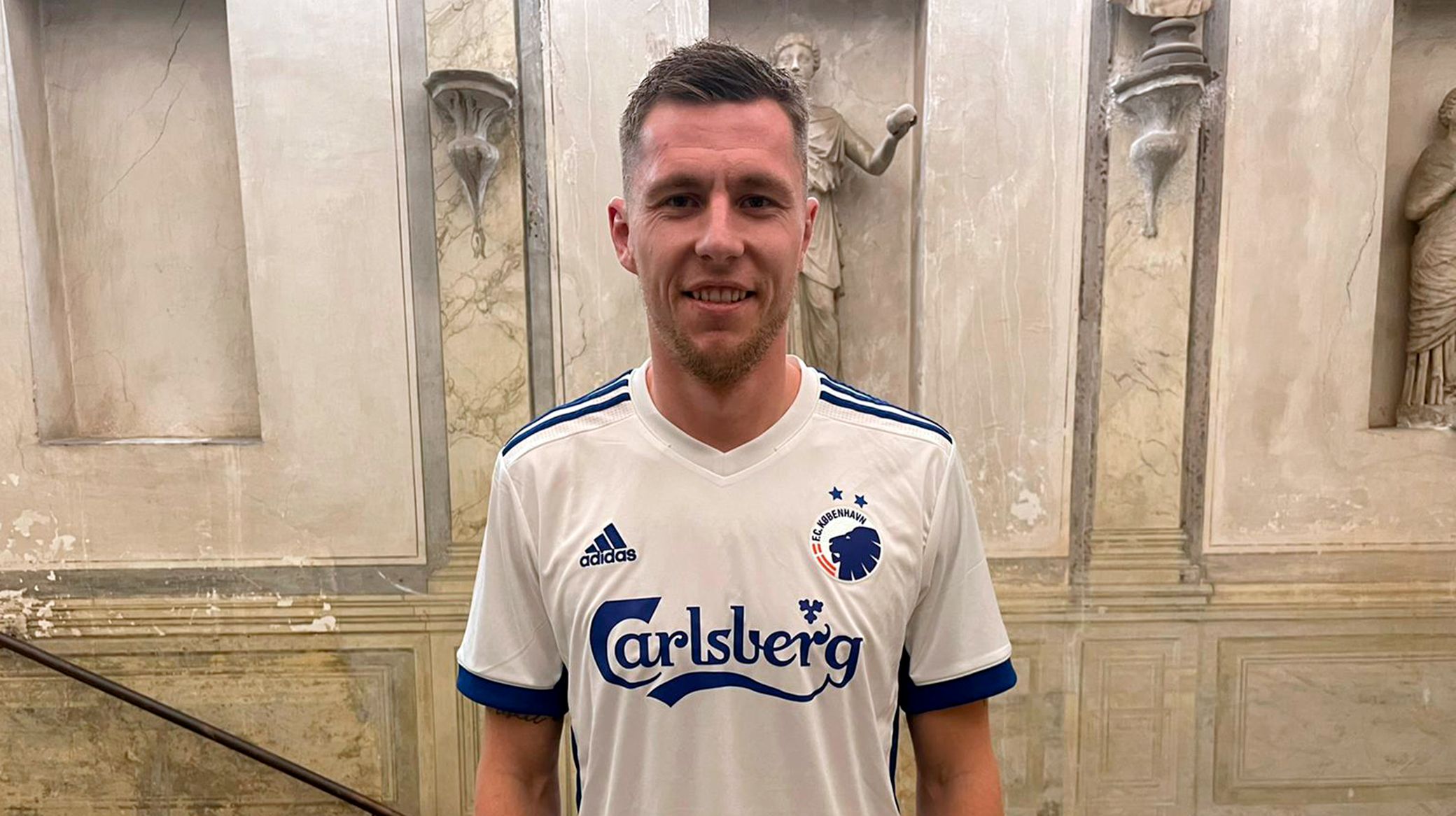 FCK.DK
F.C. Copenhagen sign Lukas Lerager before transfer deadline
01/02 2021 21:30
F.C. Copenhagen have signed Danish midfielder Lukas Lerager from Genoa C.F.C. on a loan deal, with the possibility of making the move permanent.
 
Lerager, 27, boasts 10 caps for Denmark and at club level he has played for both AB and Viborg in Denmark. In 2016 he was sold to Belgian side Zulte Waregem and a year later headed to the French Ligue 1 club FC Girondins Bordeaux. Lerager switched to Genoa C.F.C. in January 2019. In total, he has played more than 150 games for the three clubs.
 
And now the midfielder is returning to Denmark and F.C. Copenhagen.
"We are both happy and proud that a talented player like Lukas sees himself as part of our project, even though he had a great contract in Serie A and opportunities to stay abroad," says William Kvist.
 
"It is not often that a player at his age with great experience and lots of playing time in good clubs in France and Italy chooses Denmark, but we have had good talks with Lukas and those around him, and we are really looking forward to having him in the squad and increasing competition further.
"He may have gone a little under the radar in Denmark despite having a really good career in the strong leagues of Belgium, France and Italy, where he has played for all his clubs and built himself up step by step, not to mention getting noticed by the national team.
"We see him as a versatile and really strong midfielder, covering several of the key positions in our system and he fits in really well with our way of playing.
 
"He has a great physical capacity, a strong mentality and at the same time good technical and tactical qualities. Overall, we are convinced that he has the ability to quickly slip into our way of doing things.
 
"He has been playing at a very high level for quite a few years and he also knows all about this club, city and league. That is of course an advantage."
FCK head coach Jess Thorup also welcomed the arrival of Lerager.
 
"We have always focused on the fact that we only wanted quality in and not just sign players for signing sake, and I would like to acknowledge that our owners and board have shown great confidence in us by being ready to act in the middle of a challenging time. It shows that there is real support for the project," Thorup said.
"With Lukas, we definitely add quality to the squad. He is a skilled box-to-box player with a great running capacity and good abilities, and he is not afraid to get stuck in.
 
"We have strong midfielders already, but we need there to be maximum competition in all positions. We lacked something central in the midfield, where I can see him playing both as a six and an eight with us.
"Now we have to get him on the training ground as soon as possible. He knows the club and many of the players already from the national team, just as I myself have worked with him for the U21 national team in the past.
 
"We now have the breadth of squad that we want and I am optimistic about the coming months where we will try to become the dominant team this spring and see how far it takes us. Lukas will definitely contribute to that."
Lerager began his footballing development at AB on the outskirts of Copenhagen and is looking forward to returning to the capital and representing the city's team.
"I am incredibly happy that we have succeeded in getting this agreement in place," Lerager said.
 
"When I heard that F.C. Copenhagen was an opportunity for me, I knew that it was a challenge and I had plenty of motivation for it.
 
"FCK is not just a big club in Denmark and Scandinavia, but to a large extent an international club. I myself have played against FCK with Bordeaux and know that they are a club with great ambitions to be among the best.
 
"I look forward to being a part of the project that has started here, and I will do everything I can to meet both the club's and the fans' goals and expectations.
"I have been abroad for a number of years now, so it will be exciting to be in Denmark and Copenhagen again. I know many of the players on the team in advance and I have only received positive messages about the club and the whole setup.
 
"I know there is a lot of quality in the squad and I want to work hard to contribute and become part of the team both on the training ground and in the matches. Right now I am most looking forward to getting out on the field and meeting the whole team and staff as soon as I can."
Lukas Lerager
Born: 12 July 1993
Previous clubs: AB, Viborg FF, Zulte Waregem, FC Girondins Bordeaux, Genoa C.F.C.
International matches: 10 Denmark caps and 16 appearances for the country at youth level