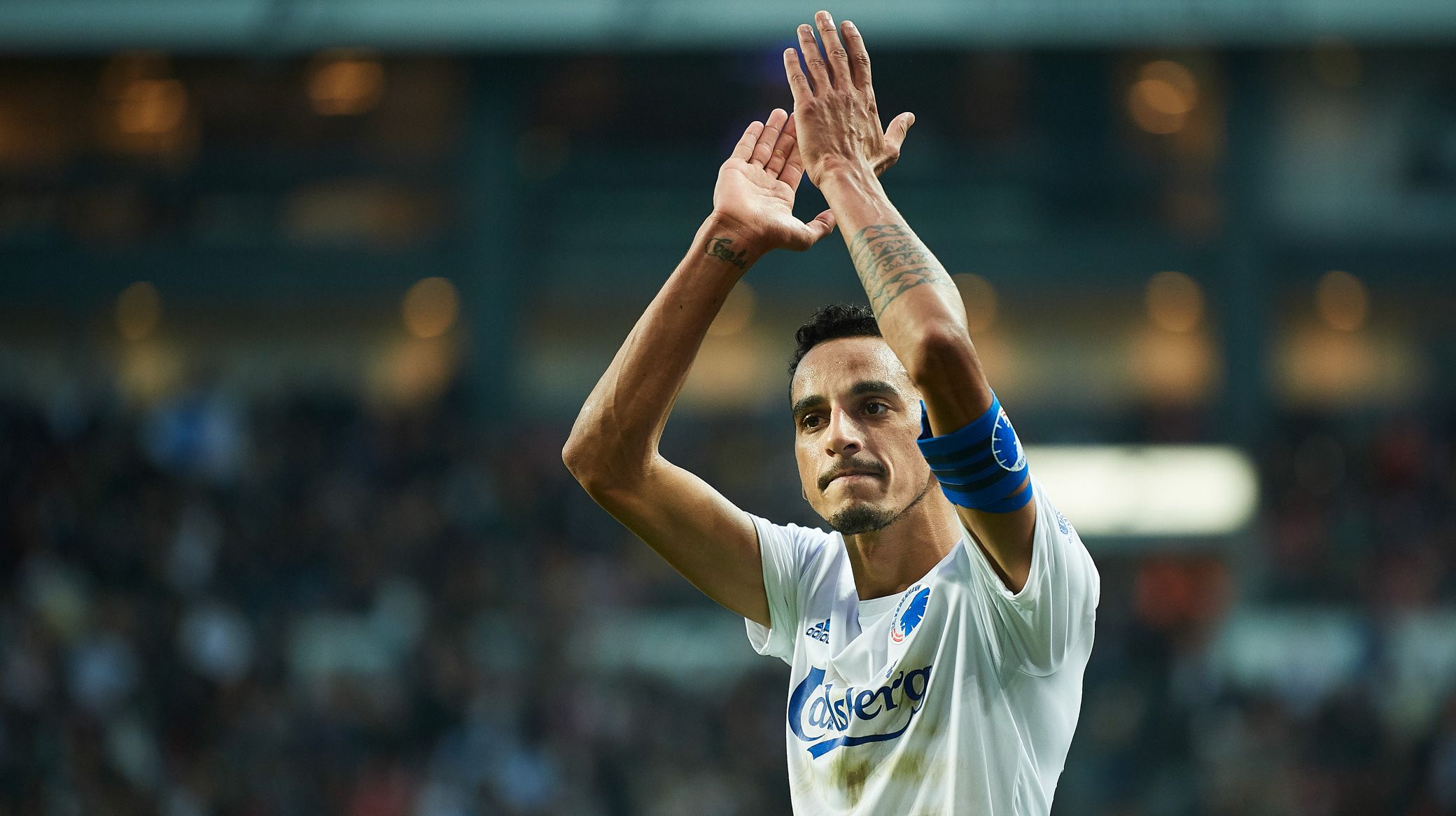 Lars Rønbøg, Getty Images
Zeca answers FCK fans' questions
27/03 2020 15:44
Wednesday night saw Carlos Zeca answer questions from F.C. Copenhagen fans on the club facebook page.
FCK players are training at home right now due to the coronavirus outbreak and Zeca was on hand to chat with supporters.
 
René Laursen: Hi Zeca, we miss you on the field! Many of us have a hard time when we can't see our family. Thinking it must be extra hard for you, who is so far from family. Do you manage and see them via video link? Feel your pain…
Zeca: Being away from my family, especially my daughters, is very hard. I know they are in good hands and I talk to them every day but I miss them a lot so I am really looking forward to seeing them again. We try and help them with lessons a lot.
Magnus Ploug: How do you feel about the coronavirus affecting all of football?
Zeca: Of course, it's a terrible thing about the illness, and that's why football isn't the most important thing right now. Human life is always the most important thing.
Carl August Hovgaard Ramlau: Hi Zeca, do you have a mental coach? And if you have, how does he / she help you in this difficult time?
 
Zeca: We have a talented man named Martin who helps everyone on the team with the mental work. He's always good to talk to, but it's not just now, but in all the situations we have to deal with as a team. Of course it is a difficult situation right now, but we must remember that many are enduring much worse than us footballers. We miss playing matches and training as usual, but those in the hospitals and those with the disease are much more important than us.
 
Michael Frimann Toubeily: What does it mean for you to see a fan with your name on your back? Is it something that you notice and appreciate?
Zeca: That makes me proud! This means that they respect what I do for the team and the club.
Andreas Engman Iversen: Why did you choose to play for Greece and not Portugal? You have the level to make you starting XI for both…
Zeca: Greece gave me the opportunity and I never got the opportunity to play for Portugal. It was the best decision and I have strong feelings for Greece.
Andreas Pahn: Who is your best friend on the team and which of the old players do you miss at FCK?
Zeca: My best friend is Sotte (Sotirios Papagiannopoulos) and I miss Pieros. We have a strong friendship, all three of us.
Josephine Stefansen: Which super power would you rather have? Could be flying, X-ray or invisible?
Zeca: Being able to fly! Then I can would get home to my daughters in Portugal faster.
 
Rasmus Bruus: Hi Zeca. Do you feel like you have control over the guys on the field? Feels that many are not playing optimally right now.
Zeca: We definitely would have liked to do better in the league. It's not about lack of will or fight, but we haven't found the same rhythm we had last year. That's because of a lot of injuries, team replacements, many matches and other things. We are working on that and I feel we have a strong team that can get a lot better over time.
Kim Engslev Byrialsen Jonas Freese: Can we get an answer to if you eat Duracell with V-power gasoline on for breakfast?
Zeca: NUTELLA AND WAFFLES! And bananas…
Lars Bech: Hi Zeca, there are traditionally very strong family ties in Portugal. Is it difficult in these times to be so far away from your family at home? Your parents, grandparents and siblings?
Zeca: That's a good question. It is very hard not to be with my family. I want to be with them and help them, and it's hard to be here alone for me. It's always hard to stay away from the ones you love, but especially right now.
Kasper Thomas Olsen: Hi Zeca. Obviously one of your best talents is that you can predict your opponent's next move and therefore you win a lot of duels, is that something you train for or is it instinct?
 
Zeca: I think it's a combination of experience and instinct. I've always been good at predicting the game and had good timing around it. And then, as with everything else, it's all about lots of training.
Flemming Hansson: Who is the best player you have played with and the best player you have played against?
Zeca: Wow .. With: Luka Modric! Against: Mladen Petric. Sebastian Leto. Marcus Berg. And Rasmus Falk!
Morten Olsen: Hi Zeca. What's it like to be captain of F.C. Copenhagen and also be one of the best players in F.C. Copenhagen history? You are my favourite player in FC Copenhagen. Best regards, August (10 years old).
Zeca: Hello August. That's very sweet of you. Thanks for your fine greeting, it means a lot to me. I look forward to being able to come out again and play football for you all.
 
Josephine Santon Ferry: Who is the best player you have / had at FCK?
Zeca: Dame N´Doye and Rasmus Falk, I can mention. But there are many!
Sharmark Bashir: Ronaldo vs Messi?
Zeca: The real Ronaldo!
 
Jesper Bøttiger: Hi Zeca. You have played a lot of derby games for Panathinaikos as well as FCK. How is the derby between FCK-Brondby compared to Panathinaikos-Olympiakos? Atmosphere, pace and duels during the match and hate between the clubs?
 
Zeca: They can be compared, as they are very important matches for both teams with a huge atmosphere in the stadium. The atmosphere is another level in Greece. It's more "crazy" there, and often across the border as well.
 
Nicklas Krause Lethenborg: How do you spend your days in quarantine? And can you give us a mini-concert on your guitar?
Zeca: It's not as fun as it used to be. I am a very social person and I miss my family and being with the team more. The days are spent training and relaxing mostly, and talking to family and friends. I want to spare my concert with you! Maybe if we win the championship…