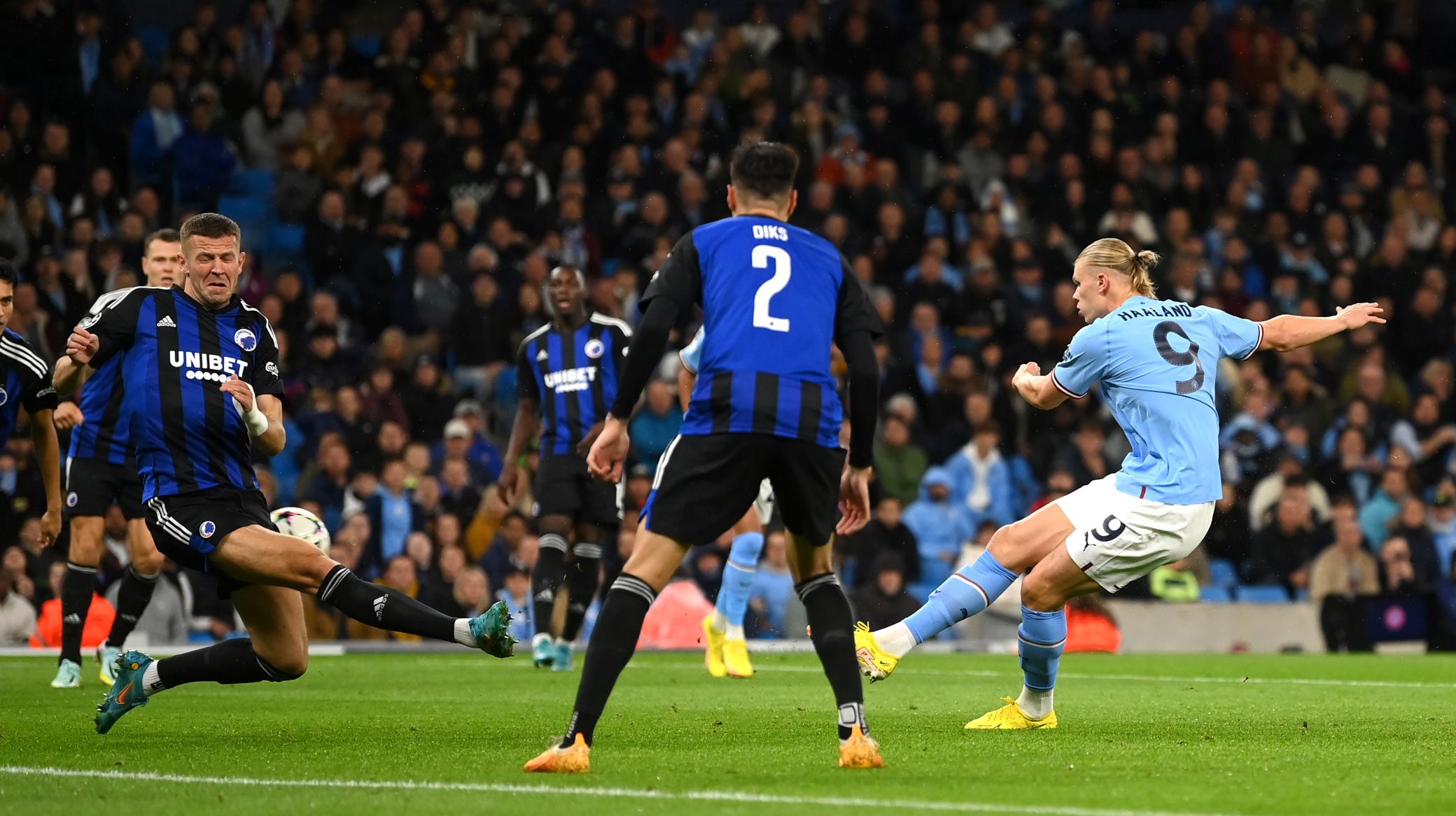 Michael Regan, Getty Images
Neestrup: We encountered a stronger force
06/10 2022 00:42
F.C. Copenhagen came up short at the City of Manchester Stadium on Wednesday, falling to a 5-0 defeat to what head coach Jacob Neestrup called "the best team in the world right now" in Manchester City.
Paul Mukairu had the best chance of the evening for FCK but his finish from a Hakon Haraldsson burst was pushed over the crossbar by City keeper Ederson.
Substitute Valdemar Lund also went within a whisker of finding the net from a Victor Kristensen corner – but City were more clinical with the chances that went their way.
Two goals from Erling Haaland, a David Khocholava own goal and second-half strikes from Riyad Mahrez and Julian Alvarez saw the points stay in Manchester.
After the game Neestrup conceded that City were the better side. But he insists there are things the Lions can work on ahead of the reverse fixture in Parken next Tuesday.
'We have to improve for next week'
"There wasn't really anything we could do to totally combat City. Of course there were things we could have done better but we just have to accept that they're the best team in the world right now and several levels above us," said Neestrup.
"We have to accept that. But we now have a three, four, five percent chance increase that we can take at least a point in Parken next week.
"We'll take what we can learn from this game because we have to improve for next week."
Guardiola: 'FCK defended well'
City boss Pep Guardiola said of the Lions: "We need our best players for this game. F.C. Copenhagen, I saw it, played really, really, really well. They defended well, and the way we played, our movement, it was special.
"After beating Manchester United 6-3 and getting a lot of complements, we were humble enough to respect an opposition like Copenhagen."
Discussing FCK's stand-out players, Guardiola added: "The goalkeeper had an incredible performance. Maybe it was the mask or something! He delivered a really top, top performance.
"Daramy as well, I know from Ajax, is a top talent. We spoke about him, and the left-back [Victor Kristensen] is a really good player too. We knew they had two important injuries in the holding midfield and attacking midfield, and I'm so sorry for them. Hopefully they can recover soon. But despite that they continued their focus and were well organised in all departments."
Neestrup looks to FCN clash
Next up for FCK is Saturday's home game against FC Nordsjælland in the Danish Superliga, before the fans reconvene again in Parken three days later for the City home tie.
Looking ahead to the weekend, Neestrup added: "The FCN game is just the most important of the three games, and it might sound wrong to say that, but that's the reality for us."
On why Andreas Cornelius didn't feature in Manchester, the boss said: "That was also why Corner didn't play, because the plan is for him to play 90 minutes on Saturday and then we'll give it another shot on Tuesday, and after that there's only five days until the derby.
"It's a tough programme for a player who was injured during the warm-up in Odense a few weeks ago with muscle problems, trained hard during the international break and played 90 minutes against AGF on Sunday.
"It was hard on his body and that's why he didn't play today. Of course he would have to play if we were to be as strong as possible, but we got off to such a bad start in the Superliga that we need all the power we have to get three points on Saturday."
You can still buy F.C. Copenhagen tickets for the FCN tie online.