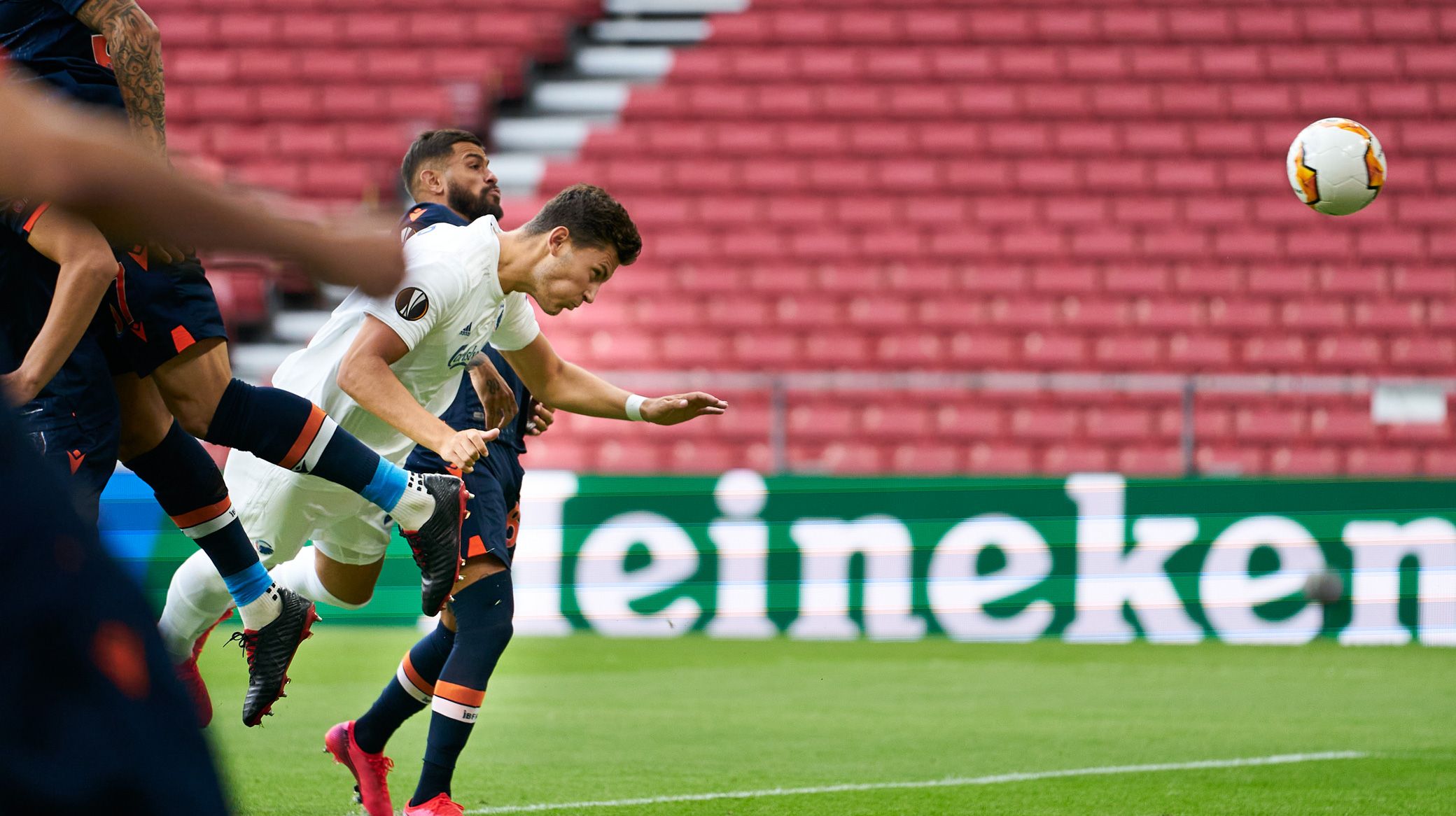 Lars Rønbøg, Getty Images
Goalscorers Wind and Falk react to beating Istanbul
06/08 2020 09:21
F.C. Copenhagen beat Istanbul Basaksehir 3-0 in the UEFA Europa League on Wednesday night thanks to two goals from Jonas Wind and a neat Rasmus Falk finish.
The 3-1 aggregate victory means FCK will now face Manchester United in the Europa League quarter-finals in Cologne on Monday.
And FCK.dk caught up with both goalscorers after the game in Telia Parken.
Jonas Wind
"This is insane, and I'm a little emotional to be a part of this team.
"We delivered a class performance and it is a demonstration of power to beat the Turkish champions. We scored three, and could well have scored more goals. But it's great to be a part of writing history at F.C. Copenhagen.
"I'm almost shivering, I'm proud of both the team and of myself. It's been a tough season personally, I got off to a good start, then suffered a bad injury, but have recovered well - and then to score two goals and get an assist today.
"It's definitely worth all the rehabilitation. It's touching, but as I said it's all worth it. That we have to face Manchester United is great, I remember the match in 2006 myself, and it will of course be great to meet them."
Rasmus Falk
"It was a great achievement today. We also played well against Celtic and the performance today was probably on par with that display.
"It was a fun today where we could really achieve something. A great night.
"I am proud of our European campaign, and especially after the group stage we have been good. In both games against Celtic and we were also good against Basaksehir in the first leg.
"It was amazing too win 3-0 today, and nice to enjoy this success after a long season. There is no doubt that we have been better in Europe than in the Superliga, we must be honest and say that. But right now it's about Europe, and here we can't suffer any criticism.
"Of course we are optimistic before the meeting against Manchester United, but they have been good - and have been especially good since the coronavirus break. We must chase our chance, but there is no doubt that United will be favourites."