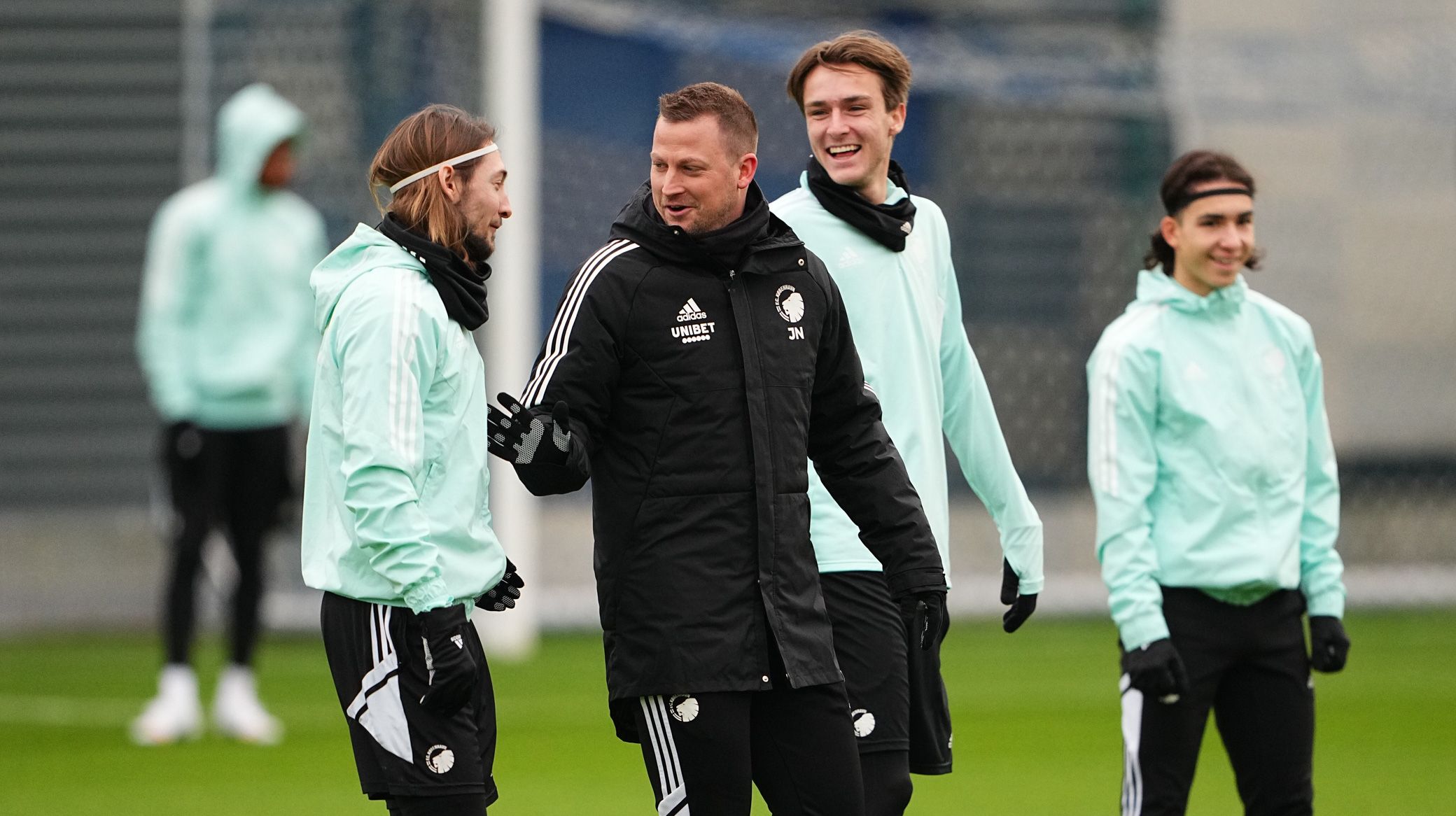 Lars Rønbøg, Getty Images
Falk: Leverkusen a good test for us
13/01 2023 17:10
F.C. Copenhagen's Rasmus Falk says Sunday's winter friendly game against German side Bayer Leverkusen will be a tough and worthwhile test of the Lions' squad heading into 2023.
Jacob Neestrup's side head to Germany this weekend for the friendly clash, which is the first of seven training games before the Danish Superliga season resumes in February.
This will be the Germans' last training game before the Bundesliga kicks off again, while for the Lions it's a first run-out since the team reconvened from the winter break.
And Falk is looking forward to a big challenge at the BayArena come Sunday (1pm).
"It will be a strong start (to the year) where we face a Bayer Leverkusen team that only have one week to go until their first league match," says Falk.
"This means that we need to get into gear straight away, and we're about to face a team with high pace and quality - and I think it will be really good for us with a good test in Germany."
Falk, who turns 31 on Sunday, also discussed how FCK's winter training in Frederiksberg has gone so far.
Interesting to see where we stand
"We have come back strong, the squad looks good in tests and people seem ready," says Falk.
"So we have to go down there and have a good training match in Germany, which will hopefully give us a good starting point for the rest of our preparations, so we can build on it. They are an opponent at a higher level than what we usually start with in January, but it will be exciting to see where we stand."
Feeling fit
Falk himself also feels on top form again after a setback in the autumn, when he was injured and had to be replaced in Neestrup's first match as head coach against AGF in Parken.
"I started well in the pre-season and am doing really well after I got more and more involved towards the end of the autumn after my injury in October. I feel comfortable and ready to give it some gas," says Falk.
Bayern Leverkusen vs F.C. Copenhagen stream
The Bayern Leverkusen vs F.C. Copenhagen friendly match will be played on Sunday at 1pm CET in Leverkusen, and can be streamed (with a Danish IP address) here at fck.dk.
In addition to the training match at the weekend, five other training matches are planned, including against AGF, and against both Swedish and Norwegian teams at our training camp in Portugal in February.