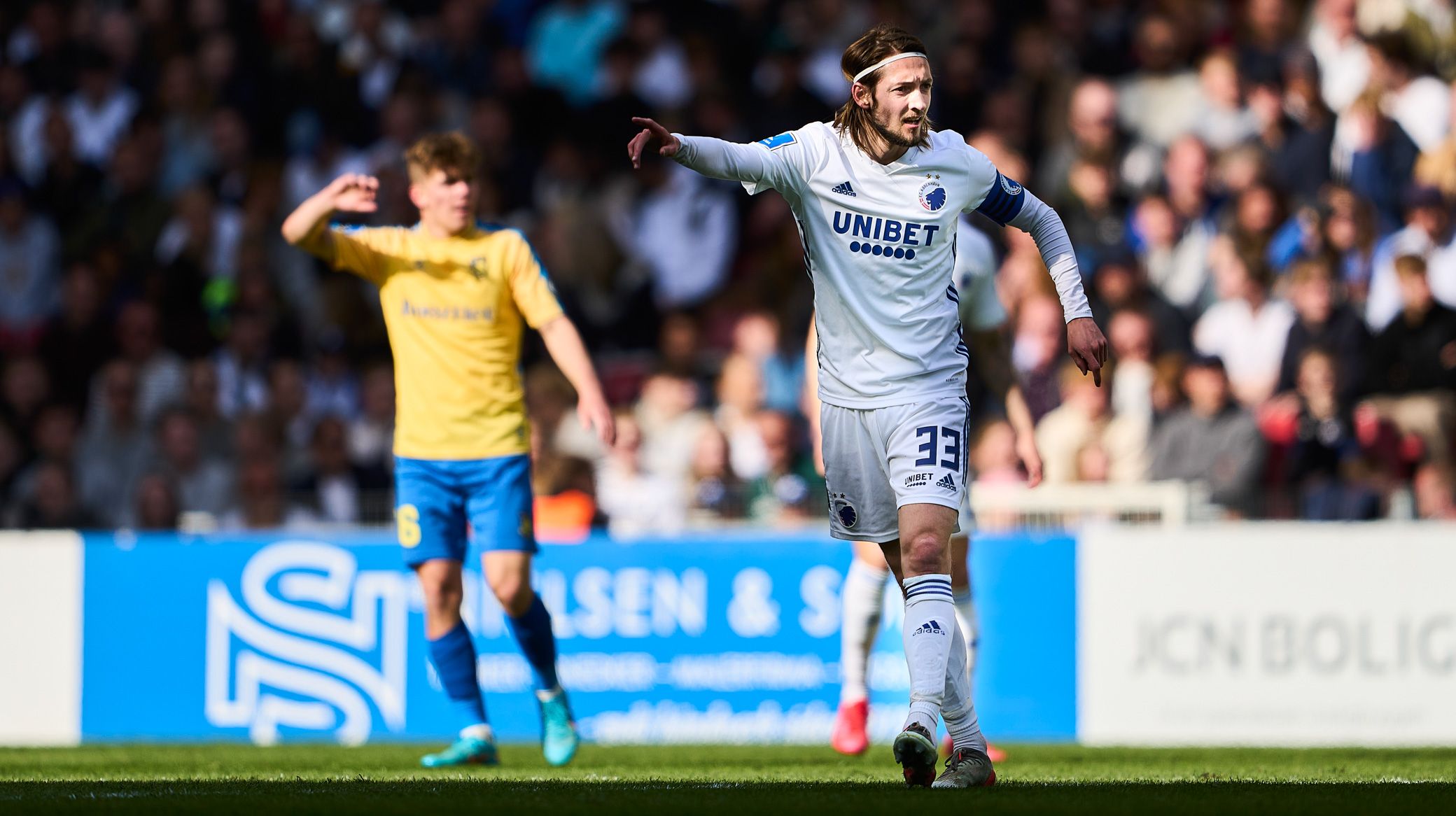 Lars Rønbøg, Getty Images
Falk: Focus already back on Randers
19/04 2022 12:59
F.C. Copenhagen playmaker Rasmus Falk says the celebrations of Monday's derby victory over Brøndby have already passed and now focus is on tackling Randers in Parken on Sunday.
The atmosphere within the Lions camp is naturally high after Pep Biel's double earned FCK a 2-0 win over Brøndby and maintained the six-point lead at the top of the Danish Superliga table.
But Falk says the squad is already looking towards the next challenge this weekend.
"It's a new, important task, and in the Superliga's Championship Round there is no time to enjoy a victory for too long or take anything lightly," says Falk.
'Randers are a strong team'
"We must bring the same intensity and energy into this Randers match as we did against Brøndby, because all games right now are equally important to our goal."
FCK have so fare enjoyed a strong spring half of the Superliga season, with eight wins from nine domestic games. The sole defeat has been a 3-1 loss to Silkeborg last Thursday – and Falk wants to keep the winning momentum going.
"The reason for our form is we've been very good at taking it one game at a time, and solving the challenges that are ahead of us," says Falk.
"We have to continue with that approach, because there are only good teams in the top six, and we're in close matches all the time, where no team can just cruise.
"We know that Randers are a strong team that have also performed well internationally this season, so we are prepared for an opponent who will make it difficult for us, and it's up to us to deliver."
Banking on fans in Parken
Monday saw a club record 33,758 fans watch the derby in Parken and Falk hopes to see similar numbers cheer on the Lions this Sunday too, with match tickets still available.
"I've not witnessed this level of attendances in my time here. It's incredible to experience when you're down there on the pitch," says Falk.
"In general, everything has been raised more and more throughout the season, both away from home and in Parken, where the atmosphere has been absolutely wild."
"Everyone in the team hopes to see a lot of fans in Parken again this Sunday, so we can create another great experience together."
F.C. Copenhagen vs Randers kicks off at 4pm on Sunday 24 April, with tickets still available in many sections of the stadium.
If you are new to the club and want to experience an FCK match for the first time, check out our How to Buy F.C. Copenhagen tickets guide here!