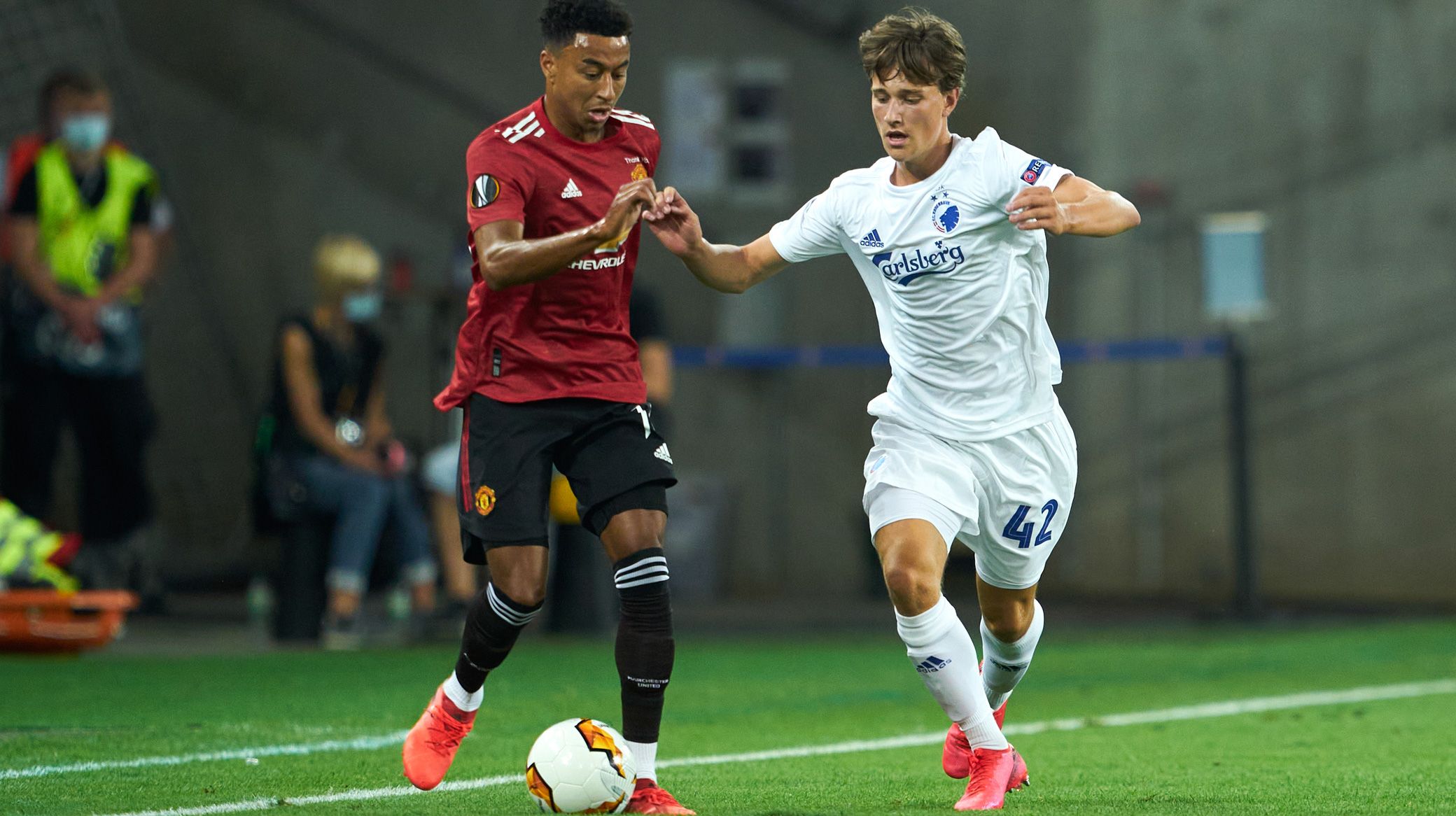 Lars Rønbøg, Getty Images
William Bøving: Dream debut vs Man Utd
17/08 2020 10:25
F.C. Copenhagen teenager William Bøving earned his dream debut playing against Manchester United in the UEFA Europa League last week.
Bøving, 17, came off the bench to take on Anthony Martial, Paul Pogba and co. in the quarter-final in Cologne.
"It was fantastic," he told FCK.dk. "It is every football player's dream to try to play that kind of big European match - and then against a big club like Manchester United.
"It couldn't be bigger and of course it was also big for me, even though it was a pity we did not progress."
Bøving is currently playing for Denmark's U19 side and boasts a handful of appearances at U16 and U17 level.
From Cup quarters to Europe
Bøving made his debut for the Lions at the beginning of March this year, when a few days after his 17th birthday he came on in the last five minutes of the DBU Cup quarter-final against AaB, which we lost 2-0.
And even though it also ended in a defeat on Monday, where he came on after 111 minutes of play, Bøving showed his worth - first with a fine assist for a Mikkel Kaufmann chance, and then when he with a solid move earned a free kick from Nemanja Matic just outside the box.
"Of course there was a little flutter in my stomach when I was told to get ready and replace Rasmus Falk, who played an absolutely terrific match," he added.
"But once you get on, you do not think about it.
"It's just about playing for the team. But it was cool to be allowed to play such a big match against someone that you otherwise only see on television.
Balance football with school
"And when you get proof that you can play and compete with them, it gives you a lot of confidence. They were probably a little tired while I came on with fresh energy. So it means a lot to me and my development.
"I have trained well over half a year with the first team, and I will hopefully continue to do so, even though I also have school work to look after.
"But I just have to build on this every day, and get better from training at such a high level. So it's just a matter of giving it a go and working hard."
While several of his team-mates swapped shirts with United players at full time, Bøving had another souvenir to take home on the plane.
"I have kept my own sweater! It will probably go home and hang on the wall," he said.