Ulrik Laursen from Odense to Copenhagen
31/01 2008 22:42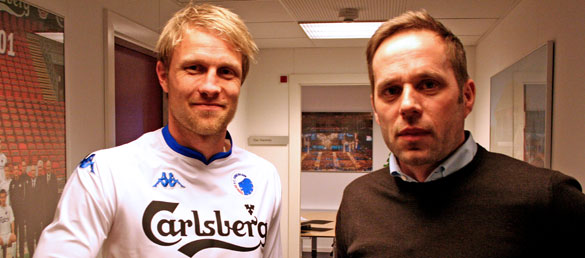 Carsten V. Jensen welcomes Ulrik Laursen to Copenhagen
Photo: FCK.DK / Daniel Rommedahl
The Danish champions have signed a three and a half year deal with Danish International Ulrik Laursen who joins F.C. Copenhagen from Odense Boldklub.
31 year-old Laursen is an experienced player with many games for Scottish sides Hibernian and Celtic FC. In 2005 the player joined OB, and in the fall of 2007, he got his first cap for the Danish national team.
- Ulrik Laursen has been our first choice after Brede Hangeland went to Fulham, and I'm pleased that we have comed to an agreement with OB and Ulrik. Everyone who follows Danish football knows Ulrik's qualities and I'm convinced that he will be very valuable for our club, says Carsten V. Jensen.
- Some people probably thought that my return to Denmark was equal to slowing down my career but instead it became a really good spell with good results at OB. Now I'm looking forward to the great challenge it is to play in a club like F.C. Copenhagen where ambitions and expectations are high, says Ulrik Laursen, who will meet his new team mates after they return from La Manga because Laursen is going with the Danish national team to a friendly against Slovenia on wednesday.
Ulrik Laursen will wear shirt number 5 in F.C. Copenhagen.