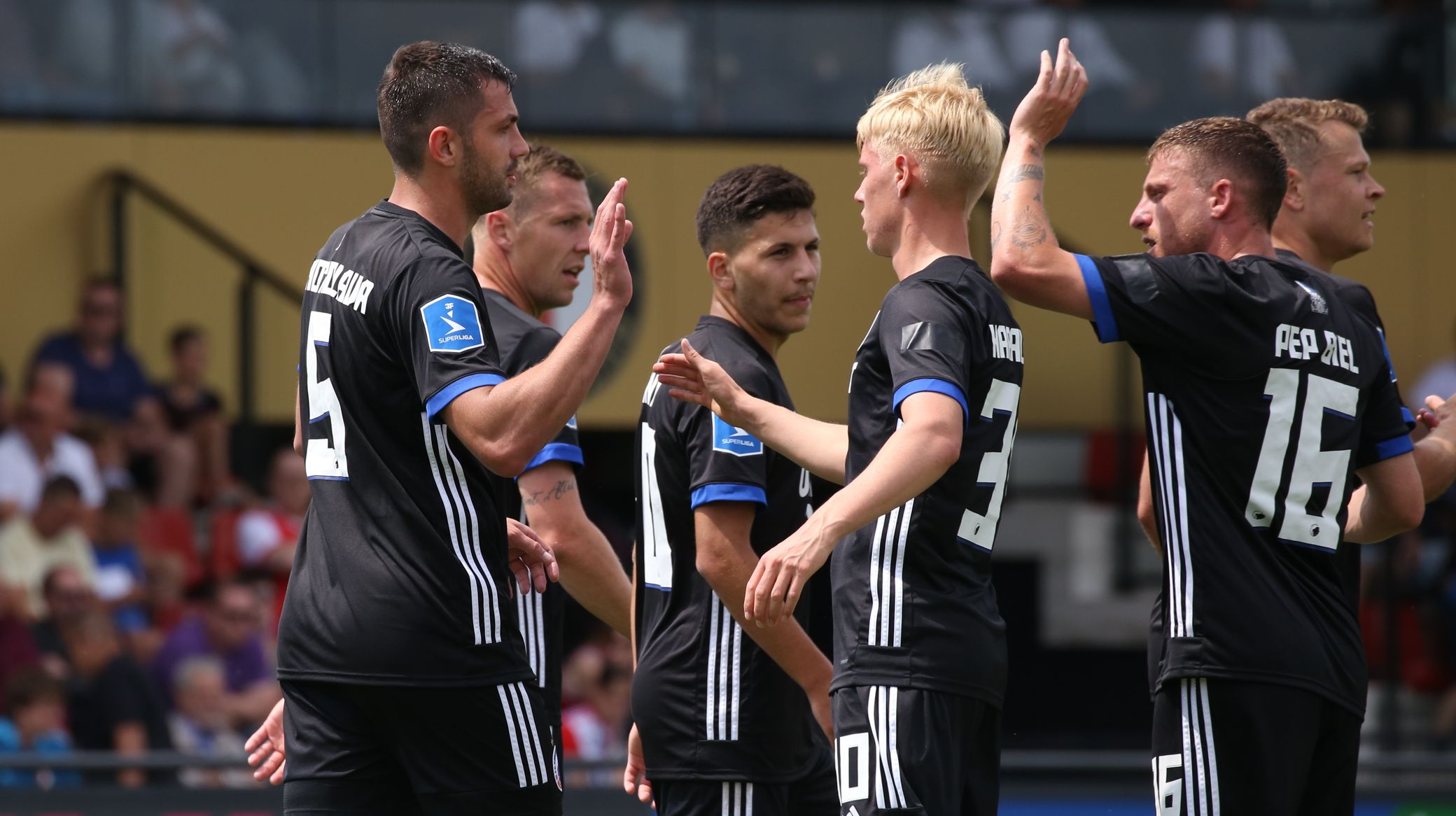 Andreas Højbjerg, FCK.DK
Thorup: Positives to take from 7-0 win
02/07 2022 17:55
F.C. Copenhagen head coach Jess Thorup insists the scoreline means nothing from Sunday's 7-0 pre-season friendly win over Feyenoord, where the Lions took on a depleted Dutch side in the Netherlands.
Goals from Victor Kristiansen, David Khocholava, Hákon Haraldsson, Kevin Diks and Roony Bardghji put the Lions 5-0 up at the break. And William Bøving and Ísak Bergmann Jóhannesson got on the scoresheet in the second half to complete the romp.
But Thorup insists the result needs to be put into perspective.
"Yes, it sounds crazy, and it was not the match we had hoped for or needed, while the Feyenoord team certainly did not have the quality we had agreed to," said Thorup.
"But having said that, we did our part of the work as we should, and there are several positive things to take with us, even though it was more in the nature of a training session than an actual friendly match.
"We particularly delivered with a really strong first half, where I saw many of the game patterns that we would like to continue and develop from last season, and it is always great to score goals. Victories give confidence, but we must not exaggerate the significance of this game.
"There was also a good setting for the match, on a good pitch and with many spectators, which created a bit of an atmosphere reminiscent of a real game. But as I said, we had hoped to be matched with a top-level team in European football, and we did not get that.
"Tomorrow we are ready to continue working on the training ground, and fortunately we still have one more week down here, and we will hopefully get a much better resistance next Saturday against Club Brugge. Then there is another week until the season begins, where everyone will hopefully be where they need to be.
"Today we overlooked some who are not quite ready yet, but (Khouma) Babacar and (Carlos) Zeca are on their way back. With regard to Zeca, we have agreed with the physio team that he will train fully, but that he will not play a game down here.
"Unfortunately, (Akinkunmi) Amoo has got a strain that we hope is not too bad, but otherwise it looks fine down here."
>> 7-0 win over Feyenoord reserves