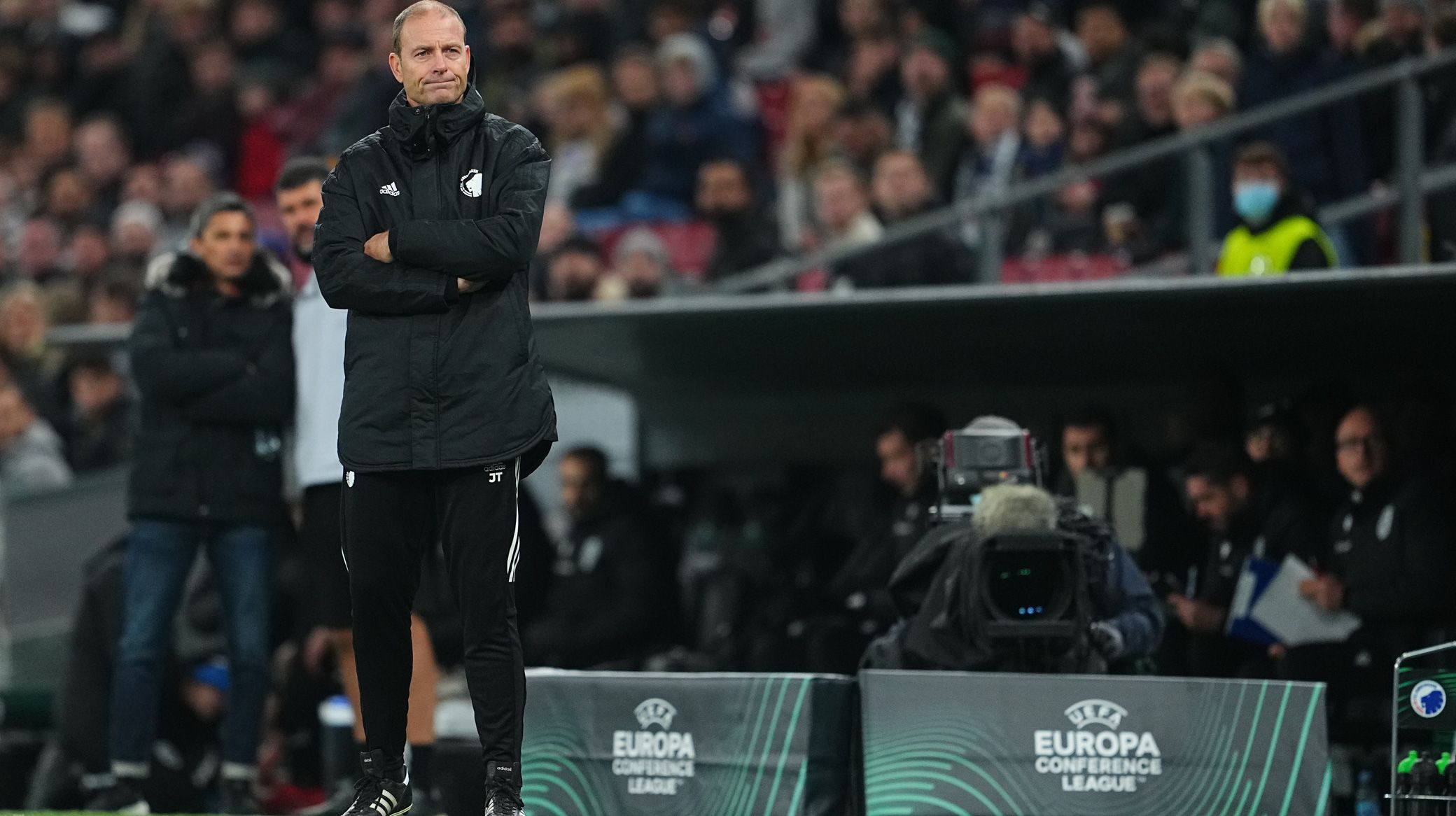 Lars Rønbøg, Getty Images
Thorup: The group is open again
22/10 2021 09:49
F.C. Copenhagen head coach Jess Thorup admits the defeat to PAOK in the UEFA Europa Conference League on Thursday opens up Group F once again.
The Lions surrendered top spot in the group following the 2-1 loss, which began with goalkeeper Kamil Grabara being sent off.
Two goals down at the break, FCK rallied and halved the deficit through Pep Biel's strike. But a late header from Lukas Lerager was palmed away.
"I am very happy with the second half, where with great support from the fans we kept fighting to create what was needed," said Thorup.
"It looked impossible when we were down 0-2 and outnumbered, and we came close to creating a magical evening. Unfortunately we didn't succeed, but there is a lot of positives to take from the second half.
"We showed really good energy and faith in things, and had Lerager equalised after Pep's goal what night it would have been."
FCK drop to second in Group F but remain two points ahead of third-placed Slovan Bratislava.
"We started the match well and had room to play around them, and it seemed like we had the right solutions," added Thorup. "But Grabara's red card after eight minutes changed the match, of course.
"Grabara has done really well for us in many matches when he has been out of his box and acting as an extra sweeper, but today it was not the right decision he made.
"After that we also made some mistakes in the midfield, where they ran at us with pace. We also changed around and rotated on the pitches, but we made too many personal mistakes that hurt us.
"Towards the end we gambled hard and I put (Rasmus) Højlund on to bring some physique, so that was why (Luther) Singh was withdrawn, even though he had only come onto the field after the break.
"But I did not want to take a defender out when we were outnumbered, so that's why it was him."
Next up for FCK is a trip to Brøndby for the derby on Sunday, while our next European match is away to PAOK at the start of November.
"Now the group is completely open again, and Slovan probably also believe that they have a bigger chance now," said Thorup.
"But we must now first turn our attention to the derby on Sunday, and then we'll have to look at the group as we approach the next match in Greece in two weeks."