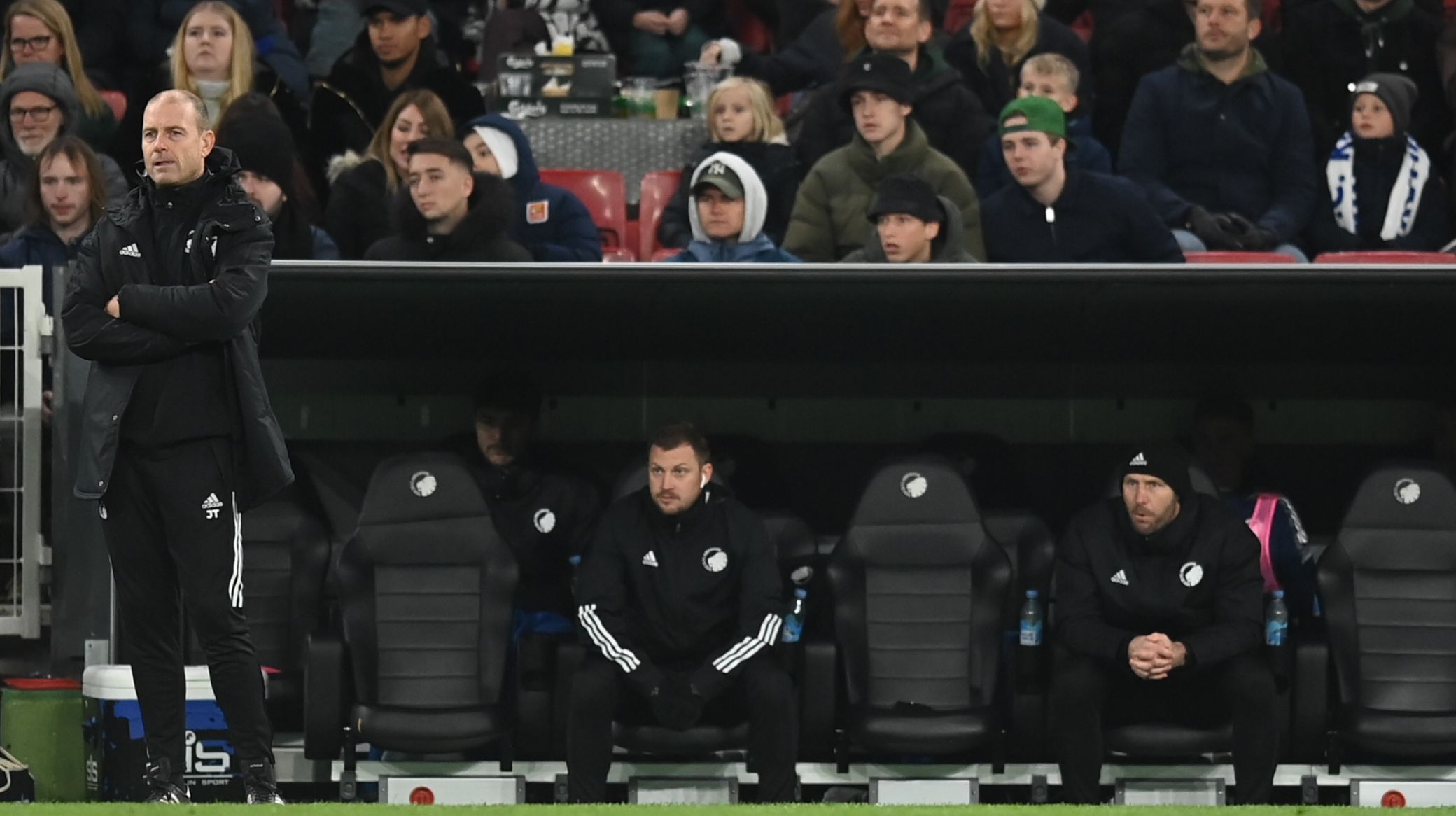 Jan Christensen, Getty Images
Thorup: Great to see Roony debut
22/11 2021 10:18
F.C. Copenhagen head coach Jess Thorup praised the fans who helped set another attendance record in Parken on Sunday but rued AGF's the late equaliser that denied the Lions all three points.
A stoppage-time penalty from Patrick Mortensen cancelled out Lukas Lerager's earlier stunner in a packed national stadium.
The penalty came after Viktor Kristiansen was adjudged to have handled the ball in the area when contesting a header.
And Thorup was left frustrated to share the spoils.
"We played a really good match, right up until the very end, where we didn't manage to drive the victory home, and therefore the disappointment is of course huge," said Thorup.
"In the moments before they equalised, we had a free kick in the middle of the field but lost the ball shortly after. They went on the attack that resulted in a random penalty. That's how football is, that's what happens."
"We should have been calmer and wiser, so we wouldn't be in that situation. But I can't put a finger on the performance, only that we didn't get the three points.
"We can't play much better on this pitch and against such an opponent, but we just have to get better at closing out matches like this. We had the chances to do that, while they didn't produce much more than a header from Mortensen 10 minutes before time."
The game was played out in front of 25,814 supporters in Parken – another strong attendance in a season where fans have flooded back to the Superliga.
And it also marked 16-year-old Roony Bardghji's F.C. Copenhagen debut. 
"It was a fantastic setting with over 25,000 in the stands, and I also think we gave the supporters a great match, but just not the victory we would most like to give them," added Thorup.
"But we can, among other things, be happy that Roony Bardghji made his debut and played a really good game. He got to work and wasn't overawed, and took reasonability both in his individual game, where he was strong one-on-one, and in his relationship with the others. He also had a good chance in the first half, which was just tipped over.
"We would have liked to have given him a debut earlier in the autumn if we had been able to, but now he is up and running and he just has to work on the things he showed today, which he has also shown on the training ground when he has trained with us."