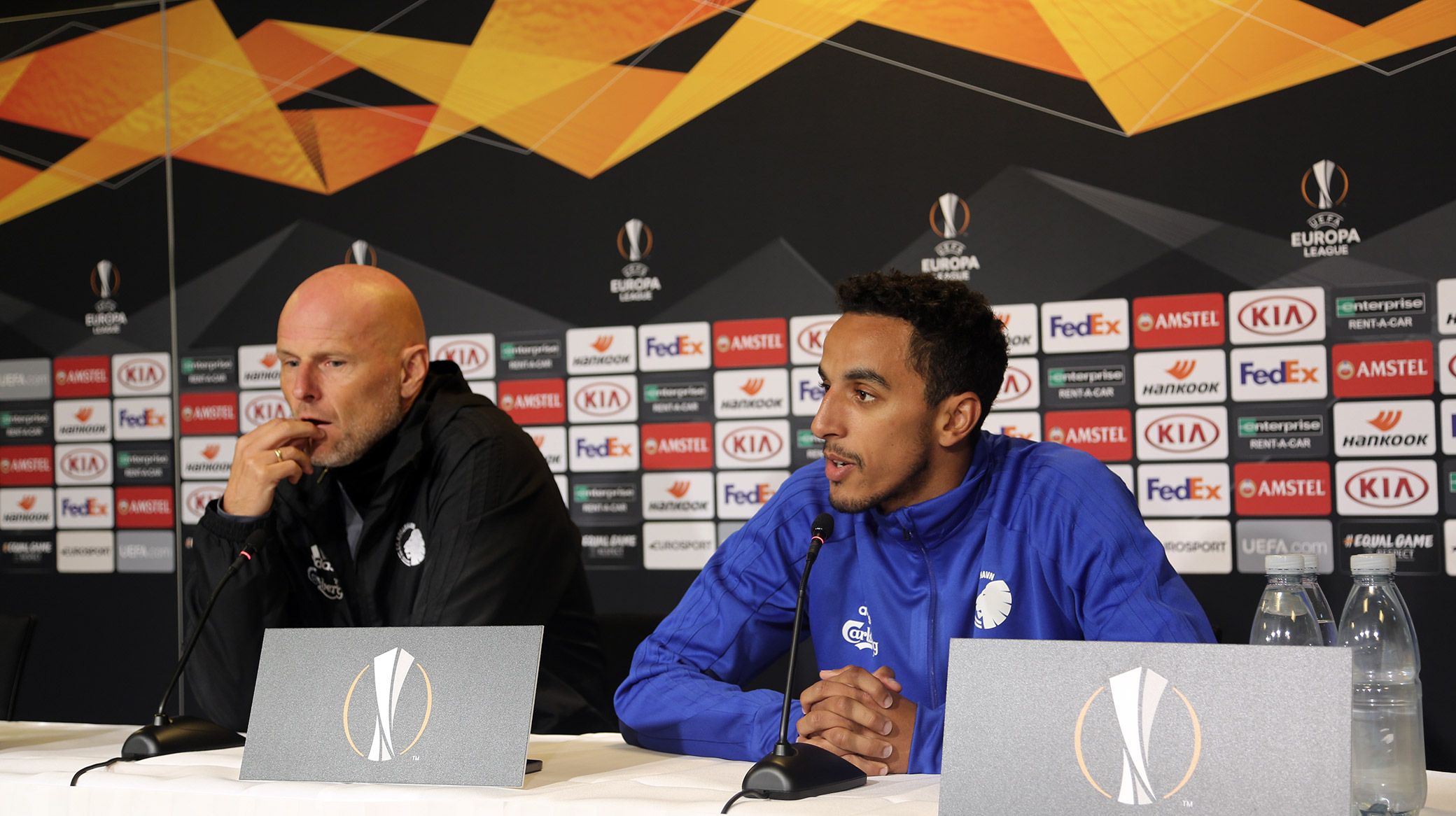 FCK.DK
Ståle and Zeca: Good to have break before Basaksehir
04/08 2020 16:37
F.C. Copenhagen manager Ståle Solbakken and his captain Carlos Zeca spoke to the press ahead of Wednesday's UEFA Europa League last-16 second leg against Istanbul Basaksehir in Telia Parken today.
And Zeca was first asked about not being able to play in front of supporters after UEFA decided not to grant the club permission to admit fans.
"Obviously we'd rather play with fans in the stadium, but it's the way it is," Zeca said.
"It's sad for us and our fans, but it's still an important match that we have to go out to try to win.
Good to have a little break
"It was good to have some days last week where we could spend a little bit of time with our families and think about things other than football, especially after the difficult situation we've been in in the league.
"So we needed to clear our heads before we headed back and prepared for this game."
FCK boss Solbakken was also glad for the mini break his players have earned since the end of the 3F Superliga season.
"Maybe the break does not mean so much for them physically, but more for them mentally," Ståle said.
"Since the away game against FCM it has been very heavy, and therefore we have also made some tactical adjustments, both in terms of formation and team selection. So it was good to get a breather after the last home game, and we haven't lost so much (physically) by being away for four or five days."
No fans in the ground
Asked about playing without fans, Ståle said: "It's hard to say anything positive about playing without spectators, especially on a European night, which should also be the fans' big night, and where we have the opportunity to be among the last eight teams.
"But even before the announcement on Thursday, we were prepared for that scenario, because there was not much to suggest otherwise, and we have not spent much time discussing it.
"It was the easy solution for UEFA to play without spectators, as all matches from now on are played that way, and thus they are also free from responsibility if something goes wrong. But sportingly it is wrong, especially in relation to the circumstances around the first match in Istanbul."
On Basaksehir, who finished the Turkish season as league champions, Ståle said: "They have had it a bit like Juventus and Liverpool where, after securing the championship, they changed the team a bit.
"But they were really good before they became champions. Now they've probably had their celebrations and metal breaks, so they are also ready for the match tomorrow. "