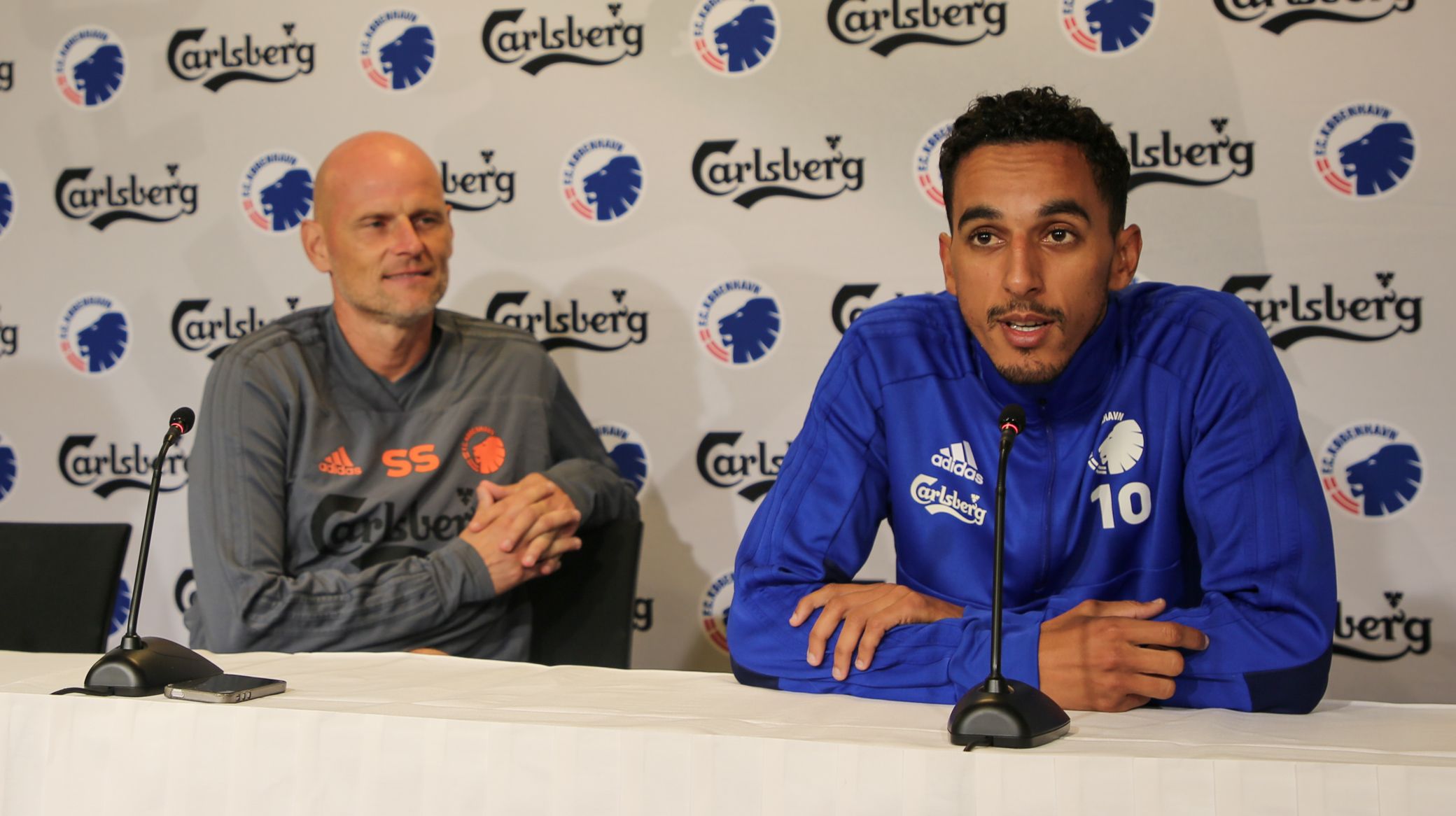 FCK.DK
Ståle and Zeca: Fine margins in Red Star game
12/08 2019 17:52
FC Copenhagen manager Ståle Solbakken echoed his captain Carlos Zeca's belief that Tuesday's UEFA Champions League qualifier with Red Star Belgrade is too close to call.
FCK take a 1-1 away draw into the second leg of their third qualifying round clash with Red Star in Telia Parken.
The match kicks off at 8pm and you can still buy FC Copenhagen tickets ahead of the clash.
Over 25,000 fans have already bought their tickets but Zeca is wary of how dangerous Red Star could be.
"We got a good result down there, but I've seen a lot of these matches before and it often goes awry if you just go out to play for 0-0," Zeca said.
Zeca ready for close clash
"So much can happen, but we know it's going to be difficult, because they will probably get their moments during the game."
Ståle is also aware of how tight Tuesday's match will be. 
"Like most other teams, Red Star is best at home, where their reputation is also enhanced by the cauldron their fans make at the stadium," Ståle said.
"They were also a little better than us in the first leg and a little closer to victory. But now it's us who are at home and I think it will be the battle of small margins.
"We had possession a lot down there, especially in the second half, so it won't be new to us if it happens tomorrow as well. We have to rely first and foremost on our own game and even though they are a good counter-attacking team, we must not be afraid of losing the ball, because then it will be difficult to play football.
Ståle wants to see expression
"We have to play with expression, but have the right balance in the team and pay attention to where we stand if we lose the ball. You can do two things, either win it back quickly or get back in place quickly.
"It is the most important match of the season because we can secure a place in Europe, but we do not think at all about the finances of the game and the possible consequences.
"Of course, we have to live up to the goals of the board, but football is all about margins, so we can't think about that in our everyday lives. Of course we prepare ourselves for a match like that tomorrow.
"Qualifying for the European group stage is also important on many other parameters, including when it comes to attracting new players. We generally 'sell ourselves' on three parameters: winning trophies, playing European matches and providing a career plan."
Buy FC Copenhagen vs Red Star Belgrade tickets
Many parts of Telia Parken stadium are now sold out for the same but there are some seats left around the ground for late ticket buyers.
For more info on how to buy FC Copenhagen tickets check out our guide here.
It is also advised to read our travel advice for FC Copenhagen home games, with UEFA implementing certain restrictions on this game.