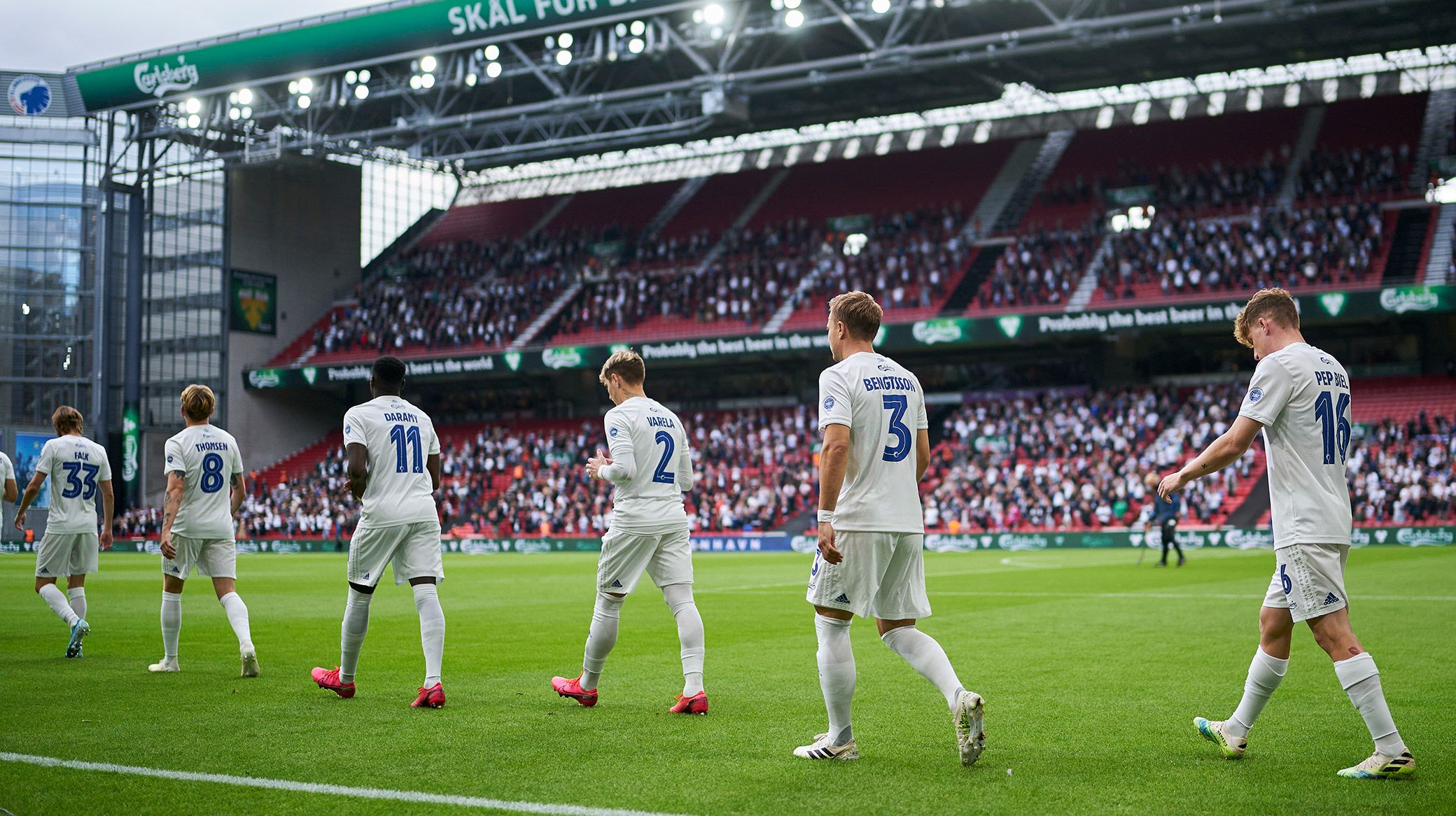 Lars Rønbøg, Getty Images
Safe stadiums in Denmark during Covid-19
15/10 2020 10:45
The DBU and Divisional Association are now making an extra effort to be allowed to run football matches again according to the 'Superliga scheme'.
This scheme, which was implemented in July, aims to ensure safe conditions at football stadiums are met so that more than 500 people are allowed to attend games.
Currently there is a 500-person capacity at Superliga matches, which includes players, staff, medial teams and stewards. That leaves only a few places left for fans to attend games.
During the summer the Danish government allowed more fans to attend games during successful trial periods. But the 500-person cap came back into effect this autumn.
"We do not understand why a solution that works as documented and is important for mitigating COVID-19's damage to employment and finances must be shut down," says Claus Thomsen, director of the Divisional Association.
Health and safety top of the agenda
Throughout the Covid-19 crisis, professional club football has put health and safety at the top of the agenda by quickly closing down the season, participating in international cooperation and investing heavily in Covid-safe solutions.
First, the clubs got their players and other staff safely back to work, and then showed that matches could be played - also with spectators at the stadium - in a responsible setup approved by the authorities.
"There were 46 matches played under the Superliga scheme without any spread of infection," says Thomsen.
"It is a misunderstanding if people think that we play football matches with several thousand people who can freely mix with each other. It is not the case.
"Therefore, we have a need to inform both fans and authorities about how the scheme actually works, because it clearly shows that it is a matter of sound behaviour at the stadium and a safe spectator journey.
The whole of Danish football is affected
Jakob Jensen, CEO of the DBU, also expressed his support for welcoming fans back to stadiums.
"The situation is very serious, and the clubs and DBU are hard hit," he said.
"The current restrictions have enormous consequences, both for DBU's national team, the professional men's clubs, the Women's League and other clubs. The whole of Danish football is affected, and the rapid development that is underway may end up setting us back significantly."
An analysis from Deloitte shows that the 3F Superliga clubs risk losing up to DKK 850 million.
"But the whole of football is affected. The DBU national team, Gjensidige Kvindeligaen and wider football are also feeling the consequences," explains Jensen.
How the Superliga scheme works
All 3F Superliga stadiums are divided into sections of a maximum of 500 people with their own entrances and exits as well as separate toilets and stalls in each section.
Police and health authorities approve a health plan that minimises the risk of infection during the entire stadium visit.
The staff at the stadium are trained in the correct use of protective equipment and hygiene - and how to act to minimise the risk of infection.
All seats are numbered and everyone sits down during the match. Often every other seat is empty to ensure adequate distance.
When buying tickets, there is a register of where everyone is sitting in the stadium. If a person becomes infected, everyone in the same section can be contacted and called for testing.
F.C. Copenhagen managed to conduct three home matches under the Superliga scheme:
12 July Brøndby (7,665 spectators)
19 July AGF (6,849 spectators)
26 July FC Nordsjælland (7,466 spectators)