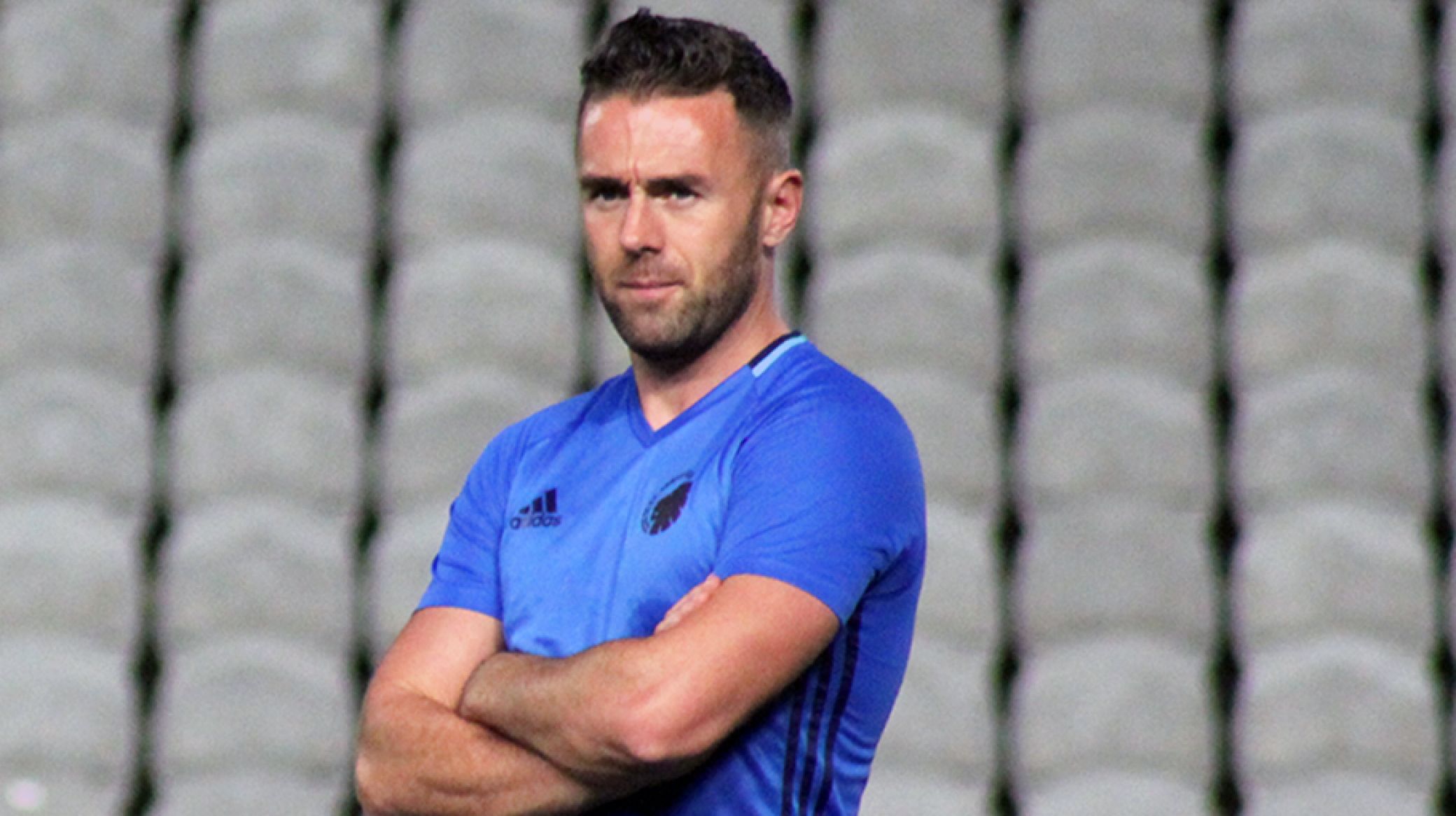 FCK.DK
Long-read: Dave Cosgrave, part two
19/05 2019 12:30
IIn the second of two articles, FC Copenhagen's Head of Medical Dave Cosgrave tells FCK.DK about his five years in Copenhagen.
After 11 years in Tottenham, Liverpool, Bolton, Stoke and Fulham, Dave Cosgrave is sitting in London and wondering where his career will continue after he was released from relegated Fulham.
I didn't know that Brede wrote an e-mail to Johan Lange
"When Fulham got relegated, William Kvist went on a new loan from Stuttgart to Wigan, and he moved to a village near Manchester called Knutsford and actually lived on my old street. It's crazy, by coincidence. He stayed in contact with me, and called me one day in London, where I was waiting for the right offer to suit my senior role."
"He said, look, I hear FC Copenhagen are looking for someone like you, they have a problem with a hamstring. Would you be interested? I'd just been in Noma during the summer, and I'd had a great dinner, and I was like, oh, Copenhagen, that's nostalgic! I had lived in Copenhagen in the summer of '98 and worked in the Dubliner Irish Bar, so I knew the city."
"The day I was flying to Copenhagen for the job interview, I had coffee with Brede Hangeland at Waterloo Train Station, and I told him I was going to meet Ståle and a guy called Johan Lange. Brede told me about Ståle, who had just had a bad experience in Wolverhampton, and I knew that dressing room and it was basically unmanageable. The guys in that dressing room were not ready for any type of guy like Ståle or Johan Lange or whoever else they brought."
"So, I was curious to meet this guy, who had created these two epic FCK-generations in Champions League in 2006 and 2010, and Brede said, going to love this guy Ståle, and you're really going to enjoy meeting Anders Storskov, he's a great guy."
Brede didn't know Johan, but he asked for his e-mail, and I gave it to him, and then I jumped on the plane and went to Copenhagen. But I didn't know that Brede wrote an e-mail to Johan Lange and said: "Look, I don't know you, and you don't know me personally, but in our minds, we have what's best for FC Copenhagen. If you let this guy out of the room without signing a contract, it will be a disaster!"
Leave the girl, and kill the dog
"I got to the interview wearing all my fancy clothes, looking like some geezer from London with a green suit, red socks, red shoes… Ståle and Johan must have been thinking, what is going on here!"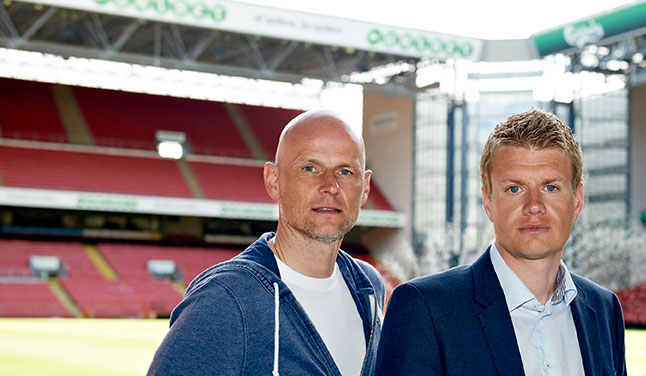 "We were sitting in Parken, overlooking the pitch, and I was thinking, this is beautiful! Ståle told me about all his thoughts and all their problems with injuries and finally asked: can you fix them? And because it was an interview, and he just told me everything, I said yeah, no problem. I can fix all of them."
"So, they asked me, what I would do? I said, well, I'd structure the day so we start at this time with early morning appointments for injuries, then we do this in the afternoon, and then in the evening we would do this, and then the manager starts laughing: The evening? Ha-ha, no chance!"
"The culture in the Premier League is completely different, where we would start at 7.30 in the morning for a meeting and the last injured player would have his last session at 4pm to 6 pm. Ståle said, that this Is Denmark, and you're in for a culture shock."
"But they knew straight away that I was interested and was willing to sign a contract now, as it seemed they needed someone to start immediately. Then Ståle asked, if I had any obligations at home in England? Ah, not too many, I have a girlfriend and a dog. He said with his characteristic Norwegian humour, okay, leave the girl and kill the dog, but I said, let's make an agreement, I'll leave the girl, but keep the dog. I have had the dog, Bisto, since 2006, so it has been a line from Liverpool, Bolton, Stoke, Fulham, Copenhagen. The dog has been everywhere, it just comes with me."
"And then we shook hands."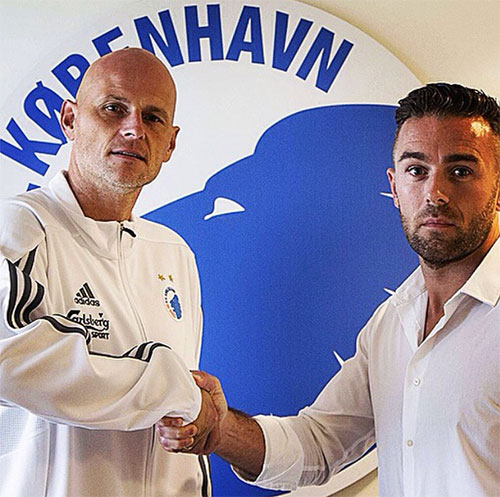 And that was how I got to Nicolai
"We had a game against HJK Helsinki coming up in the Europa League, and we won 2-0, and that was my first game. The second game was against Brøndby, when Bashkim Kadrii scored the winner. That was my first experience of a full Telia Parken, that was pretty intense."
"My first case was Nicolai Jørgensen, who was a real power house, scored a lot of goals, but also suffered a lot from hamstrings. My expertise was how the jaw, and the spine and the pelvis influence your hamstrings, and that was is how I got to Nicolai. When we analysed him, his pelvis was so twisted, that it was almost impossible for him to have a balanced leg, and if you remember his posture, his head, all the way forward, we trained some postural changes that helped us unwind him and balance him."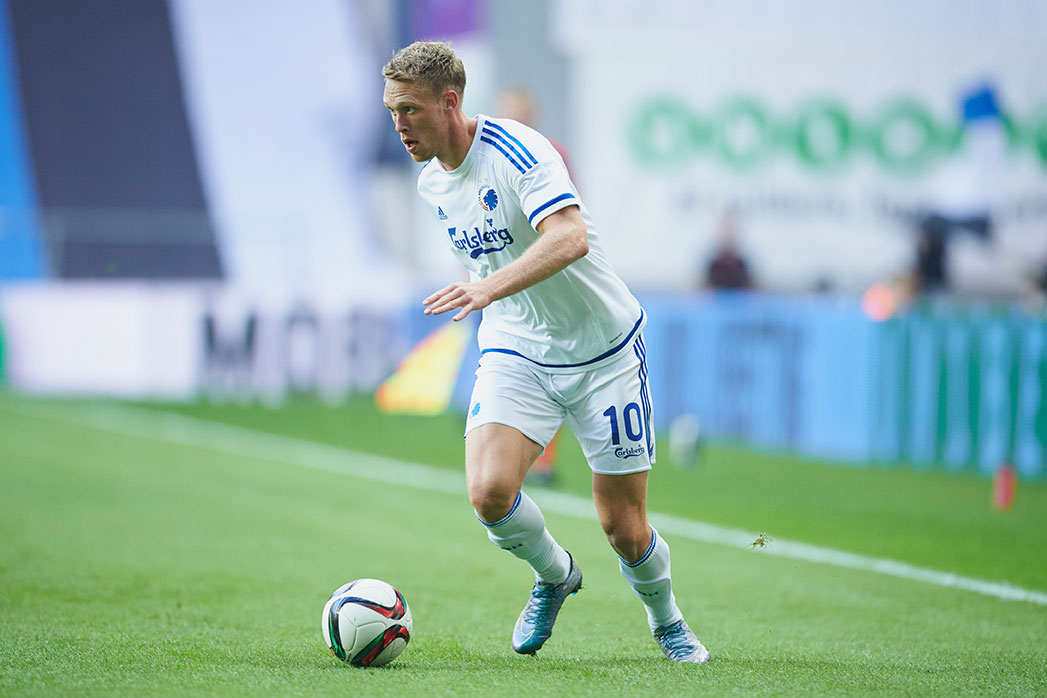 "The theory behind this goes from your jaw to your feet. If your jaw twists, your eyes and your head follow, and your body tries to create a compensation, because you can't run around like that, because then your world is crooked. So your body creates a torsion, and it bends you back, but as soon as you bent back, you get locked. And as soon as your pelvis compensates, your knee has to flex and then your foot. The hamstring is the link in the chain.... kaputt!"
- - - - - - - - -
The performance evolution hadn't hit Scandinavia
"By the time I got to Copenhagen in 2014, Premier League clubs had gone through two and a half cycles of evolution in performance, since the revolution started with Sam Allardyce in 2002. Sports scientists, nutritionists, video analysis, physios travelling with international players, physios for loan players, doctors, dentists, there was everything inside the Premier League football clubs. Because the money had just gone up and up, so everybody had 25 people in their medical team."
"When I got here, FCK had a physio, Simon Fouchard, a masseur, Jesper Larsen, and a part time doctor, Morten Boesen. The performance evolution hadn't hit Scandinavia yet, but that's what Ståle and Johan were building."
"They had picked up things in Wolverhampton, where they had worked with Phil Hayward, who is now the head of medicine in Wolves. Phil worked in Bolton, when I was there, so it all goes back, and Ståle and Johan met those guys, and they had a great team, which also included Steve Kemp, who's the England physio. It was a great medical team, and a great performance team. So, of course his eyes were opened for the organizational setup, even though it was not realistic to copy it directly to FC Copenhagen."
Whenever I come with an idea, Daniel finds the way to say yes
"But after I got here, we started to change the environment in Number 10. The medics were stuck in a little room by the toilet in the back, so the first thing we did was to knock down a small apartment for guests and open up a new, huge room for treatment etc."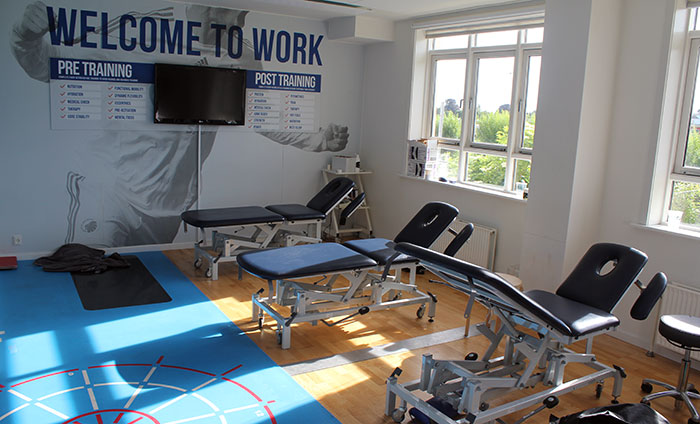 "We used to do the team meetings upstairs in the kitchen, huddled around on little round tables, looking at a screen, so we created a new auditorium. We also needed to build a different type of gym with some heavier gym stuff that supported the way we wanted to play. The FCK football philosophy is high intensity with quick recoveries, but we found that tendons were snapping, things were breaking in games, maybe because the increase in loading was going through the roof after Ståle came back."
"So we got together, Ståle, Anders Storskov, Daniel Rommedahl and me, and we also changed the gym. Daniel, our director of football operations, has always been really supportive of everything, whenever I come with an idea, Daniel finds the way to say yes."
"And it did pay dividends. When all the processes work, and you do all your strength training and recovery, and you get the nutrition right, and you have a consistent manager, a consistent fitness coach and so on. If all those variables that you can manage are consistent, then injuries drop significantly."
"We run an audit every year of all the injuries, and when we go to a Champions League year, we can compare us self to the top 32 teams in European and world football. We have to report to UEFA, and we get information back from them, and during the famous FCK 16/17-season we had 96 % player availability in a Champions League year. And we had nearly a 100 % training availability, because of the way we train."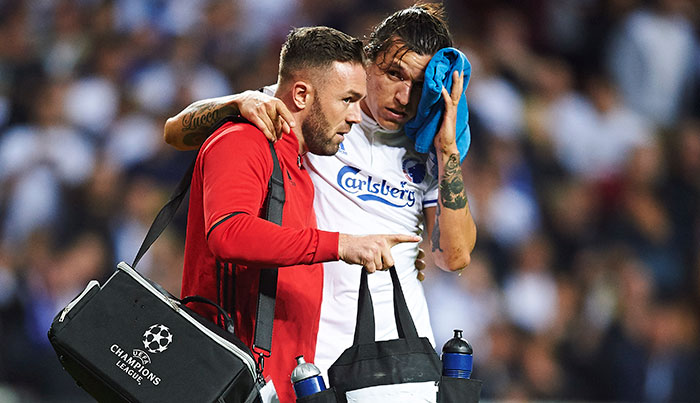 - - - - - - - - -
The manager probably has more confidence now
"With our expertise, we can also support the FCK transfer strategy. Because one of my core skills is rehabilitation and making sure we get the player back to play, the manager probably has more confidence now, when he buys an injured player like Varela or when he decides to bring back Boilesen. The recruitment strategy can include a player like this, and this also goes back to Sam Allardyce and his model in Bolton. Buy an injured player, who has a huge pedigree, rebuild him with experts around him, and you've got a top player."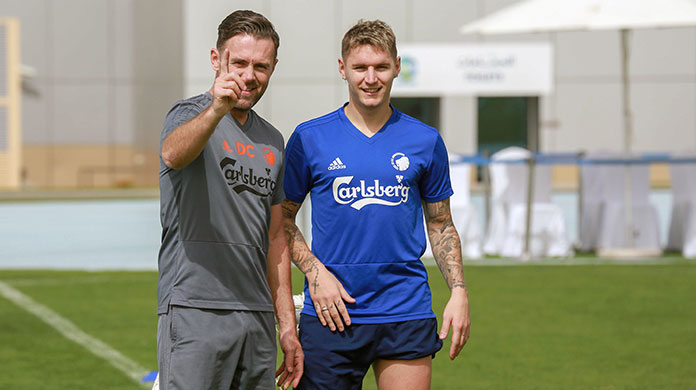 "And it's also about selling players. When Robin Olsen had a shoulder injury in 2018, he had his heart set on two things: going to the World Cup and getting a transfer. But here he was, condensed in to a 10-11 eleven-week rehab, because he had to play against FC Midtjylland at home. If not, Sweden were very unsure if they should pick him, and then FCK would not have a goalkeeper going to the World Cup. So the skills that I've picked up over time helps both ends of the transfer market. We can get them in, and we can help get them out as well. And in the end, you have to thank Sam Allardyce…"
- - - - - - - - -
FC Copenhagen recently secured their 13th championship in the club's 27-year history, but for Dave and his colleagues, it's only one stepping stone of the plan of a year.
Robert knows what to do
"Because of the Euro 2020, the associations will play serious games in June, not fake friendlies. So, we knew at the start of the season that there was no rest for our international players, and if FCK reach a European group stage again, the real rest will only come in December."
"So in our planning, we colour-code every month and then we plan for the guys that could be overloaded. We plan to get the guys ready for the championship and for the really bad June, because we need them in July and August, their country needs them again in September, and if we're in Europe we need them September, October, November…"
Dave talking to FCK TV about preseason in January 2019

"Our job is to make the player available, and the manager does everything else. Every week we start a new cycle – is the player available for what the manager wants? That could be a reserve game in midweek or a game on Sunday, we have no input to that."
"We also have the European U21 Championship in June, but we don't know for sure who will go. We have three scenarios: They are injured, they stay with us. They are fit, they don't go. They are fit, they go. We can control two of these three things, but we have a great relationship with most of the national teams, and we let them know very clearly what we expect of them and the player. And that will then give us some element of control and planning. And then we know when they come back from the tournament, the first two weeks are very important and we have to manage them properly, because they often need a little bit of rest."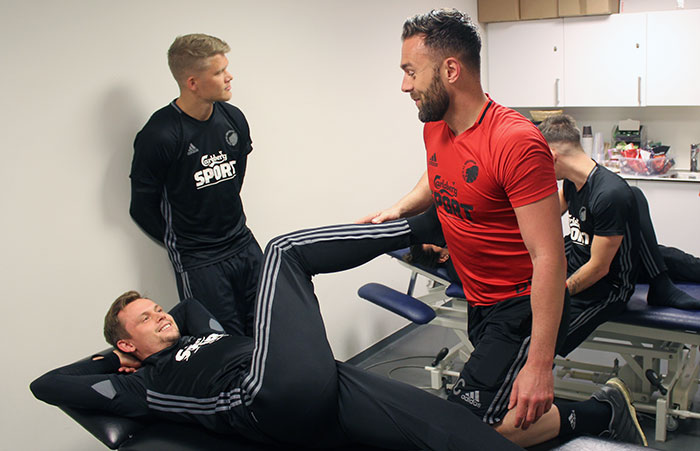 - - - - - - - - -

Robert Skov, the rising star of the season with 27 goals from his midfield position, is one of the candidates for Denmark's U21-squad in June. He has played 45 games for FCK and only been out for a few weeks in March with a small knee injury.
"We have a programme ready for him for the last games in the championship, and if he is selected for Denmark, he knows what to do beforehand, when he is in camp and what the time after the tournament look like, depending if Denmark play three games or more. And because he is so invested in his own career, the only thing he needs is the small refined bit of advising. He knows about nutrition, about sleep, about taking care of his knee, and we've given him some advice on how to keep his power high. He has a set of exercises that we gave him at the start of the year to get him ready for this. It's not rocket science; it's just planned very well."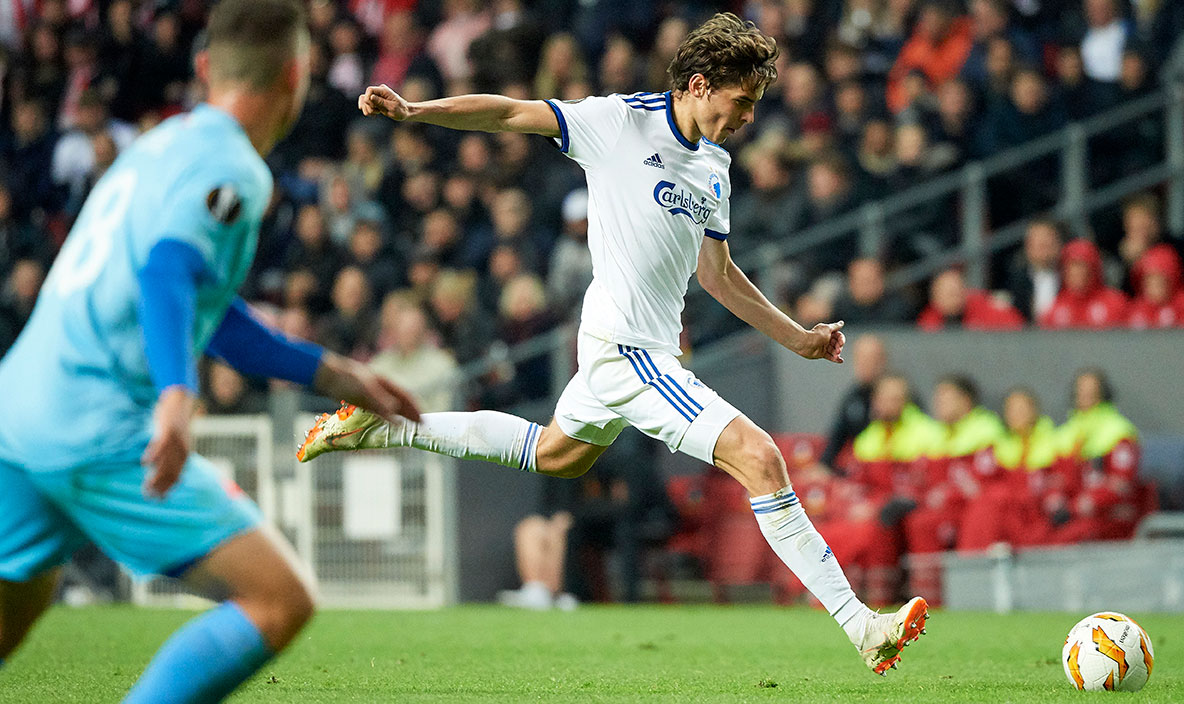 - - - - - - - - -
FC Copenhagen secured the championship with three rounds to go of the Super league, which gave Dave and his colleagues the opportunity to rest the most loaded players like N'Doye and Zeca.
Corner, there is a hole in the ground!
"There are things you can control, but we don't know what comes. The minute the whistle has blown, you don't know what's going to happen. In every game something career altering can happen to any player, as we saw with our goalkeeper Stephan Andersen with the achilles tendon rupture against FC Midtjylland. We just have to be always prepared for what could happen in 90 minutes, and we can be very lucky and there can always be difficult moments to manage."
"I often think about the game a couple of years ago, where Andreas Cornelius was upside down in a game, also against Midtjylland. We were just thinking, there's no way this guy can get off the ground after that, but he just got up, and shook his head, and you thought…  Corner, there is a hole in the ground!"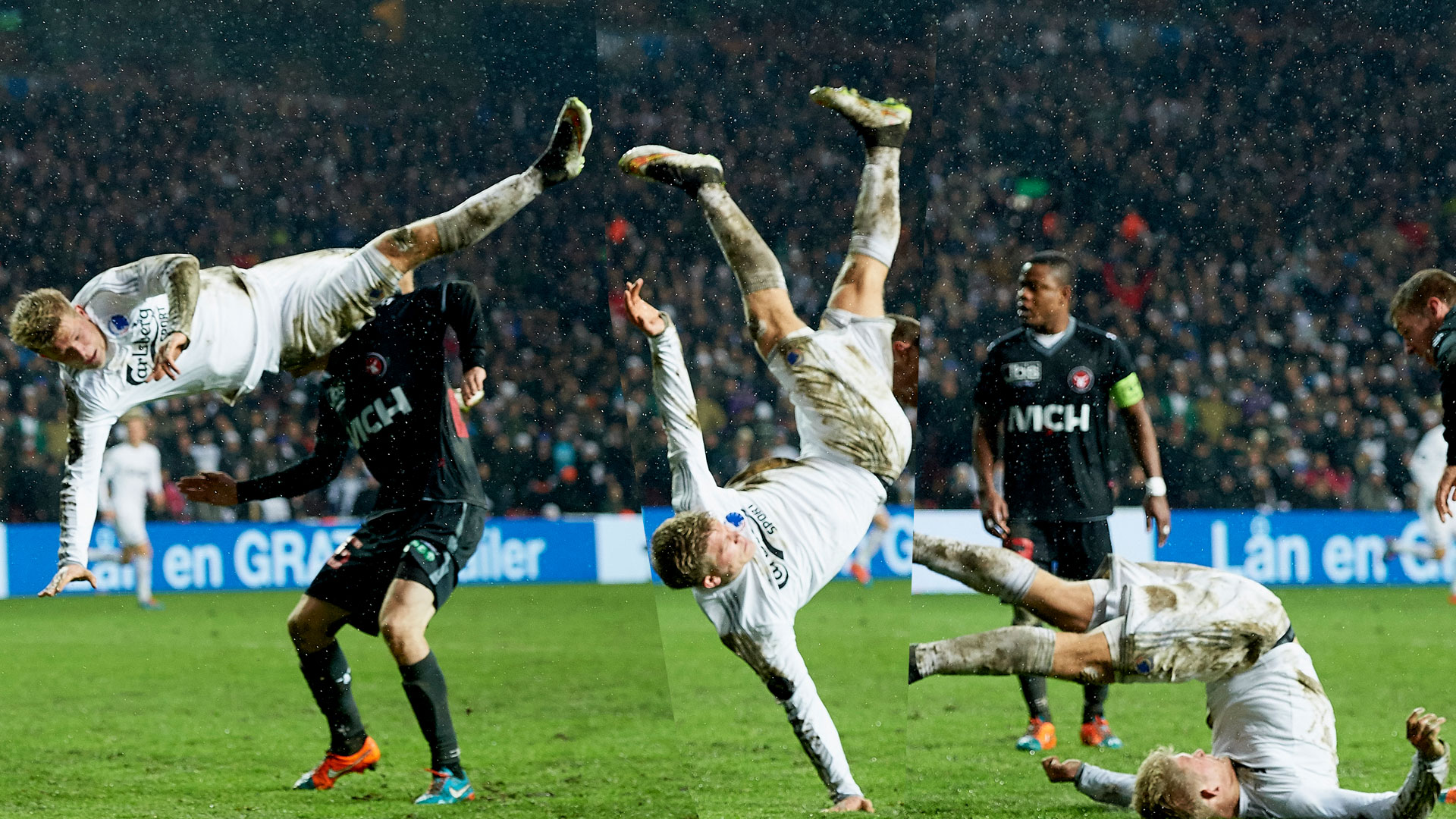 - - - - - - - - -
Dave has a lot of skills and expertise from the university and his work with many different top clubs, but a couple of years ago, he decided to get new inspiration.
We sacrifice so much, even though we know, it's only a job
"When I was established in my role here in FCK, I realized that there were so many challenges related to not only being a physio, and at one stage I had so many caps on doing different things. Then I decided to look for a high-performance mentor, someone who had been in another high-performance environments, to guide me in the right direction. And I found Craig White, who had worked for the British Lions' team, where you have to build a team in five weeks of all the different nationalities and then go to play the top teams from New Zealand, South Africa or Australia."
"I hired him for a year, and he'd fly to Copenhagen and we would spend three days locked away in a room or walking in the nature developing insight to soft skills and understanding why we sacrifice so much to work in this environment. Everyone in a lead environment sacrifices family time, personal health, personal growth, time… we sacrifice so much, even though we know, it's only a job. Craig let me see the reasons why I'm doing this and the purpose why I was doing it, so I didn't get burned out. Because there is so much contact time here, we're all together so much, so many emotions, so many ups and downs."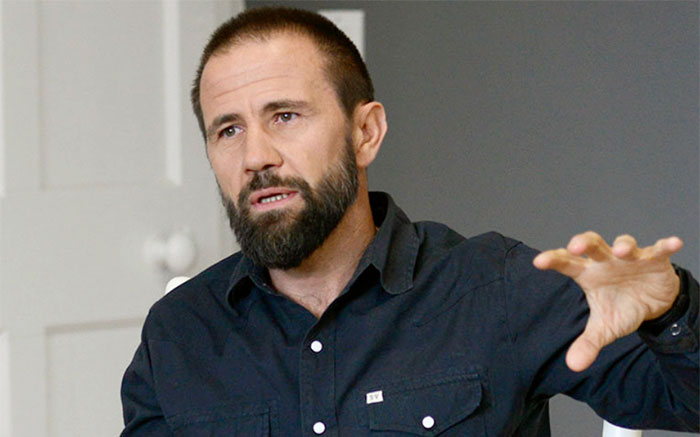 "It was really rewarding, because men in macho sports don't know how to be vulnerable. And the new role for people in my position is to understand vulnerability in people, and that not everybody is a tough warrior with an inner frogman. Some people are creative, and some are introverted, and Craig taught me how to look at the person, because we're not a football business, we're a people business. And without people there is no business."
"Two very inspirational characters in FCK are William Kvist, who has a very deep understanding of the soft skills required to survive in this environment, and Martin Langagergaard who has recently arrived. Martin is our performance psychologist, and he has used all his experience to teach the organization that we can't always be high energy, because we're not built to be always on. It's very important to be off, so it's high energy and low energy."
"And we talk now as an organization about meditating and breathing and having lower energy and maybe going for a coffee with your wife. Ludwig Augustinsson was the king of recovery, when he was here, it was always recovery, and we joked that he was sleeping in his space legs, so maybe now Martin would have said, turn off the space legs and go and have an ice cream. Martin has been a wonderful addition to the staff, and a perfect foil for where we are going as a football club."
- - - - - - - - -
We're growing the next generation
"What I decided is, that as we grow our medical department, and as we are the pioneering football club in Scandinavia, we have to grow the next line of leaders. For three years we have been taking two student interns every year, and if they're not for FC Copenhagen, they should be for Danish sport. We train them, we give them a lot of responsibility, they get a huge amount of contact on our academy, the FCK Talent Department, and they get a lot of contact and decision making on the first team, and then we support them with a lot of education. Abdel Benkacem is head of medical in our academy, and we worked together in Fulham, so I brought him here, and he's set up an education programme, so we bring them up to the highest level. And then we empower them."
"The students are still in university, so the government is still paying them, and then we pay their expenses plus we pay them an hourly rate, when they are doing extra. You should get a fair wage for an hour's fair work, because I believe that we shouldn't follow the English model where people are working for free."
"Sport science has really come into football now, and over the years, the top universities in England are producing thousands of guys, whose only goal in life is to become involved in elite sport. But all those guys can't get jobs, and now they're willing to work for free on a zero-dollar contract. And this really is not acceptable, and I think unpaid work is a really big problem in sport."
"But we've created a sports science department, where we're growing the next generation. Jonas Winther Sørensen was one of the interns, and he's been brilliant. He measures all of our strengths and jumps, and he measures all of our data and shows us where the team is in any one time. And Alexander Bruun graduated from the intern programme and is leaving now to go home to Norway, Morten Carl went through the programme and is now the head physio in Lyngby, and we have two guys just about to finish now, Mathias Larsen and Kevin Rasmussen."
"It's also about being something for the city and giving something back to the community, which is a key part of the club's new strategy."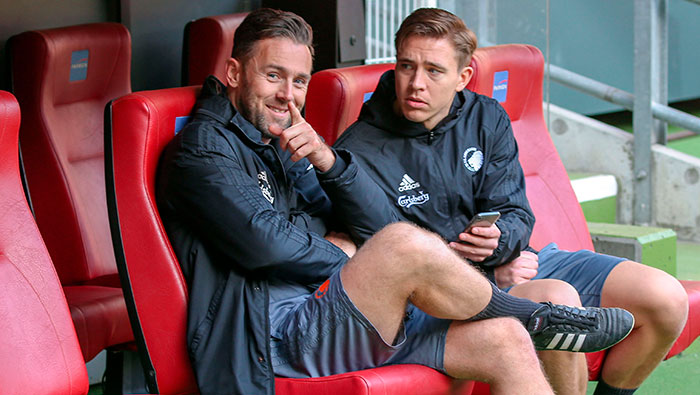 "I would also like to stress this: when I came to FCK, immediately I was touched by Jesper Larsen, Anders Storskov and Simon Fouchard being here for so long. I was being immersed in these people, and I was being looked after by Karina Danielsson and Per Wind from the sports administration, and they are the fabric of this football club. So all of these people and all of their experiences were directly imparted to me. Straight away, I felt aligned with the culture, because Jesper, Simon, Anders – in particular those three guys – had been through a lot together."
"We are the custodians of the past, we are holding on to it, so we can tell the next generation. And for sure, they will feel connected. In the same way that they passed it to me, we can pass it on to them."
"But everybody is going to leave some day, and I've always been very conscious of the fact that in football things change really, really quickly. So, to keep continuity, we're creating processes for everybody to follow, so if I'm ever hit by a bus, the club can continue to follow the processes. That's how Ståle has built something that will last a test of time for sure."
- - - - - - - - -
Dave knew a thing or two about Danes, before he moved to the city, and he hasn't been disappointed. After five years in the city, he still enjoys the city, the Danes and the Danish hygge.
They all wait for the green man!
"When I came here in the summer of 1998, I had no idea that I would come back again in 2014, but I always loved Danish people because they seem like individuals. They wouldn't follow, they always went their own path. But the thing that really challenged me was: why do they always wait for the green man to turn on at the traffic lights? They all want to be individuals, but they all wait for the green man!"
"This paradox confused me so much that I found Danes totally intriguing as people. So, while everybody else says Copenhagen is this or that, I constantly spend my time analysing Danes, and I find them really interesting to understand why they do things. So that's why Copenhagen is so interesting."
"And because everybody waits for the green man, I think people have a little bit more time to reflect on life, and they think a little bit more. And they like making hygge, they like enjoying brunch on a Saturday-Sunday, they like going for a swim in the harbour, they respect each other on their bikes, you don't see any road rage violence, you don't see any trouble. In London, it's just a struggle to get on the tube every day, and sometimes it's a struggle to survive a bus journey, because there could be someone on it with a knife. Compare this to the idyllic bliss of Copenhagen!"
"A Dane can be closed, but an Irish person, we are so expressive, we travel the world, we're the world's greatest couch surfers. We come from a culture where you don't look out the window, if someone knocks on your door, you open the door, and you let someone in. If someone needs a bed, you give them a bed. If someone's lost or lonely, you make them a friend. And that's very helpful in the society and in my job, it's very helpful for me to be curious, and I think being Irish helps, because my default button is to be open."
- - - - - - - - -
After 11 years in the Premier League, Dave was used to media attention from all over the world, but not in the way a club like FC Copenhagen is working with content, media and fans. Times are changing in the world of football in these years.
People didn't make videos like that!
"FCK TV has kind of broken the taboo of medics talking about what they do. The documentary about Bashkim Kadrii recovering from his knee injuries, following Andreas Cornelius' rehab for his broken ankle, the Erik Johansson documentary with an episode where you actually saw the whole operation of his knee injury, while the doctor explained what was going on. People didn't make videos like that! I don't know if it's a good thing or a bad thing, but it's content, and other clubs are also making rehab videos now."
"Dave telling FCK TV, how Andreas Cornelius could play four months after he broke his ankle.
"In the future, you are going to see that everything that happens in a football club will have a content spin to it. And as the physio in a football club and in my department, you will have noticed how fluid it is, the movement between the player, therapist, staff member and the media team. But Ståle is also very clear that he thinks that FCK can be very transparent."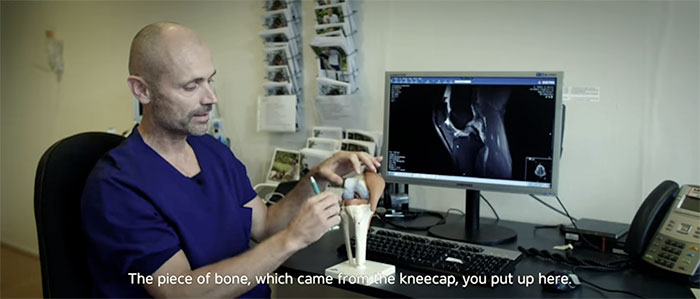 >> See the Erik Johansson-documentary here (English subtitles)
"Five years ago the media department wouldn't be allowed to cross a line in any football club, but now when you see Amazon' documentary about Man City, the majority of the contact is with physio and the player. It's a human-interest story. Players are now the CEO of their own brand, and people are interested in that brand. So if we have an injury to Robert Skov, all of our fans want to know on a day to day-basis, almost minute to minute, if he is doing okay today. It's a human-interest story."
We have to give them something
"The shift in five years has been profound, so if you can imagine how quickly social trends move, players will soon be wearing a go pro getting into their car, logging what they have for their breakfast, and content will be everywhere!"
"In a future, a football club becomes a content publishing business. Someone high up the food chain, who makes big decisions, will say, we are going to make 200 hours of human content based on injuries, because we have surveyed our fans, and they want to follow the day to day progression of the player as he has his challenges. Just as an example. The older fans at the C Stand might find it difficult to understand that this is a football club, but it's also a content club. But the future will look like this. People are so interested. We have to give them something."