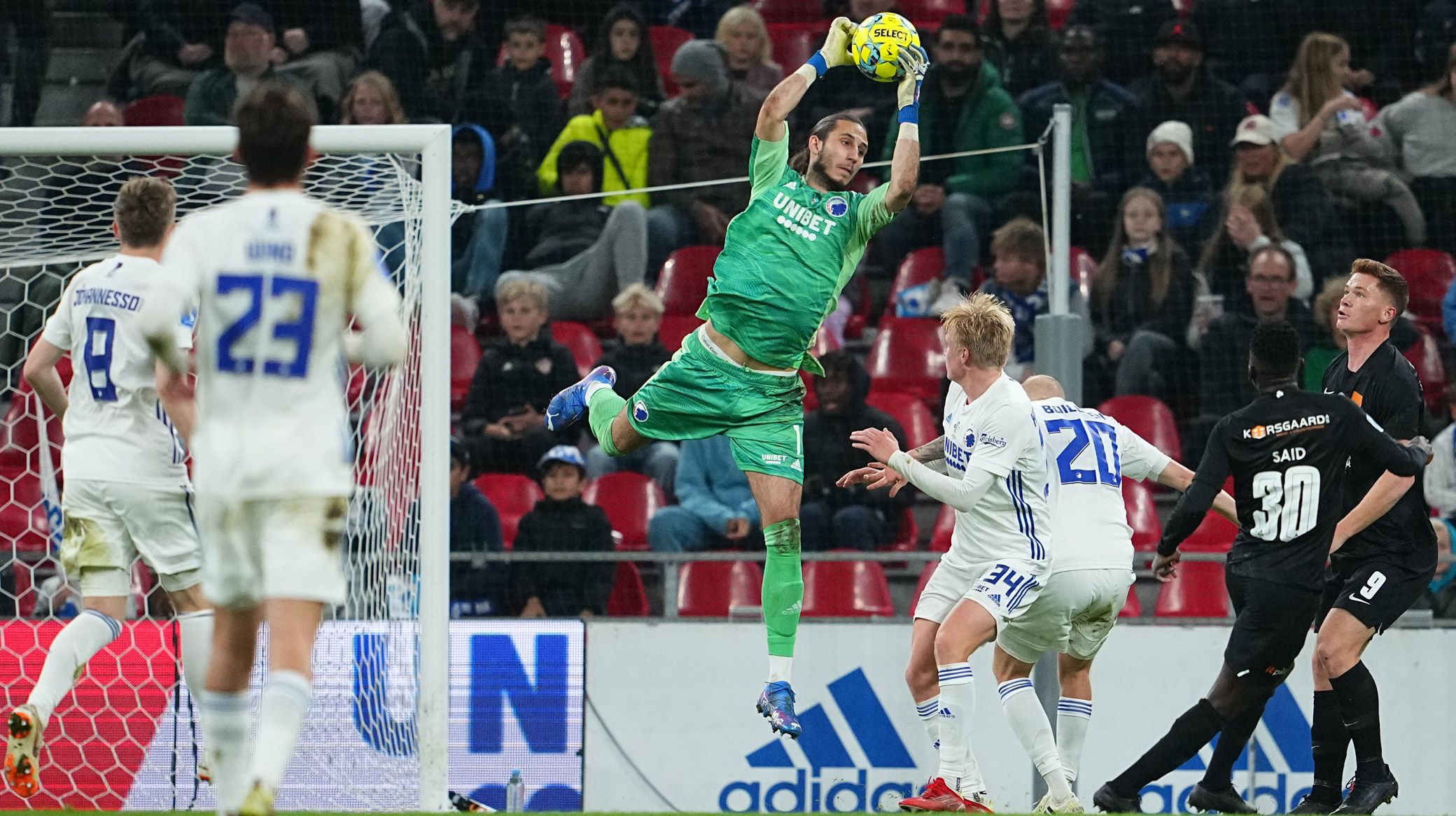 Lars Rønbøg, Getty Images
Kamil Grabara: From Chorzow to Copenhagen
09/02 2022 21:13
Six years ago Kamil Grabara, then aged just 16, moved from Ruch Chorzow in Poland to Liverpool's academy. Now plying his trade in Denmark, Grabara tells FCK.dk about his career path from Chorzow to Copenhagen…
Kamil Grabara is ready to begin the second half of his debut season as an F.C. Copenhagen goalkeeper, following his transfer from Liverpool in the beginning of July 2021.
Many Danes knew him from his loan spells at AGF, but to learn more about his background, we had a longer conversation with Grabara one evening during the Lions' training camp in Portugal.
"Did you always want to be a goalkeeper?"
"Yes, I did. I didn't begin as an outfield player, like many others. I always wanted to be a goalkeeper and wear gloves."
"Did you have a goalkeeping idol when you were young?"
"We've had so many, and we still have many good goalkeepers in Poland, but I can't say I had an idol. Of course I was watching the best goalkeepers in the world to see what they were doing well and how you could implement it, but I have this feeling that it really is about being yourself. But it'll be nice in the end to say that I had my own style."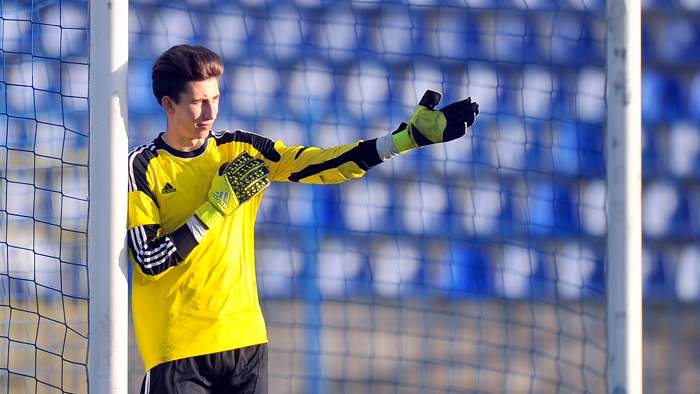 "You played in the academy in Ruch Chorzow, before you signed for Liverpool when you were 16 years old. How did it come about?"
"I went to Liverpool in the beginning of January 2016, just before I turned 17. In the autumn of 2015, I was playing for our U17 national team in a EURO qualification group, and we won the two first games, but lost the last one to Spain. I think I did pretty OK, and we only lost 2-1, when normally we should have lost 7-1…
"After that there was some interest, but it didn't go to me directly, but to my agent. Manchester City and Manchester United were both interested, and also Liverpool. Their goalkeeper coach, John Achterberg, really wanted to sign me and I didn't have to do any tests or trials, so… they just put me on the plane with my parents and my agent, and I signed after I did the medical.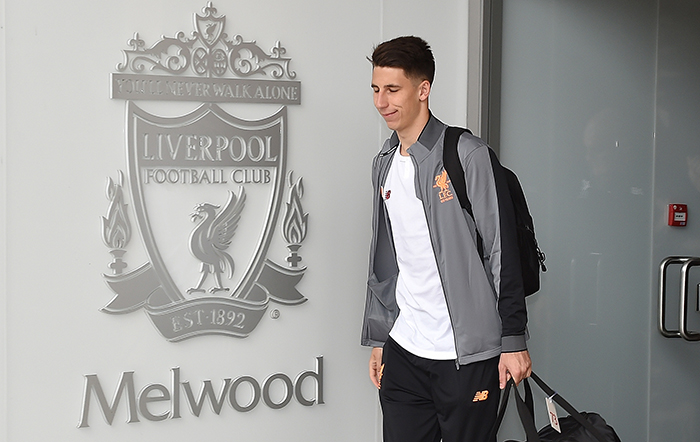 "He is still a goalkeeper coach for their first team, and since then we still have a pretty good relationship. I fully respect him, and I will always be thankful to him. If it wasn't for him, my path would have gone completely in another direction.
"It was an amazing moment for a kid that was 16 and just turning 17 to get the chance I got, and I will always appreciate it, and we are still in touch nowadays."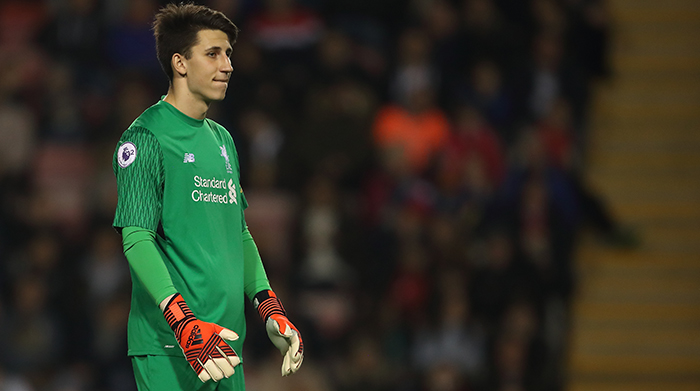 "There must have been tough competition for the goalkeeper position at the academy of a club like Liverpool?"
"Well, when I look at it now and not being at the club anymore, and being somewhere else, I can see that the competition was crazy.
"But back then, when I was 17, I didn't see it that way. I was not trying to put myself in a position to compete with the rest of the guys, I was more trying to put me in a position that I could improve myself.
"I was never focused on trying to be better than someone else, I was just trying to be better as myself. And I think it worked pretty well. I was probably rewarded a few times by this approach.
"So I'm overall pretty happy that I've seen it that way and not the other, because it could be toxic the other way, especially when I was 17 coming from a different country, you know, it was like a survival lesson for me as well.
"So I must say that worked pretty well, and it helped me a lot that I wasn't focused on nonsense competing with people. I was just focusing on myself, and I think that is the right approach."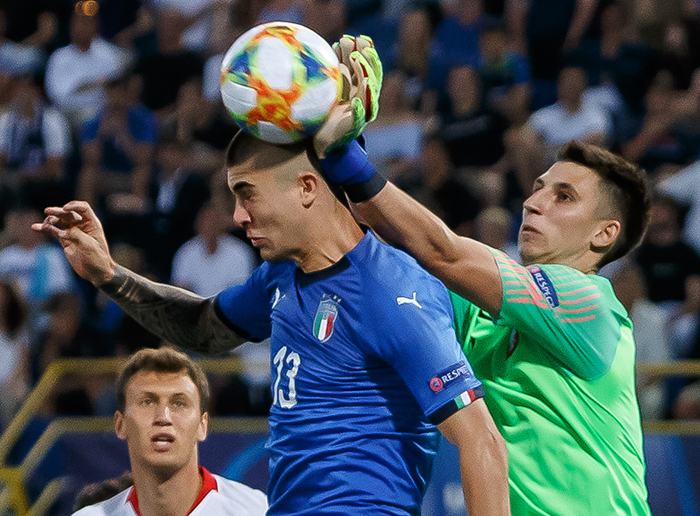 "After a few years, we heard about you for the first time in Denmark, when you went on loan to AGF in the spring of 2019, and then you continued at Huddersfield Town and played many games for them in the Championship."
"Yes, I went to Huddersfield straight after the EURO U21 in Italy in the summer of 2019, where we had pretty decent success. It was the old tournament format with three groups of four teams, so only the first teams were guaranteed to go through and the best of the second-place teams.
"We beat Italy and Belgium and lost to Spain at the end, but it was an amazing time. I was 19 and playing with guys who were 23 at that time, because the rules said you just needed to be 21 when the qualification started. So I was four years younger than the rest of the boys, but it was nice.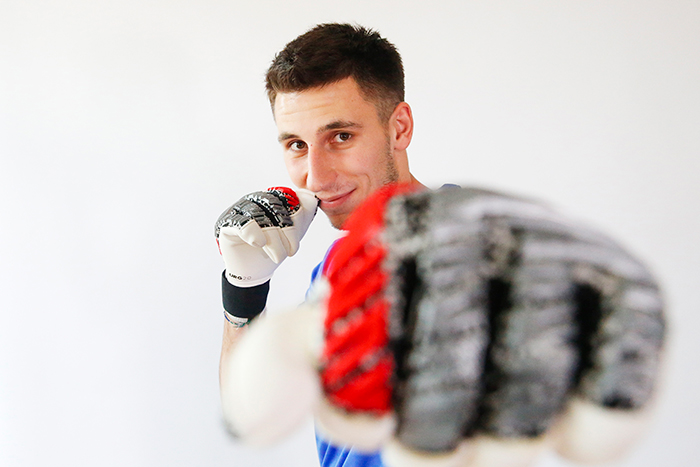 "And then straight after the EURO I had like ten different options to choose, and I ended up in Huddersfield. And I have to say it was working well until January 2020. I had probably played 30 games for Huddersfield, and we were playing an away game in Hull, and I had a collision with one of my defenders and a striker.
"I just hid the ground with my head without touching the ground with my hands first, it was my head that hit the ground straight on.
"I not only ended up having a pretty badly concussion, but also having a bruise on my brain, and it was quite big, close to 1cm, so you can imagine… even a bruise like 1mm is dangerous!
"After that I couldn't train for a good two months, I think, because when it comes to bleeding in the brain and all that, you need to visit multiple specialists, and they are going to tell you the worst possible scenarios, and it was quite a lot at that time.
"I was back to training three months after that, and then coronavirus happened, so I ended up not playing football for seven or eight months.

"I don't want anyone to feel sorry for me, just to be clear on that, because there are bigger problems than that in the lives of so many people. But of course, it was not nice waking up in the hospital the next day without knowing where you are, and without remembering the last three or four days.
"It is what it is, but it's a strange feeling not playing football for such a long time. Until that moment I was feeling really well, I was playing quite good football, I have to say, and in ten months I'd played probably about 60 games. But when everything goes well in your life, sometimes you get a knock and you need to start everything again. At least you can take the experience with you.
"I don't want to sound silly and say I'm happy that this happened, because I'm not, but at the age of 23 now I have been through moments like this, and I think that just helps me in the end. You need to be able to shake it off, and I think I realised quite quickly that I needed to start everything again. And it doesn't matter where you have been five months ago, you need to start everything again.
"That's how it is, and just to be clear, I'm honestly really, really happy that I've made it work so far, and I am at the place where I am right now and I'm fighting for the championship and playing European football. It could not be better."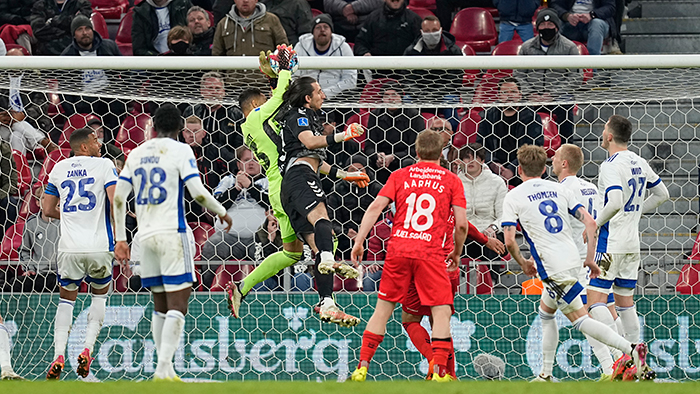 "You played for AGF again last season on loan, before you signed a permanent contract with FCK in the summer of 2021. What do you think of your first half season in Copenhagen?"
"Of course it's a different environment from AGF, you're not playing just to play well, you're playing to win every time, and you can feel that every day at the club. But that's what most football players like, I guess. That's why you play football.
"Am I satisfied? Hmm… we've conceded the fewest goals in the league so far, so to some extent yes. With some of the games I'm pretty happy, with some not. That's how it is, and that's why you have a training camp like this, to improve on things that you are lacking. For example in my case it's probably distribution. If people could see our training, they would see that I'm really working on that, so I'm hoping it will be better in the second part of the season."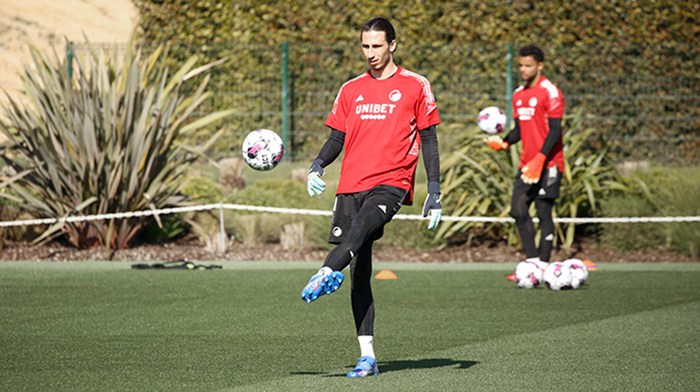 "You've played 28 games for FCK - which was your best experience?"
"The best feeling was of course the derby against Brøndby at home, when we won 4-2. It was an amazing game. And I can also point you the worst feeling: Brøndby away, when we lost 2-1!
"If you ask any fan of the club, they will say exactly the same. Of course, as football players, we see it from a different perspective, but at the end we live through these emotions.
"And just because I'm not born in Denmark or Copenhagen, it doesn't mean that I'm not taking the derby seriously, because at the end we play football for the fans."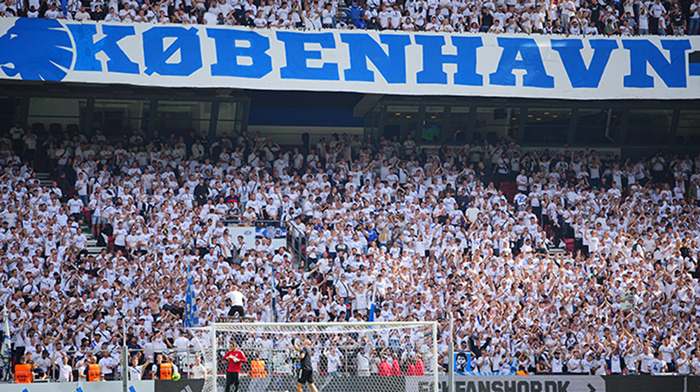 "What's on your mind, when you're standing in Parken just before kickoff?"
"As you mentioned before I've played in the Championship even when I was really young, so you get used to the atmosphere, and in England the stadiums are always full.
"So for me it's much easier to concentrate on the game when it comes to playing in front of 20,000 or 30,000 people like we have had in Parken so many times this season. It's much easier to set up for the game, from my perspective as a goalkeeper, than when we play for example away from home with 5,000 people on the stadium.
"When that happens football players sometimes think about so many different things other than football, which is costly most of the time. So it's your job to set up properly if not playing in ideal conditions.
"But do I have something specific in my mind? Probably just to warm up. I'm not thinking that much about the game really, it's just about going out for a good warm-up and then playing the game. I'm trying not to overthink too much, because it's not helpful. Most of the time it's basically nothing in your head apart from just catching the ball and doing it properly."
- - - - - - -
FCK goalkeeper coach Kim Christensen has patiently been sitting and waiting while we talk, as he has a meeting planned to go through video analysis. Kamil then heads to his room at the Dunas Douradas Beach Hotel, which he shares with Denis Vavro and David Khocholava.
We thanked Kamil for the interesting conversation, and he replied in his characteristic smile: "I just make sh*t stories interesting, so they sound good."