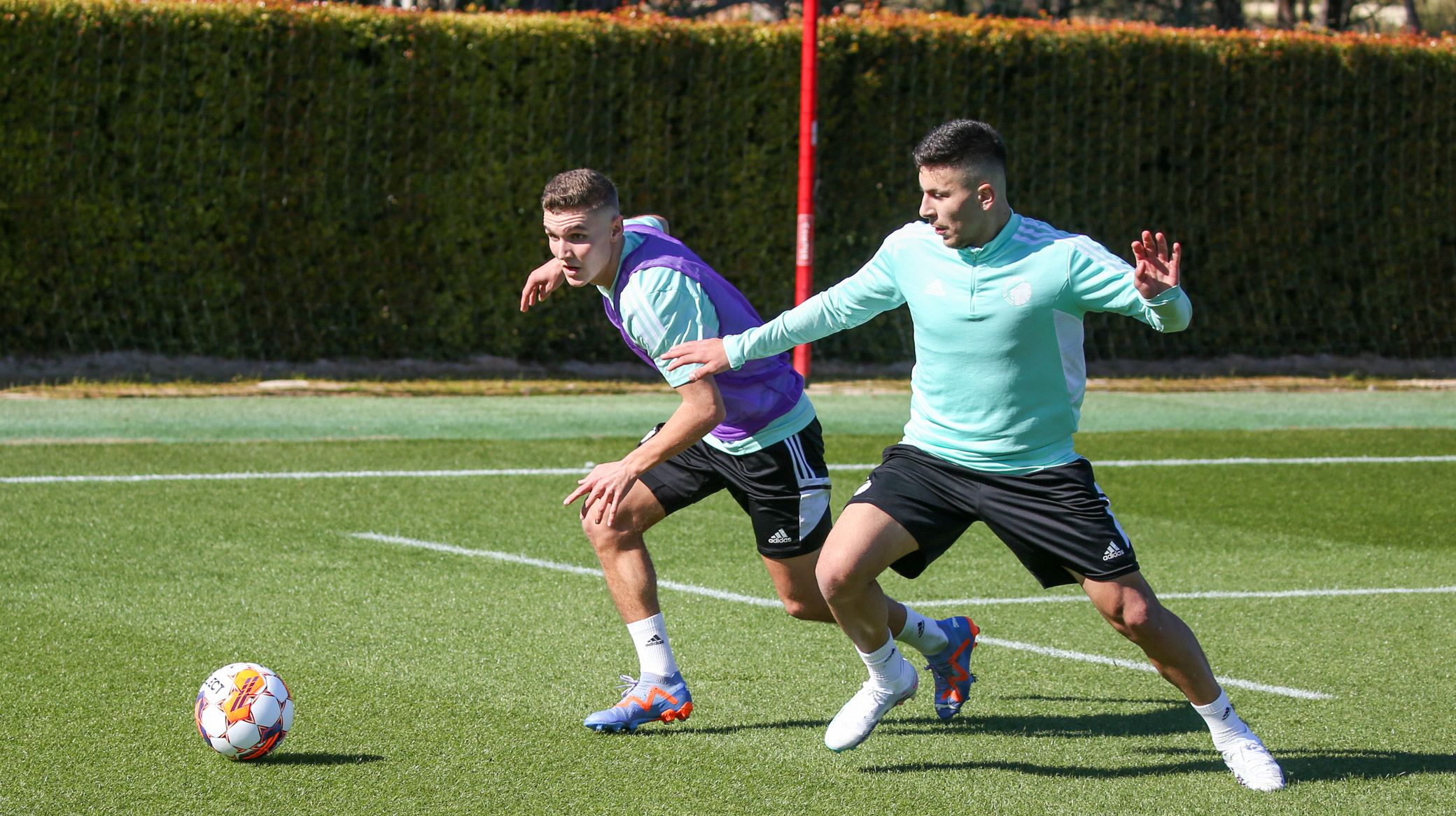 Torkil Fosdal, FCK.DK
Elias Jelert on FCK winter training progress
06/02 2023 12:34
Elias Jelert says he is getting accustomed to changing position across F.C. Copenhagen's defensive line, and is happy to play wherever head coach Jacob Neestrup needs him.
Jelert was one of three players to stay the whole 90 minutes in FCK's recently friendly win over Elfsborg. He started at right-back in Portugal before switching over to the left when Christian Sørensen was replaced by Kevin Diks after an hour.
"As I've said a few times before, I don't mind playing on both sides," Jelert tells FCK's official podcast from the camp in Portugal.
"Of course I prefer being on the right, because I am right-footed, but it opens up different possibilities. As a left-back you can of course move into the middle, but I really only play where Jacob Neestrup tells me, and that's fine by me.
"On the right side, it's easier to position yourself. But when you come up in the attack on the left, then you can cut in and use either feet… it's up to you. On the right, of course, it's a little easier to play forward, but otherwise it's really just the same but reversed."
Relations with wingers
Jelert, 19, made his FCK debut last season and already has plenty of Danish Superliga experience under his belt. He played the full 90 minutes in FCK's 0-0 draw with Manchester City back in October, and is building relationships with wingers on both flanks of the Parken pitch – including new arrival Diogo Gonçalves.
"I have some good relationships with the wingers, that's clear. I know Roony, for example, from when we played in the youth teams, and Diogo and I are finding out more about each other. That went well against Hvidovre, for example," says Jelert.
"I tell them every time that I'm there to overlap, and it's for them to decide whether they play it to me or not, and the relationship just come with time.
"You have to get to know each other and know what traits they have and when they like to cut inside and when they like to play me out wide."
FCK shape coming together
There are still two more weeks of winter training before the Danish Superliga gets back underway, with FCK taking on Silkeborg. And Jelert is hoping to impress further in the second half of the season.
"I think we look good. I played 90 minutes against Elfsborg and got a lot of metres in my legs, and I was pretty much dead for the last ten minutes. But it looks good," he says.
"It was a great match, with the many physical battles, and I was also knocked over a few times myself. We played a good physical team, but we drew the longest straw and played better, I think."
Neestrup will put his players through two training sessions this Monday, before Tuesday's 8pm clash with Norwegian side Viking FK in Portimao. That match will be available to stream live on FCK.dk.