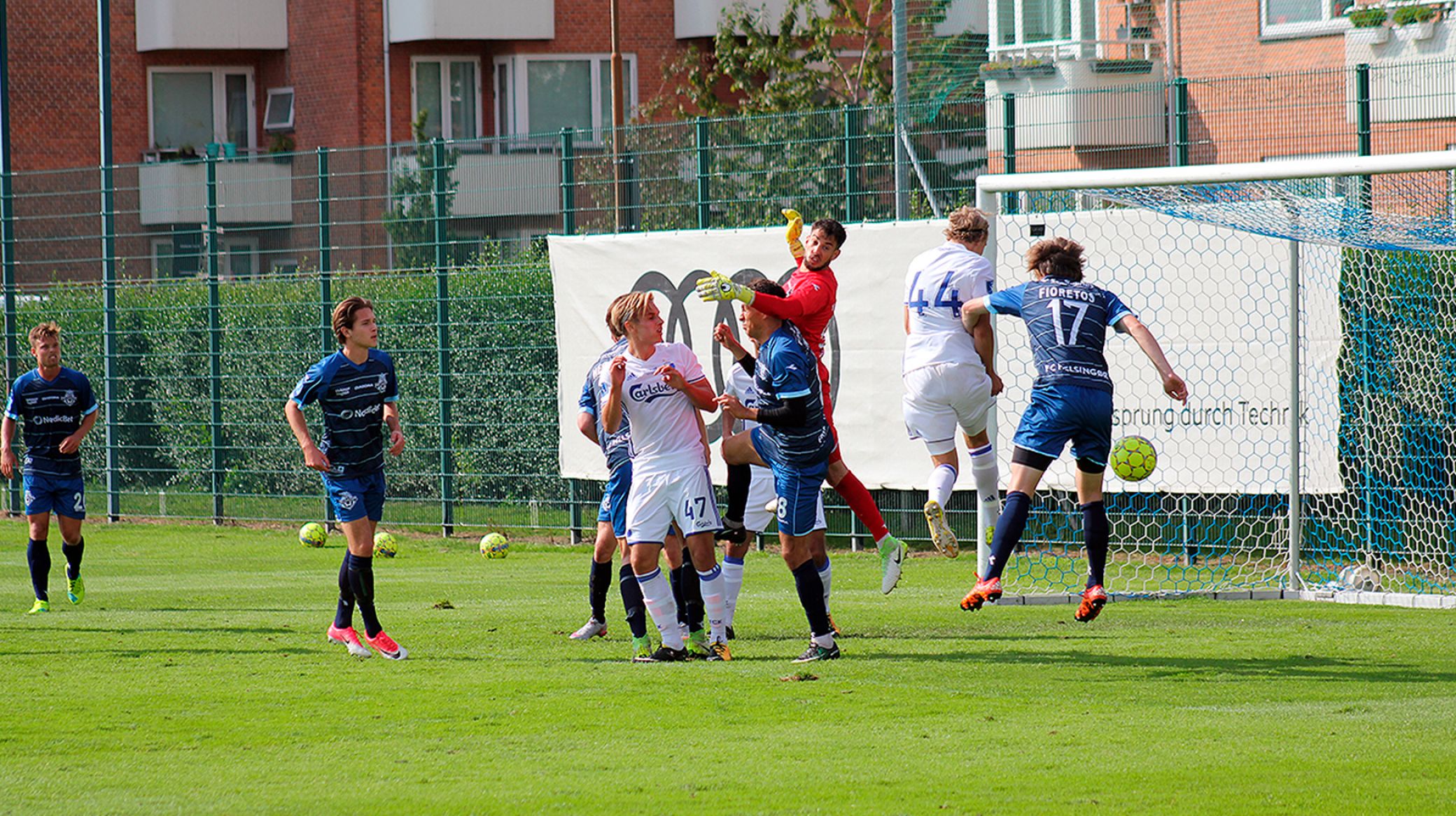 FCK.DK
2-2 i Reserveligaen mod FC Helsingør
06/12 2017 21:10
Her til aften spillede vi den sidste kamp i efterårets Reserveliga-pulje ude mod FC Helsingør, og de to klubber havde på forhånd aftalt at spille med hold fra deres talentafdelinger. FC Helsingør var optaget af pokalkamp i Aalborg, og vi forbereder os som bekendt til Europa League i morgen.
Kampen sluttede 2-2, og vores målscorere var Daniel Thiesen og Kristall Ingason. Begge årgang 2002, som udgjorde halvdelen af truppen, og de øvrige fra årgang 99-01.
Kampen havde ikke indflydelse på den samlede stilling i gruppen. Til foråret spiller vi i en landsdækkende gruppe med de to bedste fra hver af de tre regionale puljer.
| | | | | | | |
| --- | --- | --- | --- | --- | --- | --- |
|   | K | V | U | T | Målscore | Point |
| 1. Lyngby | 6 | 4 | 1 | 1 | 14-8 | 13 |
| 2. FCK | 6 | 3 | 2 | 1 | 17-11 | 11 |
| 3. Brøndby | 6 | 2 | 0 | 4 | 11-17 | 6 |
| 4. FC Helsingør | 6 | 1 | 1 | 4 | 8-14 | 4 |
Vores øvrige resultater:
7.8 u Lyngby 1-1 (Pieros Sotiriou)
28.8 h FC Helsingør 4-1 (Rasmus Falk, Nicklas Røjkjær, Martin Pusic, Oliver Andersen)
5.9 h Brøndby 3-2 (Kasper Kusk, Martin Pusic, Uros Matic)
6.10 h Lyngby 2-3 (Martin Pusic, Oliver Andersen)
14.10 u Brøndby 5-2 (Martin Pusic 3, Pierre Bengtsson, Uros Matic)