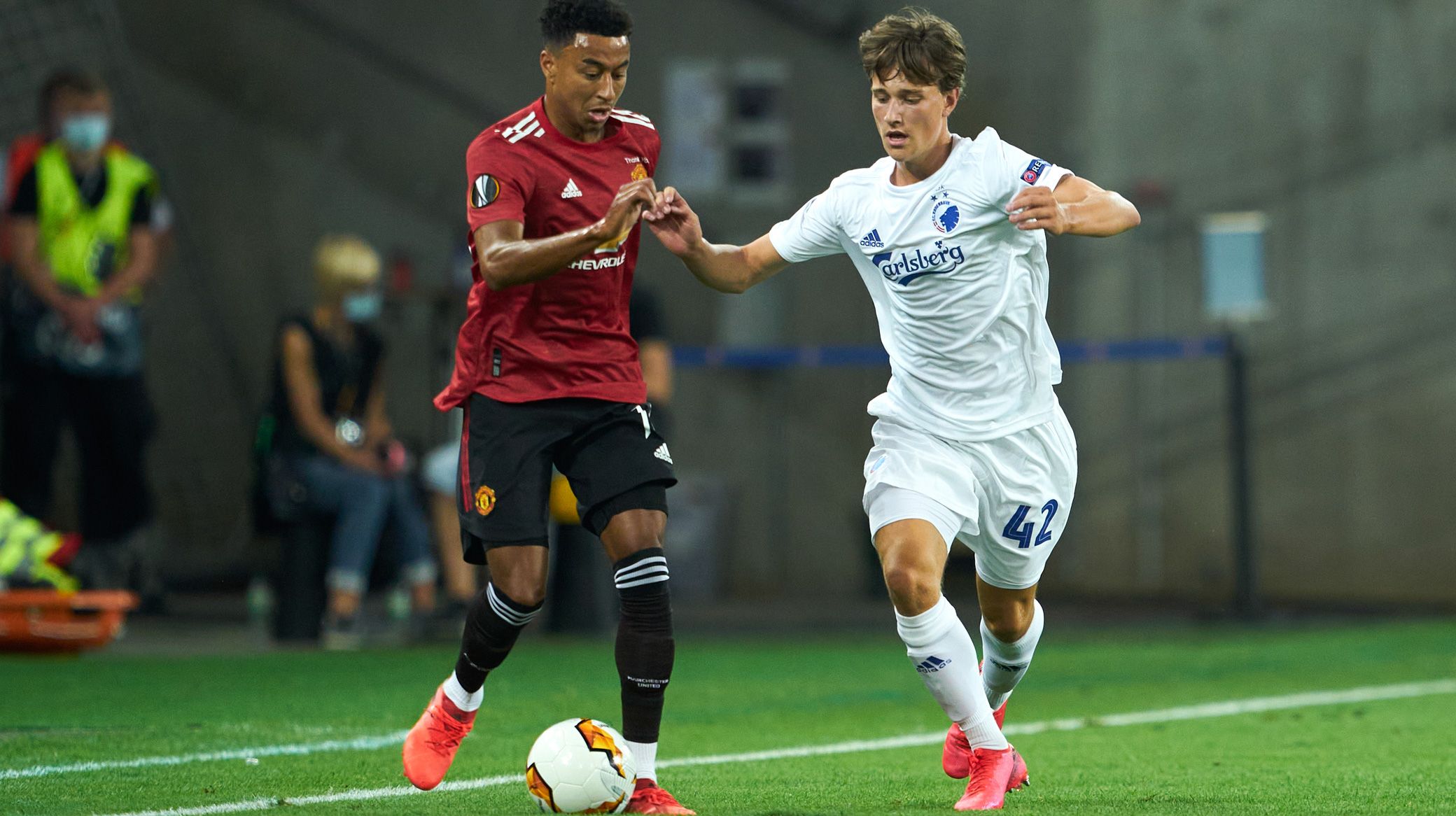 Lars Rønbøg, Getty Images
William Bøving signs F.C. Copenhagen contract extension
21/05 2021 14:08
F.C. Copenhagen have extended William Bøving's contract until the summer of 2025. The 18-year-old will also be moved from the talent department to the Superliga squad for the 2021/22 season.
Bøving is capable of covering several offensive positions and is currently the top scorer in the U19 league. He made his senior debut against AaB in the Sydbank Cup in March 2020 and was also on the pitch in the Europa League quarter-final against Manchester United last August.
In total, he has made three first-team appearances for FCK.
"It means a lot to me. It's something I've been fighting for for many years now and I'm super proud - it's a big day for me," Bøving said.
"It's nice that I have my future in place now and I'm excited for the next four years, which we have now made a plan for. I am fully focused on football and I look forward to becoming a regular part of the first team squad now, having trained a lot with them in recent years. I have got off to a good start with this agreement."
Great expectations for the first team
FCK sporting director, Peter Christiansen, is pleased that one of the club's own talents is making the step up to the first team.
"William has plenty of talent at his disposal, with his dribbles and offensive play. We expect a lot from him and we see him as a top talent, otherwise you wouldn't get into FCK's first team squad," Christiansen said.
"There is still a long way to go for him, but the real football starts now - and he has got a good start in our talent department. This is our strategy that is being unfolded and it is a goal from the talent department that they develop such talented youngsters who we think can do well in our first team."
Pride in the talent department
Bøving has played 25 youth games for Denmark and is currently a U19 national team player. He has been part of FCK's talent department for a number of years.
"It's a great reward to all the coaches and experts who have worked with William over the years," says Sune Smith-Nielsen, development director with responsibility for FCK's talent department.
"It's the first of the big steps for him and we all know that several big steps await him before he becomes a regular. But right now we are all just proud that we can hand over a talented young player to the first team.
"William has a broad range of technical and tactical skills along with his speed. This is also seen in the number of goals he's scored. In the talent department, it's about us being able to deliver these players to PC and the first team, so we're happy to do that."
Bøving will now finish the season with the U19 team before joining the first team after the summer break.
 
William Bøving Wick
Born: 1 March  2003
International appearances: 10 U16, 12 U17, 2 U18 and 1 U19
F.C. Copenhagen appearances: 3