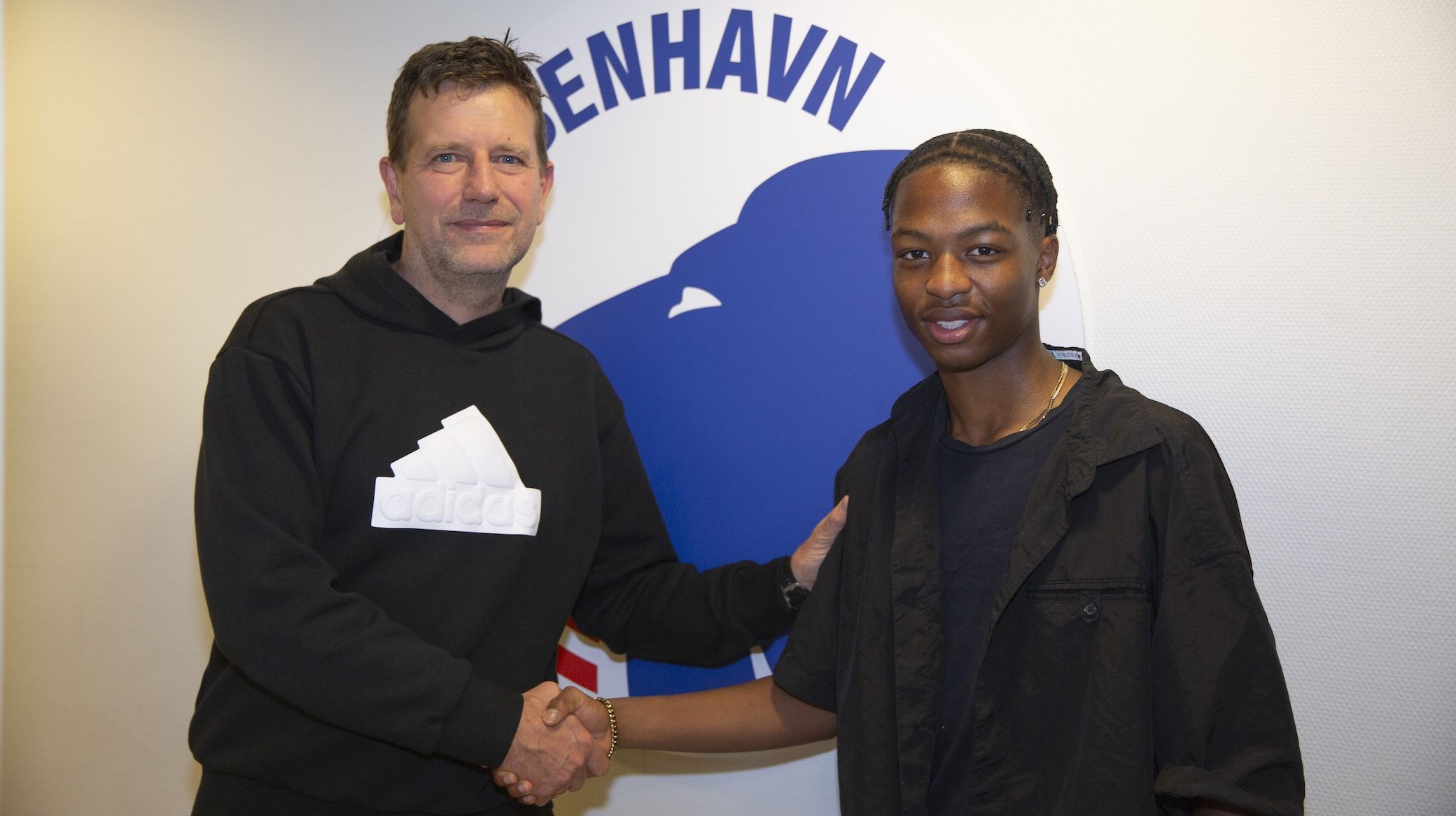 Sune Smith-Nielsen og Tristan Andrew
Mathias Sørensen, FCK.DK
Tristan Andrew extends contract with FCK Talent
16/11 2023 11:41
The FCK Talent Department has agreed a contract extension with Denmark U18 player Tristan Andrew until 31 December 2026.
"Tristan is a top talent and an elegant footballer with a fantastic technique and tactical understanding of the game," says FCK Director of Development Sune Smith-Nielsen.
"He has shown us that he can dominate matches both domestically and internationally - in the various Danish youth national teams and also in the Youth League this season, where he has been a big presence.
"Over the coming years, he has all the potential to reach our first team if he continues his performances and his development."
Andrew, who has South African roots, enjoyed his football upbringing in the FCK cooperation club BK Vestia in Vesterbro, from where he switched to KB as an U11 player. He then took the step up to FCK Talent as an U13 player.
"It's a big day for me and my family, and I've fought to get here and extend my contract with the club. Now it's about carrying on and working even harder to reach the next step," says Andrew.
The midfielder, 17, has previously played in defence but has found his favoured position in defensive midfield for the U19 team. Andrew has played in all of the autumn's matches so far in the UEFA Youth League.
"It is as a 6 that I see my future on the pitch," he adds. "You have to be quick both in your thinking and your actions in the middle, with one or two touches of the ball because there is heavy pressure. But I've got used to that now.
"I have a lot to learn and need to build up physically to be involved at senior level. But I'm looking forward to developing a lot more in the future."
Tristian Andrew Fynbo Birch
Born: 5 March 2006
U16/U17/U18 caps: 26 in total