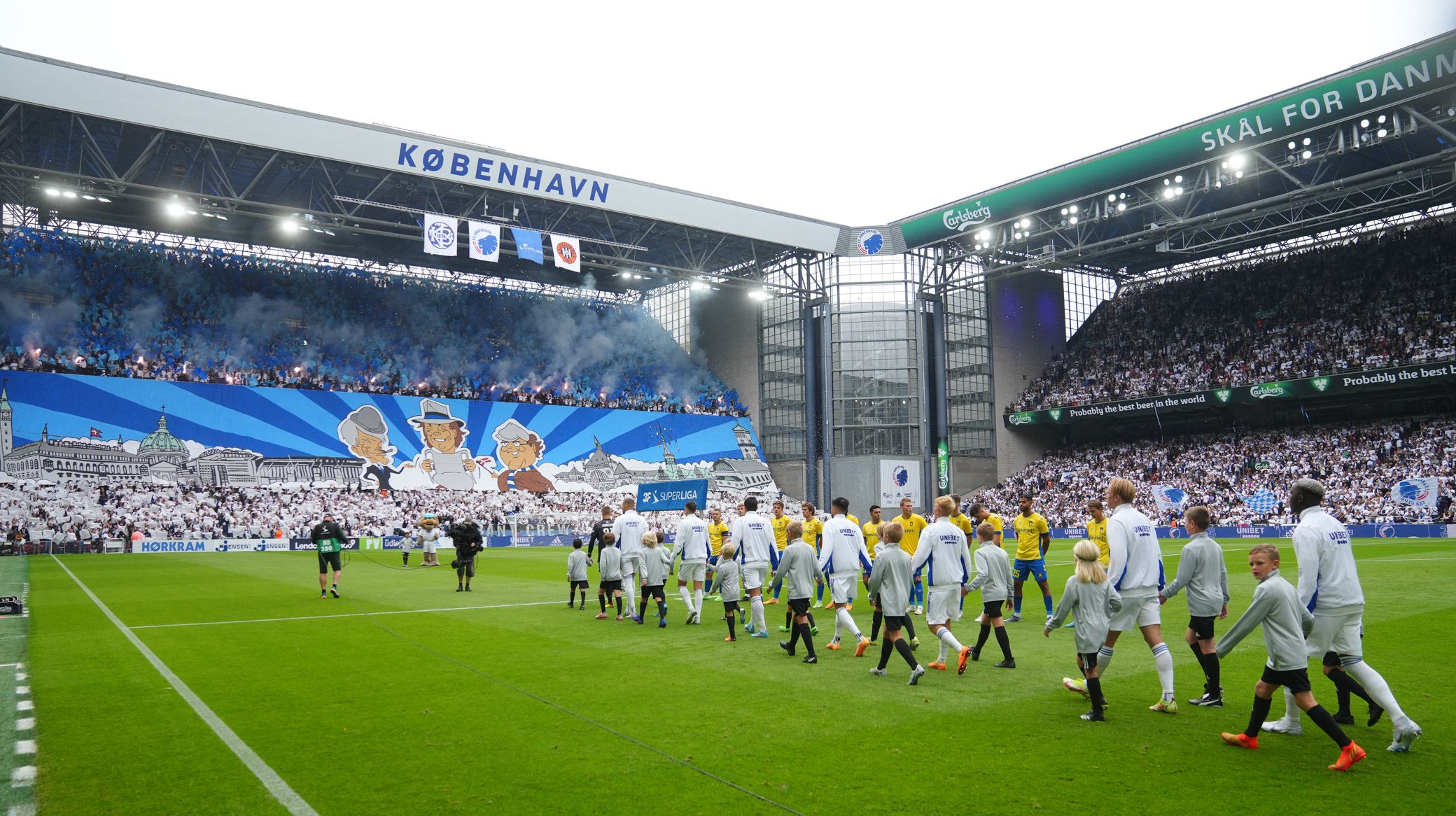 Lars Rønbøg, Getty Images
Thorup reacts to 4-1 derby win
07/08 2022 19:12
F.C. Copenhagen head coach Jess Thorup was naturally delighted with the Lions' crushing 4-1 victory over Brøndby in the derby on Sunday, and was all praise for his players in Parken.
Rasmus Falk's shot deflected off David Khocholava to open the scoring for the hosts, before Pep Biel's magnificent hat-trick secured the three points.
Mohamed Daramy also made his second debut for the club after rejoining on loan from Ajax earlier in the week. And club captain Carlos Zeca got a first taste of competitive action following nine months out with injury.
"Everyone knows how important a derby win is, and especially after the start to the season we have had, it was a great redemption with that win today," says Thorup.
>> Highlights: FCK 4-1 Brøndby
"The way we got the three important points was a demonstration of our power. I don't remember Brøndby creating much more than the shot they scored from, while we could have scored way more than just four goals. The start of the second half was a real bombardment.
"There are many players I could highlight after this fantastic team performance. Daramy made a terrific comeback, so much so you wouldn't think he'd been away, but just standing on the sideline waiting to play again. He quickly rekindled his good combination with Victor Kristiansen on the left.
"Pep Biel continues to deliver at a high level, and now he has scored four classic 'No 9' goals in his last two matches. Not spectacular ones, but easy tap-ins, where he is in the right place when the chance presents itself.
>> Watch: Pep Biel's hat-trick in the derby
"Our defence was also very solid today. Khocholava came in and replaced Boilesen, and gave a big performance next to Denis Vavro. They're two soldiers who defend with tooth and nail, while our full-backs were also strong today.
"I could go on like this, and Zeca's comeback was also a big moment – for him, for the team and for the fans. It's a great advantage to have him available again.
"This performance sets a high standard for the team, and I also said that to the players after the game.
"And we must not forget to thank our fans again for the support they provided. They do that every time we go on the field, but it's always something extra for the derby, and you get tingles when you head into a match with that atmosphere. It was great that we could honour their commitment with good entertainment and a well-deserved derby win."
Next up for FCK is Friday's home game with Randers, where the club will celebrate our 30th anniversary.