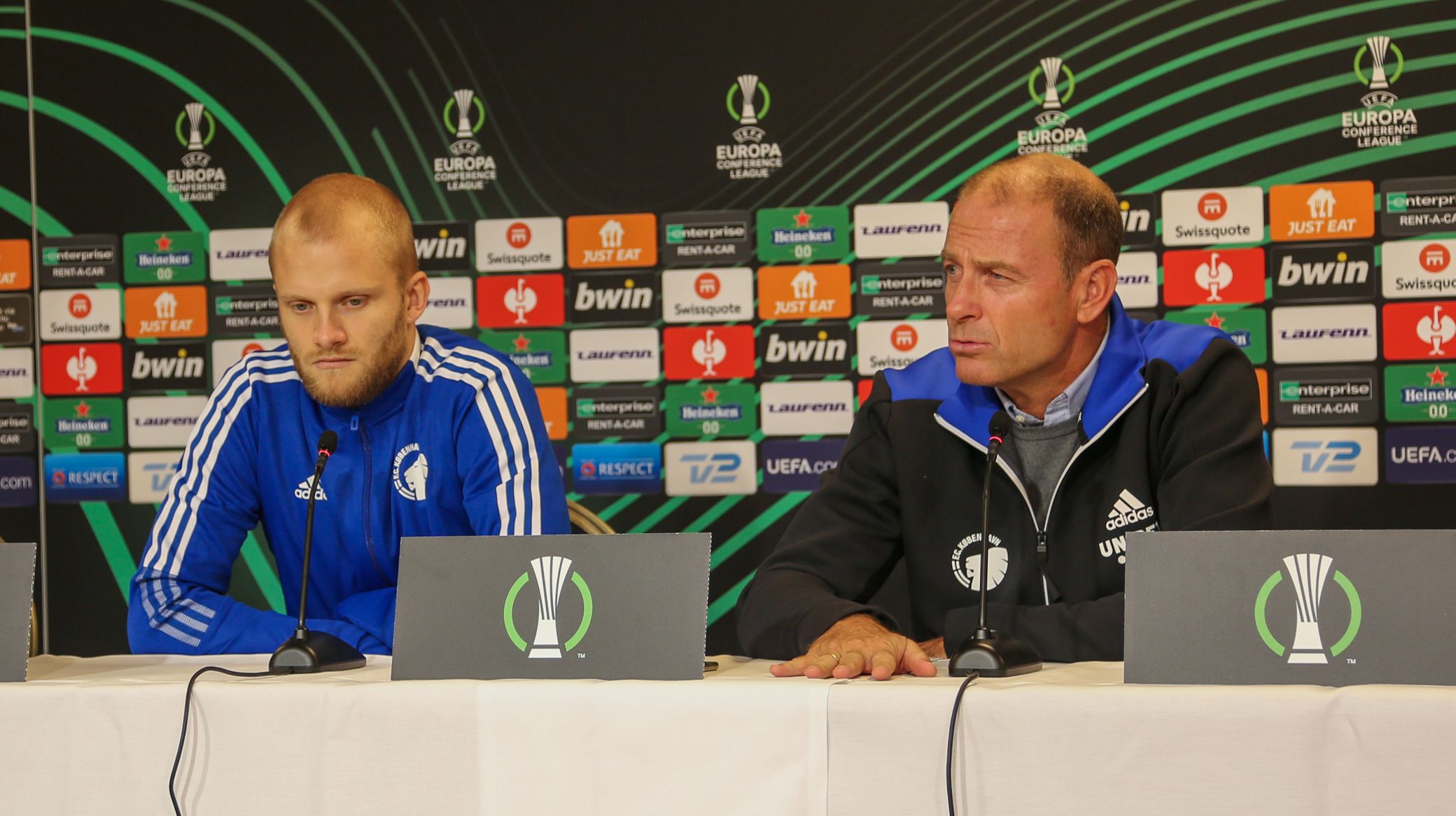 Torkil Fosdal, FCK.DK
Thorup: PAOK a big step for us
21/10 2021 09:43
F.C. Copenhagen head coach Jess Thorup says a victory against PAOK in the UEFA Europa Conference League in Thursday would mark a "big step" in the progression of the squad.
FCK sit top of Group F heading into this third fixture of the competition, having beaten both Slovan Bratislava and Lincoln Red Imps this autumn.
"I'm looking forward to Thursday night!" said Thorup in Wednesday's pre-match press conference.
"Regardless of the opponent, we have had full focus in all our European matches and delivered strong performances, and we can take a big step towards also playing European games after the New Year.
"As usual, we have prepared thoroughly for the opponent, both via video and by having scouts out and watching their matches live.
"PAOK are a strong team and have very strong individual quality in the offensive areas, with several small and fast players. But there are also experienced players who have played a lot."
The Lions head into the encounter having drawn their last two league games, while there is also the derby against Brøndby coming up this Sunday.
But FCK defender Nicolai Boilesen is confident the squad can focus on the job in hand in Parken first, before turning attention to other matters.
"Marios (Oikonomou) said this morning in the locker room that he can't really tell us anything about PAOK that our staff don't already know," said Boilesen.
"I was talking to him and (Carlos) Zeca when we watched the draw. But we have so many people preparing us thoroughly for this opponent.
"We have to go out and take the lead tomorrow, because we are the best when we dominate the game in their half. And of course we have to take advantage of the fact that we have a lot of fans behind us, creating one of these very special evenings, which we have seen so many times."
Thorup then spoke about how he things the game on Thursday will play out.
"Both teams have important matches on Sunday," Thorup said. "PAOK meet Olympiakos and we have the derby with Brøndby, so it may well be a tactical match.
"I'm not saying the teams will play for a draw, but both may be happy to live with it. But our approach to the match will always be to go out, entertain and win."
Thorup didn't want to dwell too much on the latest FCK injury updates either. But he did have some good news.
"Both Victor (Kristiansen) and (Jens) Stage were on the training ground today, but that is not to say that they'll be on the field tomorrow," said Thorup. "There is no reason to tell our opponents in advance!"
Tickets for F.C. Copenhagen vs PAOK at 18:45 on Thursday are still available to buy online. You can buy F.C. Copenhagen tickets and secure your seat here.
We also have info for away fans available ahead of the match, as well as travel advice for F.C. Copenhagen home games.