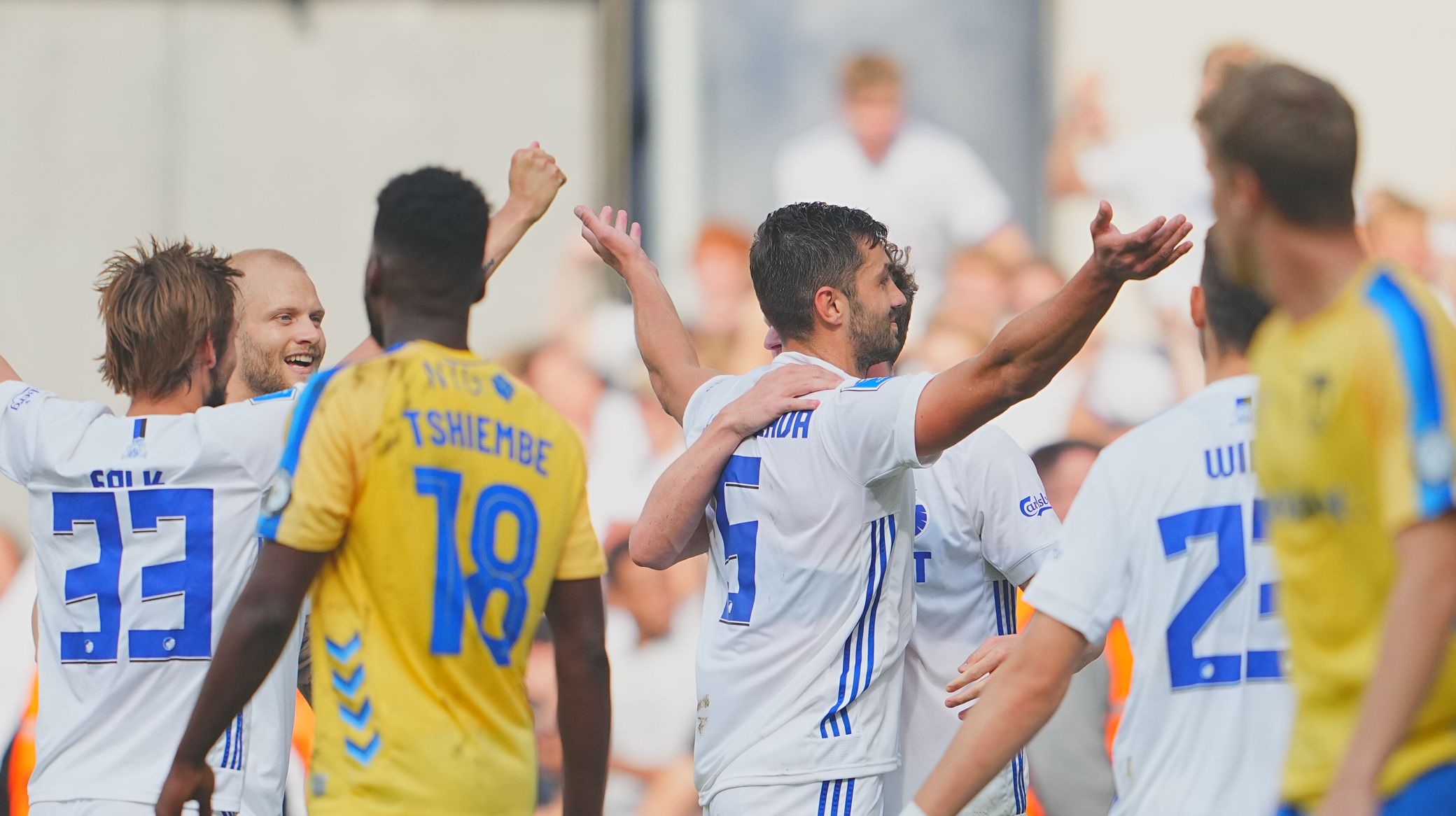 Lars Rønbøg, Getty Images
Thorup: Brøndby win gave me goosebumps
08/08 2021 19:29
F.C. Copenhagen head coach Jess Thorup revealed Sunday's derby win over Brøndby went as he expected as the Lions secured a 4-2 result in front of more than 27,000 spectators.
Parken was once again in full voice for the first derby of the season and two goals from Jonas Wind plus strikes for David Khocholava and Pep Biel secured the victory.
"We know how much these matches mean to everyone who loves FCK, so I am happy and proud to speak after our third derby victory in a row," Thorup said.
"And in this fantastic setting too! I got goosebumps before the match when I saw the scenes in town with all the white jerseys on their way to Parken. We are here to entertain, and I really think we did that, but most importantly we got the three points.
"The match itself developed more or less as one might expect. The two teams were well prepared for each other and were very compact.
"Obviously we are not satisfied with conceding goals the way we did, but offensively I think we played really well today. In the first half we created chances for more goals in open play."
FCK twice took the lead – headers from Wind and Khocholava – only for Brøndby to hit back. But It was Wind who finished from 18-year-old Victor Kristiansen that put the hosts 3-2 up, a lead that they doubled when Biel converted a rebound after Rasmus Falk had waltzed through the away defence.
The win moves FCK up to third in the Superliga and remain unbeaten so far this term.
"Now we are still undefeated in the league and have put our disappointing start away, thanks to strong victories in Odense and here today," Thorup added. "We also have good chances to advance in Europe after Thursday's away game in Bulgaria, which of course left its mark physically.
"But I don't think you could see that today, so we must reserve praise for the entire staff behind the team, who do everything they can every day to ensure the players can perform to their optimum."
Next up for FCK is a home clash with Lokomotiv Plovdiv in the UEFA Europa Conference League third qualifying round. The tie currently sits at 1-1 from the first leg and fans can still secure their place for the game at billet.fck.dk.