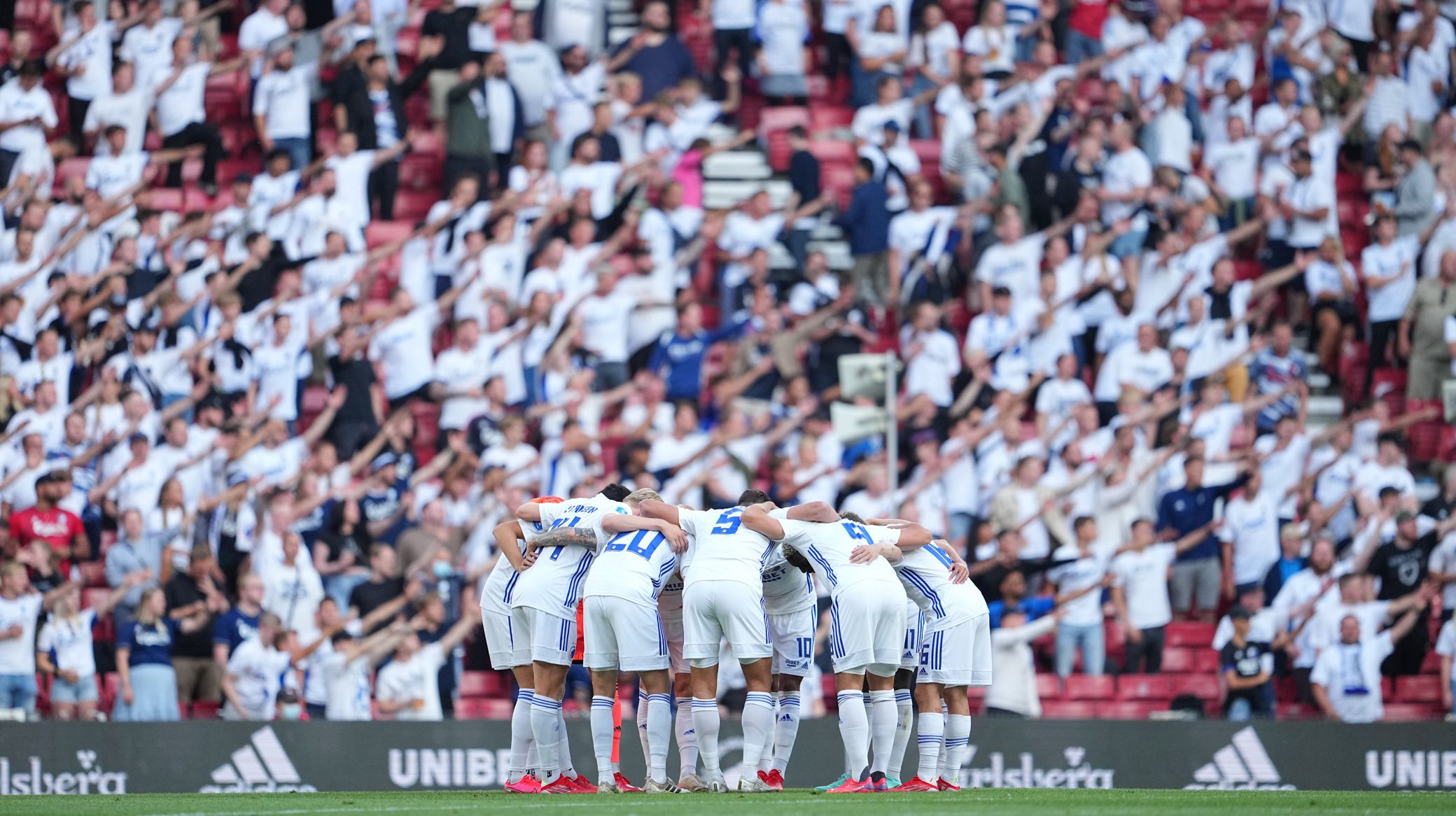 Lars Rønbøg, Getty Images
Players react to Torpedo victory
23/07 2021 09:52
F.C. Copenhagen beat Torpedo-BelAZ Zhodino in the first leg of their UEFA Europa Conference League second-round qualifier in Parken on Thursday evening.
Kamil Wilczek scored a double after Rasmus Falk's first-half opener, while Jonas Wind clipped home a delightful Panenka penalty.
And FCK.dk caught up with the squad after the result…
Jonas Wind
"It was nice to be back and great to be back with a goal - and with a Panenka too to give something extra to our fans. I think it went well. We were fine in our link-up play, but against that type of team, we knew that with a little patience we would create more room.
"I felt that it went well enough today, the pace is there, even though I am not at my maximum just yet. But I think it's going the right way, and I hope for more minutes against Silkeborg.
"Yes, the Panenka can only be used every now and then, and I did it today, but the most important thing was that the ball went in."
Rasmus Falk
"With my goal, I had to wait a bit and catch him on the wrong leg, then I went for the shot and fortunately it went in - and that changed the pattern of the match.
"I have had a slightly mixed start to the season, where I only had one training session before Sunday's AaB game, but I feel fit and fresh.
"The team is still missing some things, for example we are still lacking in our attacking plays. However, it looked good offensively today, although it was a bit of a hassle to start with - they kept us away from the big chances while they had power and energy, and they are not bad football players - they were hard to break up, but they also used a lot of energy themselves, and we felt that we would get more and more space as the match went on - and when that happened, the chances came.
"The requirement for ourselves is to reach the group stage, and even though we would have liked to have been in one of the more 'fun' group stages, we are now doing everything we can to get into the Conference League, and I think that today we showed that we are serious and want to challenge ourselves in this."
Nicolai Boilesen
"We were in control the whole match, but the first half was difficult. Then Falk scored a good goal and it opened up - and after we went to 2-0, the match was probably more or less settled.
"The last 15 minutes of the match have irritated me though, because we threw too many balls away, and we should have put more focus on our defending rather than chasing five, six or seven goals. More of us probably should have fulfilled our defensive duties, because we gave them more opportunities. We slacked off way too much the last 15 minutes.
"As for Falk, he is an incredibly important player, both on and off the field. On the pitch he does all the hard work, and with his tempo change and whimsical dribbles he is very important - on Sunday he had two assists, and today he spiced things up with a goal and plenty of productivity, which he has perhaps lacked.
"We have a good starting point before the return match, but we have to play a minimum of 90 minutes more, and you never know what can happen - they could score an insane goal - but even if we lose 3-0, the new rules (about no away goals) will ensure we go into extra time. We have to finish the job and, when that is done, we'll look at what awaits us."
>> Highlights: FCK 4-1 Torpedo-BelAZ Zhodino