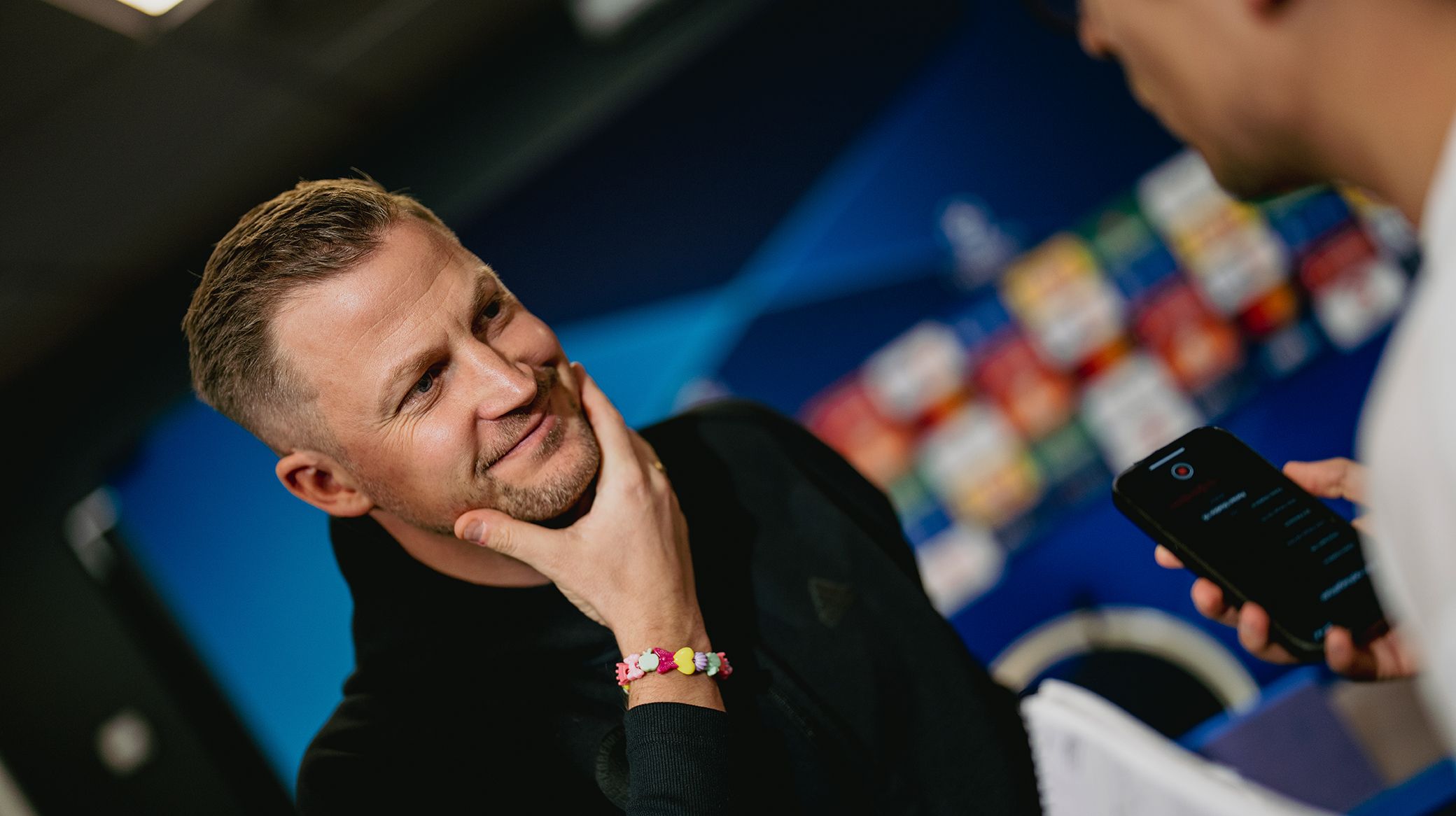 Gaston Szerman, FCK Media
Neestrup: We deserve four points from four games
09/11 2023 00:47
Jacob Neestrup says his F.C. Copenhagen team deserve to be in contention for a place in the UEFA Champions League last-16 next spring after a dramatic 4-3 victory over Manchester United on Wednesday.
The Lions twice came back from behind in Parken before Roony Bardghji popped up with the late winner to secure the Lions' first victory of the campaign.
Four points from four games leaves FCK second in Group A, eight points behind Bayern Munich and level with Galatasaray. United are bottom on three points.
And Neestrup reckons his players finally got what they deserved on Wednesday after three gruelling games already in the group.
"I'm just so happy, I hardly know what to say," says the FCK head coach.
"It's probably the weakest of our four games in the group stage, and yet we stand here with three points. If there is such a thing as luck in football. We had it today, but we also chased it.
"And looking at all four games, I don't think you can object to the fact that we now have four points."
United went two up via an early Rasmus Højlund double, only for Mohamed Elyounoussi and Diogo Gonçalves to hit back before the break. The visitors, who were reduced to 10 men for the entirety of the second half, nudged ahead again through Bruno Fernandes' penalty, before Lukas Lerager and Roony's late finish secured the win the FCK.
Assessing the game, Neestrup adds: "Their early goals seemed to shake us and we struggled to find ourselves. For large periods of the game we were the second-best team. Of course, the red card changed things a lot, and right when it happened I didn't see that there was a free kick at all.
"But after I've seen it again, I think it's perfectly fine to give red.
"Obviously it changed the momentum of the game and we scored twice before the break, but we had a bad start to the second half.
"So actually it was their penalty that came out of nowhere that was decisive because we responded strongly to that and had our best period after that goal. So that penalty also changed the game.
"We managed to put pressure on them again towards the end, and this team just shows again and again that they never give up. I can't really explain why we won tonight. But Roony said before the game that he was sure he would come on and score, and he did. He also did a lot of other good things before the goal and he really showed that he just wanted to score, so I'm very happy for him.
"Perhaps we didn't deserve one or three points today, but as I said, four points from four games is very much deserved. So is the fact we're second, because I think that overall we have been the second-best team in the group so far.
"We are in a difficult group with strong opponents, but at no point have we played negatively. Instead we've said and shown that we are here to win games and progress, and not just be here. I think that rhetoric has been important.
"Now we are sure that we can play for it right up to the last game, and of course we want to play in the Champions League after the New Year. But if we don't succeed here then we have to play in the Europa League.
"Only then can we talk about making history, because in my book that's what we do when we win championships and cups or play in the Champions League group stage. This was still a wild evening and a result we are very happy about."