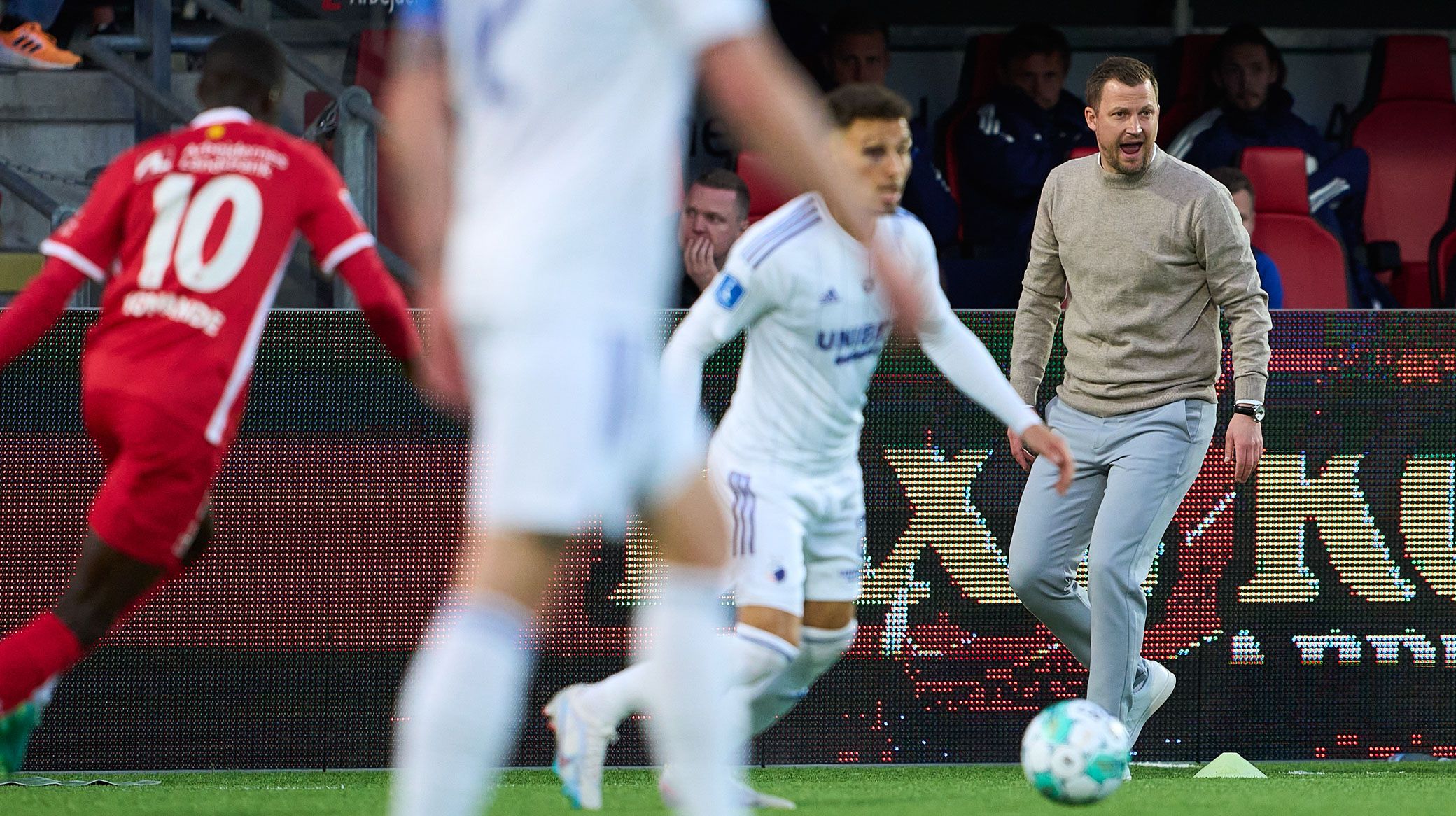 Lars Rønbøg, Getty Images
Neestrup: The lads are back and raring to go
15/09 2023 10:21
F.C. Copenhagen head coach Jacob Neestrup says he's ready to get going again following a well-deserved international break for his squad, as the Lions prepare to face FC Nordsjælland on Saturday.
FCK played 13 games in 43 days before the Danish Superliga broke for the international schedule. The boss has been hard at work at Number 10 preparing for the return of club football – and believes both he and the team is fully recharged.
"It will be good to get going again!" Neestrup said, looking ahead of Saturday's clash in Farum.
"We have had 14 days where some have had the opportunity to just breathe, while others have continued to work hard for their national teams. So today (Friday) is the first day when everyone is available, and now we're really just looking forward to getting started with a bang tomorrow.
"International breaks are also an opportunity to look back, partly at all the good things we have done, and partly at the things we would have liked to have done better or been more consistent in."
A different period
FCK battled through three qualifying rounds to reach the UEFA Champions League group stage this autumn and face FCN on Saturday as league leaders in the Danish top flight.
"There is also a difference between the period we have had since the start of the season and the period we are entering now," said Neestrup.
"Not only because we have to face other opponents, but it is also a different schedule in the sense that in the period we have just been through, the most important thing was to get through the European qualifiers.
"Of course, it was also a goal to win all Superliga games, which we almost succeeded in doing, but qualifying for the Champions League group stage was the most important thing. Therefore, we perhaps also rotated more than we otherwise would have done."
Momentum must be exploited
The focus now, then, is to continue battling on all fronts.
"But now we are looking forward to tomorrow and the facing FC Nordsjælland," added Neestrup. "If we start as we did in the four games we had against each other in the spring, they were four really good games at a very high level at a very high pace. There were games where we were the best, and there were games where they were the best.
"Momentum changed a lot in all four games, and therefore tomorrow it's about us sticking the knife in the periods when we are at our best, and at the same time at least having control in the periods when, for various reasons, we cannot take initiative."
FCN vs FCK kicks off at 4pm on Saturday.