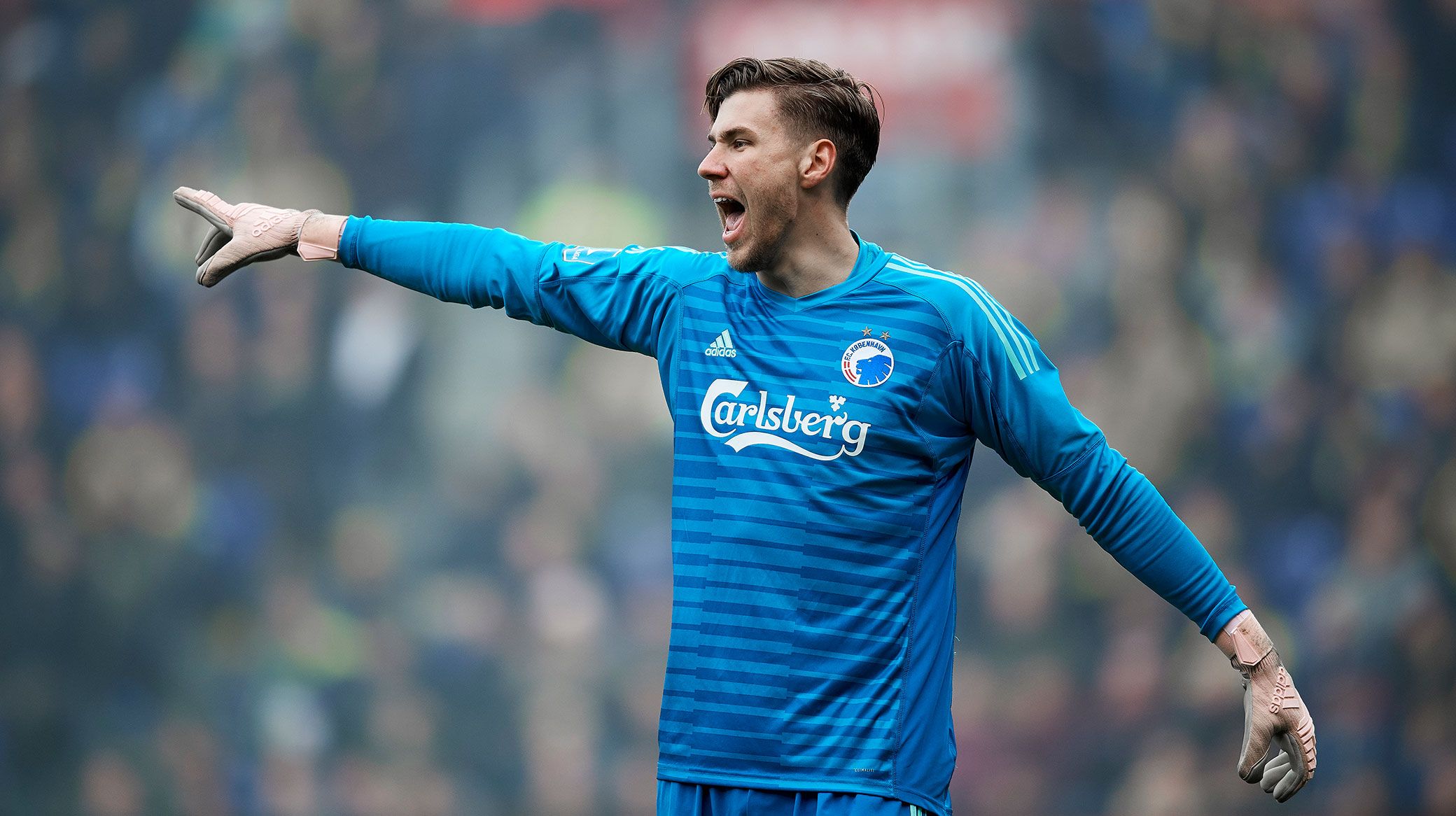 Jan Christensen, Getty Images
Long read: Jesse Joronen's road to Copenhagen
23/02 2019 13:50
Jesse Joronen was 13 when he made his senior debut in a small Finnish village near the Russian border. Three years later he signed for Fulham FC's Academy and lived in London until he was 24. A period with ups and downs including five loans to other clubs, three knee injuries – and an unforgettable Fulham debut in the Championship.
A sunny February day in Copenhagen, Jesse Joronen tells the story about how he ended up at the biggest club in Scandinavia.
"I was born in a small Finnish village called Simpele in a small county that runs along the Russian border. It was actually beautiful when I was a kid, because I could do all kind of things. I started football when I was seven, then I started ice hockey, I did track and field in the summer, and basketball and downhill skiing during the winter time. During that time not many people had Play Station and stuff like that, so the best way to spend your time was to run to the neighbour's house and ask for someone to come and play with you in the schoolyard," Jesse tells FCK.dk.
"Both my parents are teachers, and we lived upstairs in the school until I turned 10, so I could always go downstairs and use the school gym or play in the schoolyard. I had a very nice, quiet childhood and youth, and it was very protected in a sense that you didn't have worry about anything."
"Obviously, when I got older and was around 15, I needed to find challenges somewhere else, but until that point it was a perfect place for me, because I was able to do a lot of sports at the same time. There's a funny story regarding ice hockey, because I was considered a talented centre forward, and my coach said I needed to quit football during the summer, because the ice hockey team was training in the summer as well. I asked what kind training they did in the summer, and he said, 'well, they run around track and play football to keep their fitness level'. So, I was like, 'well, can't I just do that what the football team?' But he said 'no', so I quit and focused on football."
2006: Senior debut as 13-year old
"When I was 13, the head coach of the local football club took me into training with the men's first team, and I also made my senior debut when I was 13. I was a big boy already then, so they didn't put a small kid in goal!
"I still enjoyed the different kinds of sports, but eventually football turned out to be "my own thing". My dad used to play basketball, and he is also a very renowned track-and-field coach in Finland in men's high jumping, so he knows a lot about of jumping, which is also important in my position. I owe so much to him for my career, and he has also been the mentor for me. My parents never forced me to choose football, they were always incredibly encouraging, but they didn't push me. I just felt like football was my thing.
"Our football team wasn't that great, so we received like 30 shots against us every match, and obviously we lost heavily as well, so often I came home angry as s***. But it developed my goalkeeping skills and my character as well, and I enjoyed training and playing.
"Then I got picked for the national team and later to the pre-national team camps and so on, but honestly – until I moved to England, I didn't expect anything, I was just happy to be picked. But coming from a small place, I always had to prove to everyone that I was good enough, and that drove me forward as well."
2009: Offers from Fulham and Liverpool
"Then I started playing for the U16 national team, and after three or four good games for my age group, there were injuries in the older age group, so I was pushed up one level. We had two matches against Russia, and I was allowed to play the first match, where Fulham and Liverpool were watching, and after that match they were both keen on signing me.
"I had already been on trial with Fulham, and after the Russia game I went on trial with Liverpool, but I decided to pick Fulham. Actually, my dad is a Liverpool supporter, but he let me take my own decision. So, I was 15 years old, and I went straight from the fourth tier in Finland to Fulham!
"That was in the summer of 2009, but the first year of my contract, Fulham allowed me to stay in Finland and begin high school, because that what also what my parents wanted. So, I moved to Helsinki and went to high school, and Fulham payed for my accommodation, so it was also kind of a transition from a very small village to a bigger city, before going to London. But I travelled to Fulham like twice a month to play games and stuff like that."
2010: Moving to London
"In 2010 I moved to London, where I was staying with a family like all youngsters do, until they turn 18. And it was fine, I lived with a host lady who had two children about my age, and it was really nice. They weren't a football family, they were just a normal English family, and they lived very close to the training ground, so it was perfect, and I enjoyed it very much. And then when I turned 18, I got my own apartment.
"I started in the U18-team and got picked up quite early to train with the reserves, and in June 2011 I made my U21 International debut for Finland against Malta, even though I was only 18. At Fulham, I played with the reserves and the U23 team, and in 2012 they renewed my contract until 2014, but unfortunately I got a knee injury that year.
"When I came back from rehab in the autumn, I went on loan to Maidenhead United, which is about an hour from London, so I didn't have to move. It's an old, traditional English club, and they've actually been playing at their stadium for 150 years or so – the longest in history!
2013: National debut for Finland
"I returned to Fulham in January 2013, and the same month I made my national debut for Finland, when we played the King's Cup in Thailand. I was 19 years old, and it was a fantastic experience for me, and we also won the game against Thailand, so it was just unbelievable.
"The goalkeeper coach in the Finnish national team is an old friend of FCK, Antti Niemi. Actually, he was also the goalkeeper coach that coached me during the U16 games against Russia, when I was picked up. He had just ended his own career, and he went to the youth national teams first. He's really crazy, but in a positive way! Still blasting the heavy metal music! He really enjoys it, and he goes to Children of Bodom concerts and stuff like that. He's a great goalkeeper coach, and we have a great group of goalkeepers in the national team. It's nice that he has a history here also, and he only had good things to say when I talked to him about going to Copenhagen."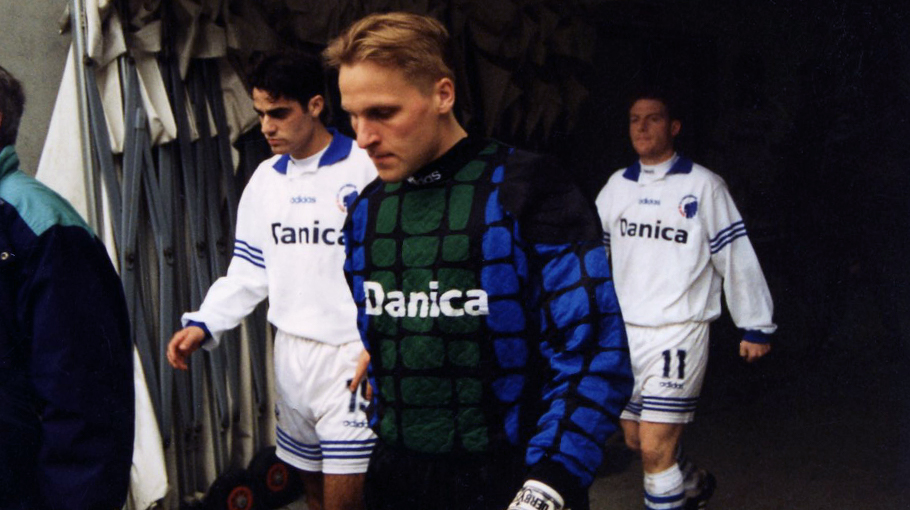 2013: One-day loan to Cambridge – and then to Lahti
"But back to 2013, where I returned to Fulham from Maidenhead, and shortly afterwards I went on loan to Cambridge United. I was told by our U21 goalkeeper coach at Fulham to go there, sign the deal, train and play the next day. But already before the training, the manager, Richard Money, came to me and said I shouldn't play yet. And, well… I was young then, so I just… it was not what I was promised, so I said, it's not going to happen! And the next day I was back at Fulham.
"Actually, I learned that the manager was willing to change his mind and let me play, but I didn't feel it was right at the time that I basically would be blackmailing him. But looking in hindsight, well… with my knowledge then it was the right thing to do, but I probably should have sat one game on the bench and then maybe played the next one. But that's how it happened, and it didn't ruin my career, even though our U21 goalkeeper coach was very angry with me. Three months later I went on loan to Lahti in Finland and played 20-something games in a half season, and it was fantastic."
2014: Fulham debut in "The Magath Era"
"I returned to Fulham in August 2013 and played with the U23s and the reserves again, and during the winter Felix Magath came in as manager of the club. He seemed to like my attitude, and at the end of May, when we had been relegated to the Championship, he pulled me aside and said: 'Keep yourself fit during the summer, you're going to get exactly the same chance as the other keepers'.
"So, during the summer I did all his crazy running programs, and during pre-season I was able to withstand the three-times-a-day training without saying a word, and he was very happy with it. And I also did well in pre-season games, so he had no problem starting me and four or five other youngsters in the first game away against Ipswich.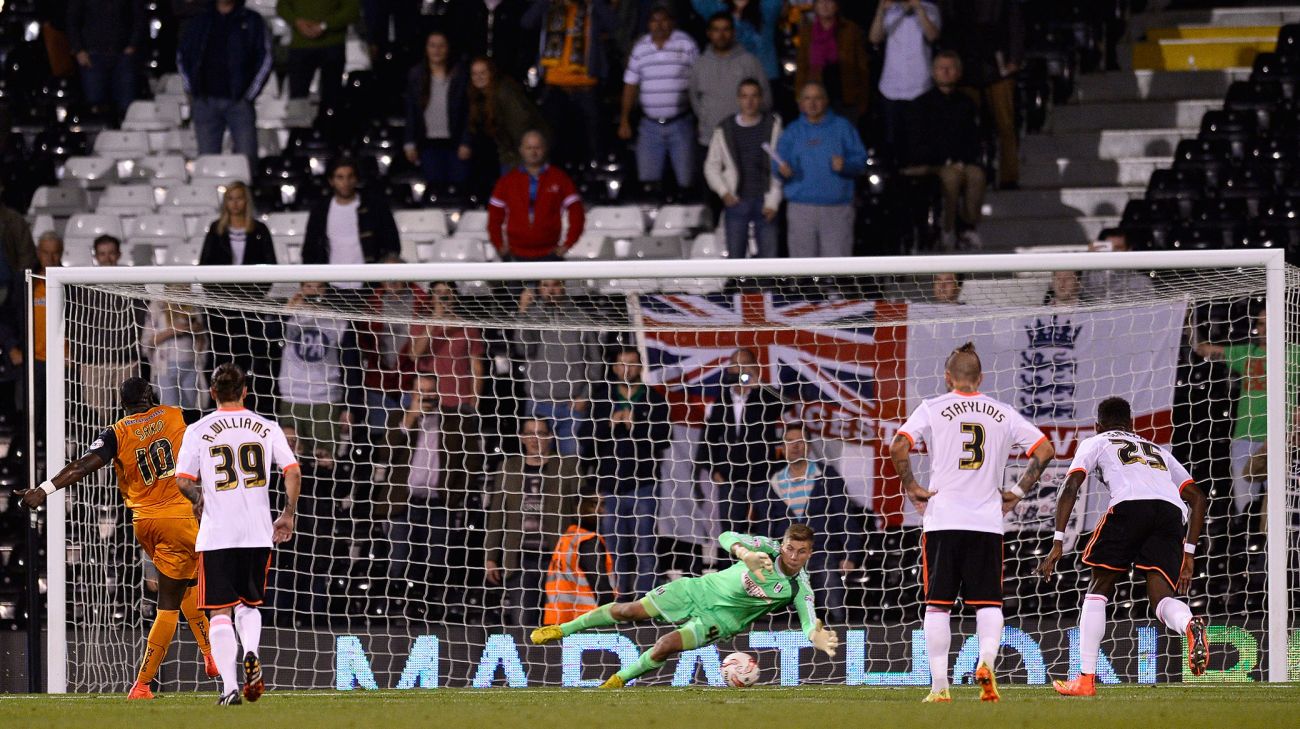 "It was a really nice experience to play in the Championship, but my biggest Fulham moment was the next game, when we played Millwall at home. You know, local rivals with really nasty fans, I think they sold 5,000 tickets to away fans for that game. But for me, it just felt great. I love it when the away fans hate me! And in the second half, seeing our home fans' end from the other side of the pitch, was an unbelievable feeling. Even though we lost 0-1…
"We didn't get any wins at that time, so results-wise it was s***, but individually for me, it was great making my home debut. Because when you go to England as an academy kid, it's a very small percentage that actually makes it to the first team. The chances are extremely slim.
"There are a lot of stories about Magath, and it really was crazy, but he was the coach that showed faith in me and gave me my debut, which I respect. But it didn't work out for us as a team, and he got sacked, and I got dropped. Probably, I was not mentally ready to play Championship games at such a young age. Instead Fulham bought Gábor Király, who is famous for his tracksuit bottoms, but he was very professional and a great goalkeeper and a nice guy as well.
"Later Kit Symons, the new manager, gave the other young keeper Marcus Bettinelli the chance. Marcus' father was actually the goalkeeper coach of the first team and a very big figure in the club, but the family relation was not a problem. They didn't speak to each other like son and father, they were just coach and player inside the training ground."
2014: Goalscorer for Stevenage
"Instead, I went on loan again in October, this time to Accrington Stanley, but just as it was going well, and we were doing well in the league, I suffered a new injury, when my knee cap dislocated. It just went out and popped back. It was really a bummer for me, and I went back to Fulham for rehab.
Jesse training in Fulham (from Fulham TV)
"But I fought myself back to fitness again, and in August 2013 I went on loan to Stevenage, where Ted Sheringham was the manager. That's where I actually scored a goal against Wycombe, ha-ha… not with a header in injury time, I was simply clearing the ball just outside my own penalty box, but Matt Ingram in the other end completely misjudged it and it bounced over him and into the net, and we won 2-1."
Jesse's goal against Wycombe Wanderers (from Stevenage FC TV)

"But again, after only a dozen games I got an injury in November 2013 which carried all the way over January, so the transfer window closed, and Fulham called me back to train with the first team and play for the reserves. But they also gave me a new contract until 2017, so they really liked me, but… I was not getting enough game time."
2016: Preparing to leave
"I really enjoyed being a part of the team and developing myself, especially during the Jokanovic era in the spring season of 2016, but in the back of my head I knew this was the time for me to prepare to go somewhere on full time. Not on loan, but to leave. The last year and a half in Fulham, I was preparing to leave England. I was not looking for another club in England, because I had been there for seven years, so I felt going to Europe would be a new challenge that I would cherish and enjoy."
2017: From London to Horsens
"I didn't know that much about Horsens, obviously… but the Danish Superliga was very good for the development of keepers as for instance Lukas Hradecky from the Finnish national team, who left for Frankfurt just before I came. I talked to him and other players, who knew the Superliga, and they all thought – as I've seen now – that it's a very good league.
"So, for me it was a no-brainer. Bo Henriksen called me straight, not through my agent, and said that he liked what he'd seen on videos. The goalkeeper coach, Peder Hansen, had found me and had told Bo about me, and they wanted me to come and play all the games and be a big part of setting up the defence and being a leader in the defence. And I was like – yeah, that's what I want! So I signed from the summer of 2017.
"Horsens is a small town, and it's a small club, and I think they had a financial downfall earlier during the years. But they learned a lot from that, and I think the club is run very well at the moment, and I'm happy when they do well – apart from games against us! I lived in the centre of Horsens on a pedestrian street, and I walked or cycled to training. Nothing is very far, so for me it was really nice. As I've grown older, it's good as a footballer to have quite a simple life, it makes me enjoy football even more."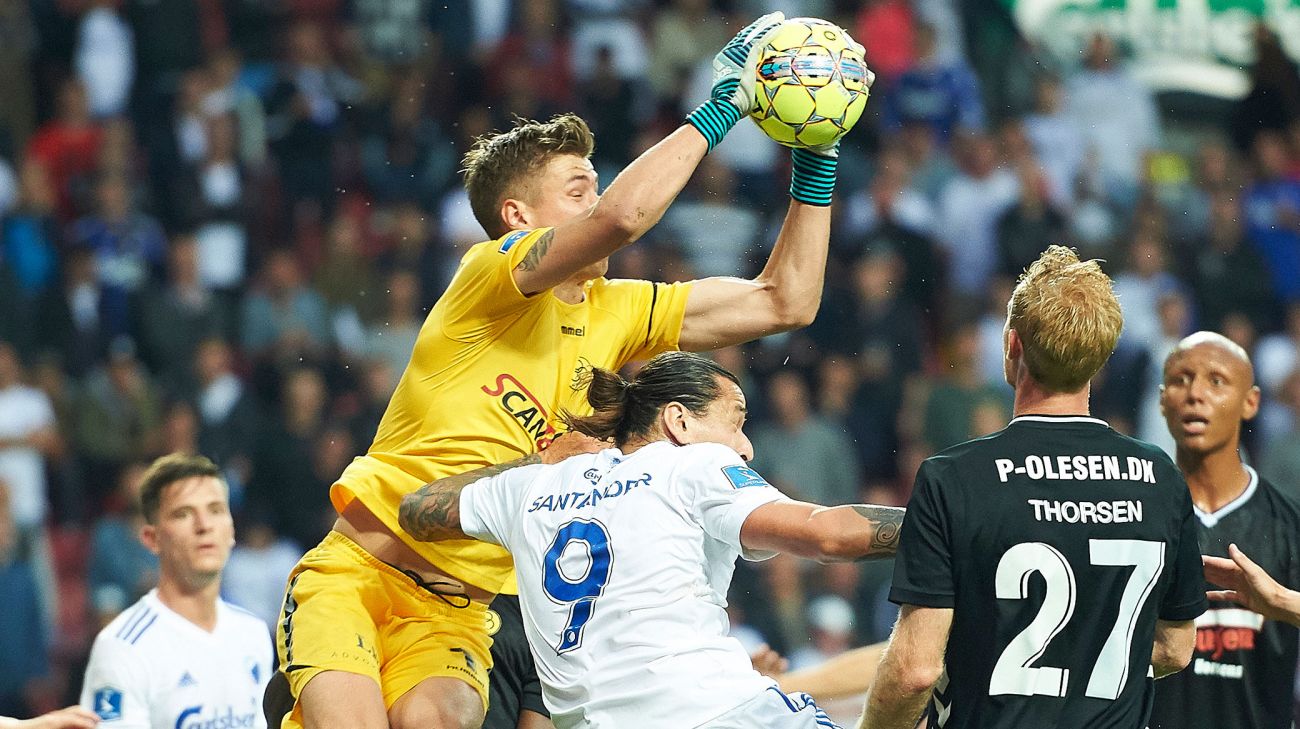 "Some people said Horsens are not a very good team, but as soon as I went there and saw the players, I could see that it was a good team, like we also proved last year. Obviously, we played a very particular type of football, but we played to our strengths and got great results. For me it was a very freeing year because I was in a position of playing all the games, and we were doing well as a team. I'm very thankful for Bo and Peder to give me the chance to come and prove myself, and obviously it went so well that Copenhagen were interested and signed me after only half a season in Horsens. It couldn't be better!"
2018: Copenhagen calling
"It wasn't difficult at all to play the rest of the season in Horsens, knowing I was leaving for FCK in the summer. I mean, I'd done that all the time in England, so it didn't change anything for me. I ended the season in Horsens with an injury, but they let me go to Copenhagen in the spring and do rehab before the summer break. So I became adjusted to the city and the club, and it was great. And during the holiday I was working very hard, getting back my fitness level, after not playing for a couple of months. When I started playing in the Europa League qualifier against KuPS and in the Superliga against Hobro, I felt I was picking up speed again.
"However, there was still a little injury niggle, because we were always playing twice a week, which I had basically not done for a long period. I had to adjust to that as well, both mentally and physically, and adjust to a new team and a new culture. And, mentality-wise, most of our games are very different to Horsens', because we have longer periods where the goalkeeper has nothing to do.
"But in general, it's been a good half-season. And for me, coming to a big club like this, it's very special every time we play in front of the Sektion 12. Usually I spend the whole first half there, and I really feel the energy there, it's unbelievable – for me as a goalkeeper, it gives a buzz!"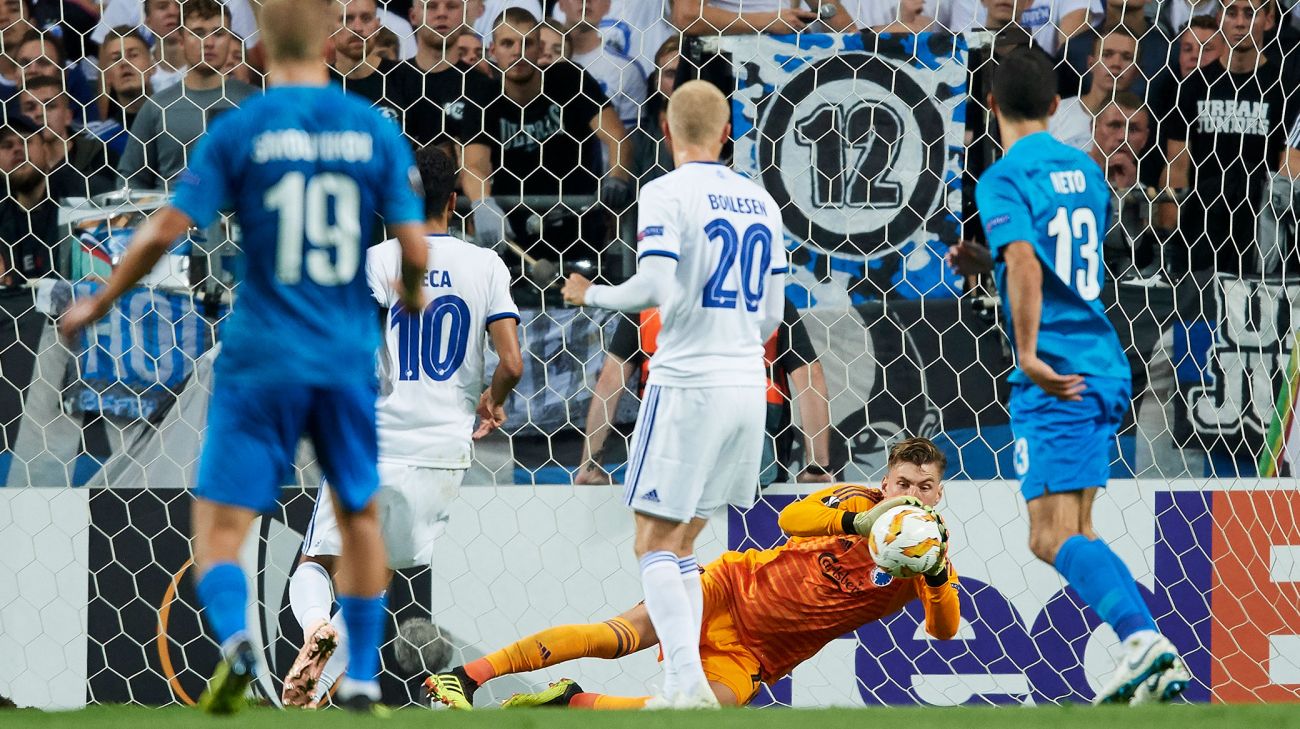 The Atalanta shoot-out
"Obviously, one of the best experiences I've ever had, was the return leg of the Europa League playoff against Atalanta. You know, when you think about a game, how would you want it to go and to end, a goalkeeper wants it to go 0-0 and extra time and then save an important penalty. And that was just what happened. I saved their last effort from Cornelius, and then Denis Vavro with his cool head slotted the last one in, and the whole stadium went crazy on a Thursday night. It was just unbelievable!
"I wasn't nervous, when it came to the penalty shoot-out. I thoroughly enjoyed it! The viewers didn't necessarily, but for me – I was only thinking of winning it. And as usual, we had prepared for it, we had seen their penalties before, so I just had a small chat with our goalkeeper coach Kim Christensen about our preparations. But in the end, it's always up to me, because players can always change something, and you never know… so it's a mental battle. And it went my way that night with Cornelius' kick. It's the ultimate mental test for a team and we passed it – it's a fantastic team we have here."
The mental part
"And now the most important Superliga games start this spring, and I just want to do better and better all the time and get more and more clean sheets. There are different ways of approaching, some goalkeepers are very natural in their sense of how they prepare mentally, everything comes to them naturally and they don't necessarily think that much, because they are in the right state of mind straight away.
"I've always been a guy who thinks quite a lot, and especially in my first years in London, I needed to figure out a lot of things. I was living on my own, new city, new country, new team… I needed to sort it out and then I realized that rather than trying to push all the thinking aside, I will try to start developing it, so I know how to deal with it. In football and in general life.
"And for me, it's been a massive, massive help. In every team I ever went to, and in every game I ever played, it's been a massive help to just be able to deal with it in a controlled manner. The mental part is a big part of goalkeeper's game, especially in a club like Copenhagen where you can have only two saves in a match that are vital to the team."
FCK TV portrait of Jesse from the first leg of the playoff's against Atalanta in August 2018, which ended 0-0

The future
"I hope to play for maybe 10 more years at least, but I really don't know what I'll be doing after my playing career. Coming from a family of teachers, it might be coaching or something like that, but time will show.
"Four or five years ago I got involved in a small company, 325 Media, with two of my footballing friends. We're doing music videos and producing music and stuff like that. One guy is playing in Finland in HJK, and he's very much into music, and the other guy is playing for Waasland-Beveren in Belgium. He and I are not involved in the daily business, we're just co-owners, but talking about the strategies and so on, and then we have people working for us. But it's funny, during holidays for instance, to sit in a meeting and see what's going on."
- - - - -
The next game is always the most important
Time's up after an hour or so in the player's lounge at the FCK Training Ground in Copenhagen. Jesse is heading for the gym to do some exercises, and soon he and the teammates will begin preparations for the next important game, they MUST win. And then the next important game, they MUST win. And the next… and the next…