FCK.DK
Jacob Neestrup to be FCK assistant coach
22/12 2020 12:35
F.C. Copenhagen can confirm Jacob Neestrup will be the club's new assistant coach from the turn of the year, where he will finish his role as head coach of Viborg FF to return to Copenhagen.
Neestrup became a coach in our Talent Department back in 2013 and was, among other things, head coach of the U17 team. He then became assistant coach to the first team in the summer of 2018.
The following year Neestrup left to become head coach of Viborg FF – a position he now departs leaving the club first in Denmark's second tier.
Kvist: One of the country's greatest coaching talents
"We are very happy to welcome Jacob back to Copenhagen, where we have missed him," says William Kvist.
"In our eyes, he is one of the country's greatest coaching talents. He has previously shown his great qualities with us and most recently also in Viborg.
"The ambition is to build the country's strongest set-up around the team, and we believe that Neestrup complements this perfectly. Partly with his knowledge of the club, and partly with his curiosity to develop the game, the individual players and himself as a coach.
"He knows the club intimately, but also has new inspiration and experience to back him up, so we are very much looking forward to getting him around the team.
"At the same time, I would like to take this opportunity to thank Hjalte Nørregaard for his great work in recent months. He has been invaluable to us during this period, and we are delighted that he will continue as head coach of the U19 team and thus is still close on the first team."
Neestrup: Great for me to come back
Neestrup, 32, is also looking forward to being back in Parken and at Number 10.
"It is great for me to come back to FCK, which I have always felt a big part of," says Neestrup.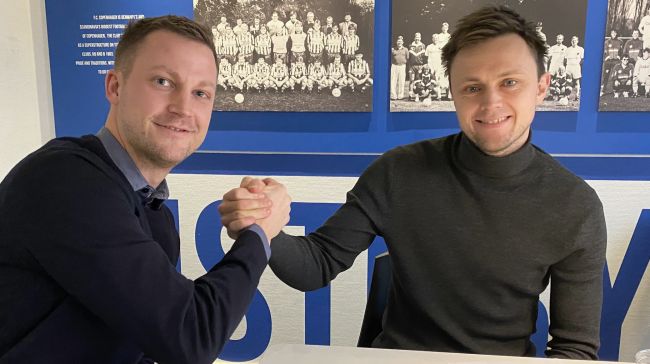 "I have had a fantastic time in Viborg and I owe everyone up there a big thank you for giving me the great opportunity to be head coach there at an early age. It has been a great experience and I take good experiences and relationships with me from there.
"For me, FCK is the biggest club in Scandinavia, and therefore I also see it as a great opportunity to once again be part of the strong set-up that has been built here.
"There are also some private reasons that come into play in relation to the fact that it is good for my family that this opportunity has arisen right now.
"A lot has happened at FCK since I was last here, but it's a hugely exciting and inspiring project that's underway, and I'm really looking forward to working closely with my new colleagues who have come in, and those I know from the past.
"I have had good talks with Jess Thorup, and we are on the same wavelength regarding our view of the direction this club is going. Now I am just looking forward to getting started on the training ground and greeting everyone again after the winter break."
Thorup: Young, modern and dynamic type of coach
"Jacob is a young, modern and dynamic type of coach who knows the club and the players right down to the bone, which is a great advantage for everyone," says FCK head coach Thorup.
"At the same time, he is a strong character and a winner both on and off the pitch, who makes demands on himself and those around him.
"He arrives with great drive and motivation to develop FCK, and both his professionalism and personality will be a great asset to us.
"I really think we have put together an exciting team, and I am absolutely convinced that together we will create a strong F.C. Copenhagen."