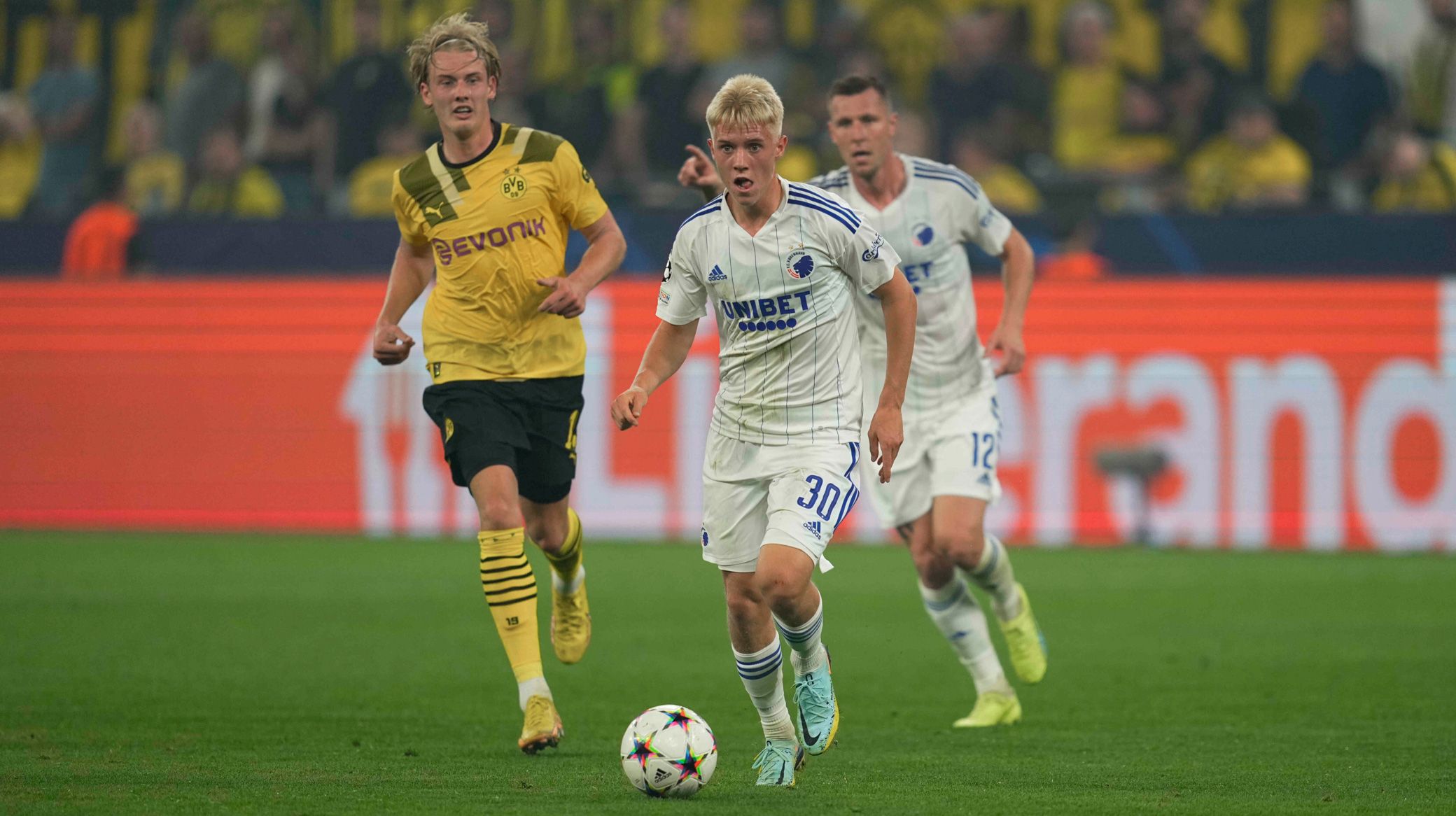 DeFodi Images via Getty Images
Haraldsson: I'm enjoying my football
09/09 2022 15:21
In a little over one year, 19-year-old Hákon Arnar Haraldsson has won the Danish Superliga title, won the Danish U19 title, made his Iceland international debut and played in the Champions League group stage.
Indeed, on Tuesday he played in the defeat at Borussia Dortmund.
Reflecting on the game and his marathon last 12 months, the F.C. Copenhagen youngster said: "It's really fun to play football right now. Including against Dortmund, although we didn't get the result we wanted.
"It was absolutely insane coming into that game and I don't think I touched the ball for the first seven minutes, because they had it the whole time. They were a strong opponent and it was a fantastic atmosphere, and you could also easily hear our fans there too, so it was really cool."
Haraldsson played the last half hour in Germany and is one of six players who have been on the field in all 11 of our games of the season. He has started nine matches, while coming off the bench in our two European away games.
"I'm in good shape and have also played a lot of minutes, so I feel good and that I can handle regular gametime if need," said Haraldsson, when asked if he could play 90 minutes every time.
On his ability to adjust between playing as a No 8 and a winger, he said "I don't think it is (difficult), because I know both positions very well. As a No 8, you have more defensive duties than on the wing, where it is a little more offensive, but I feel comfortable in both positions."
On Saturday the Lions face OB – one of the Superliga teams Haraldsson has not yet played against, because he was not in the squad for the away trip in August 2021, and was injured for the home game in February this year.
"We have to go out and focus from the first second, because if we don't get a good start, we could have a hard time," Haraldsson says when discussing the upcoming game.
"Unfortunately we have shown that a few times.
"So we have to get off to a good start and hopefully score the first goal, but we also have to maintain that high level throughout the match."
OB vs FCK kicks off at 7pm on Saturday.
While Hakon was speaking to FCK.dk, his jacket mysteriously disappeared into the bathroom and got a little wet. He hung it up to dry while he went for lunch. However, perhaps he shouldn't have hung it next to the player jerseys that were there, ready to be signed by the squad…