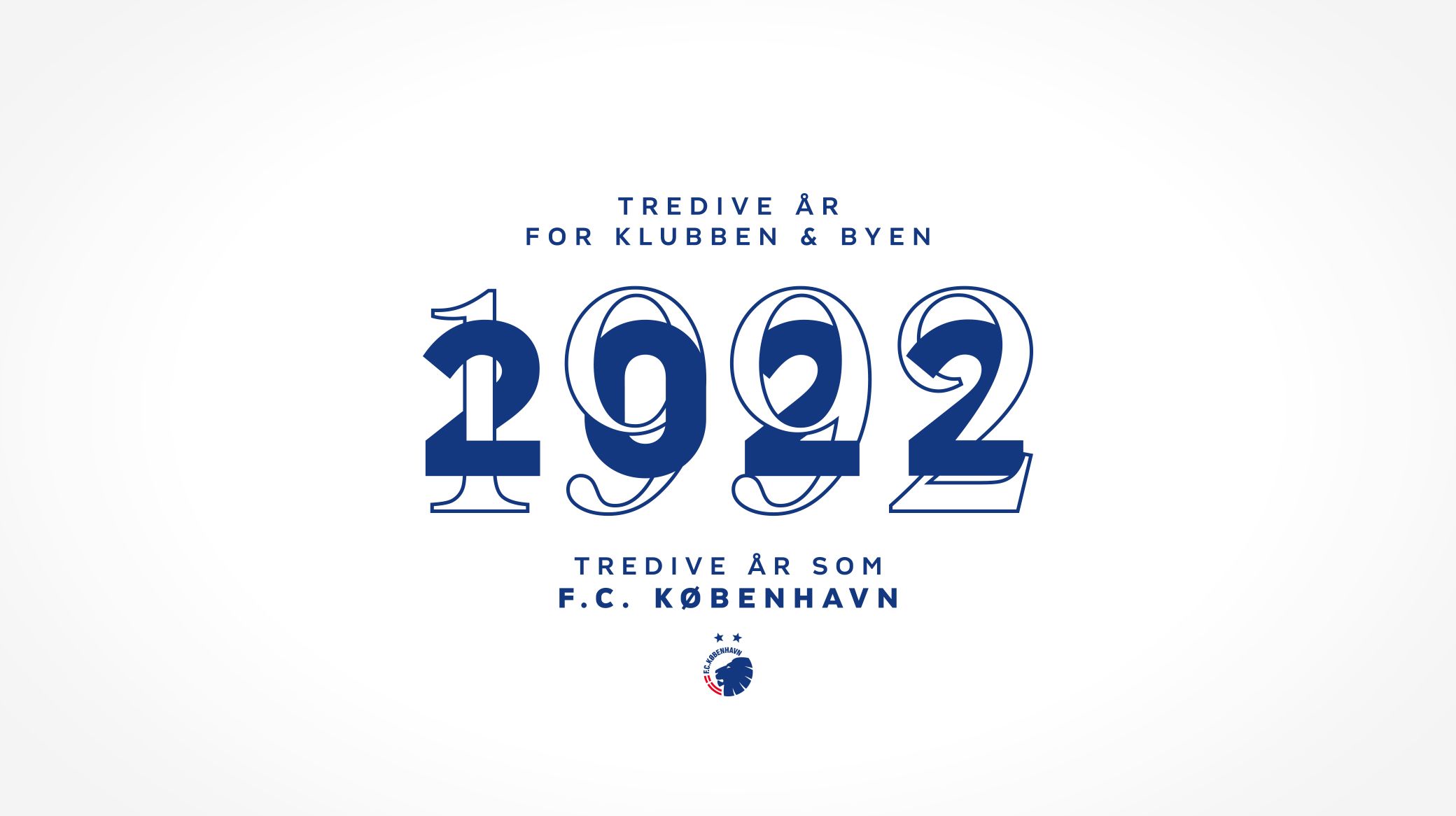 F.C. Copenhagen turns 30
02/07 2022 17:25
Thirty years ago, on a Wednesday night in July 1992, a team of F.C. Copenhagen players entered the pitch for the first time for an Intertoto Cup game against Grasshoppers. Them match was played at Østerbro Stadion – and was the first ever game in the history of FCK.
Swiss player Patrick de Napoli had the honour of scoring the first ever goal in a game involving FCK – but Søren Lyng ensured the Lions enjoyed a perfect debut two two goals in the 2-1 victory.
F.C. Copenhagen was formed in the merger of two clubs: B1903 and KB. The new club took the best aspects of both clubs, and the ambitions of the new management were:
To be among the top three in the Danish Superliga and/or win the Danish Cup and therefore qualify for Europe every year
To have a healthy economic standing
To build a large fan base and establish an extensive sponsorship network
To play attractive and entertaining football
In the long term, to put Denmark on the European club football map
All this wasn't achieved on Day 1 but we are proud of our successes over the subsequent 30 years. Of course, as a club we are never completely satisfied, so we are ready to raise the bar further and write new chapters in our history.
 
Domestic and international achievements
F.C. Copenhagen's first Superliga season ended with a Danish championship, but after that it took eight long years before the title shone again in the capital. Eventually, however, the City's Team secured a seat in Danish football's domestic throne, and can today look back at 14 championships won across 30 seasons, as well as eight cup victories.
 
With the qualification for the Champions League group stage in 2006, we also took a big step on the international stage. The club has qualified for 14 group stages out of the last 16 - and on half of these occasions we have advanced to the knockout stages.
 
Dive into history section
In 2017 we celebrated the 25th anniversary of the club with a big fan event in the Circus Building (Cirkusbygningen) near Vesterbrogade, and provided extra festivity around the title celebration that May and an extensive history section on fck.dk.
We have also updated and expanded it since then, so if you want to dive into our history, there is plenty of content here: fck.dk/historie (in Danish).
 
Celebration during Randers match in Parken on 12 August
Thirty years won't be celebrated in the same way as 25 years, but it must be celebrated. The club plans to commemorate three decades of FCK during our Superliga game with Randers FC on Friday 12 August in Parken.
To secure a ticket to FCK's 30th anniversary celebrations and watch Jess Thorup's players in action, buy F.C. Copenhagen tickets here!
>> How to buy F.C. Copenhagen tickets