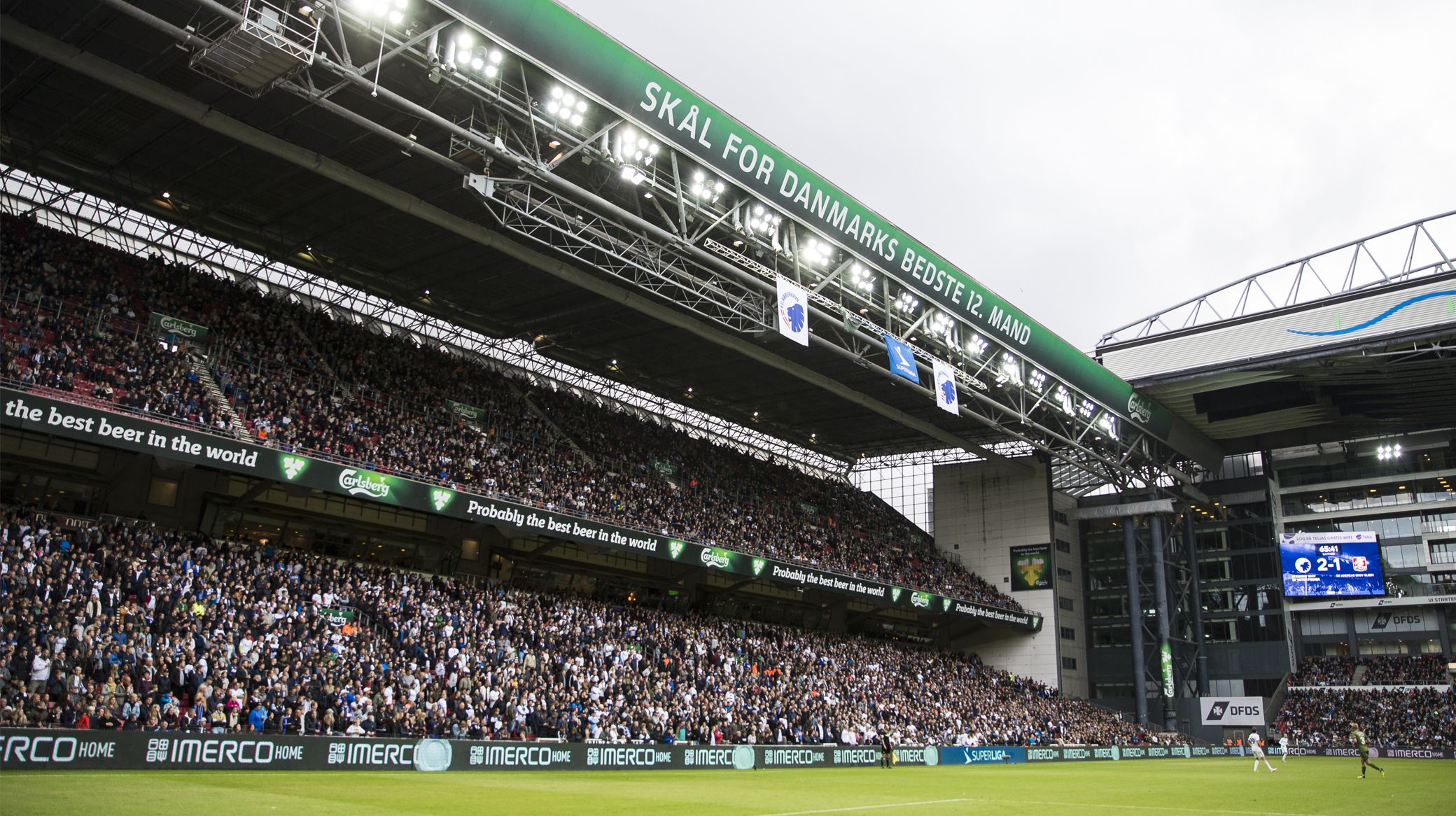 Samy Khabthani, FCK.DK
F.C. Copenhagen ticket info for last three home games
03/07 2020 08:54 - Updated: 08/07 2020 09:20
F.C. Copenhagen have been granted permission to admit even more spectators for our final three home games of the 2019/20 season.
The Lions will face Brøndby IF, AGF and FC Nordsjælland in Telia Parken between now and the end of July.
Previously the lion have been able to admit a maximum of 500 people into Telia Parken for socially-distanced testing of how fans can attend games post-coronavirus.
We will not know the confirmed figure on how many spectators can now attend games until the middle of next week. But the club is moving ahead with plans to get season ticket holders, subscribers and partners back in the terraces.
F.C. Copenhagen home games
The three home games are as follows:
FCK vs Brøndby - Sunday 12 July - 6pm
FCK vs AGF - Sunday 19 July (provisional date)
FCK vs FC Nordsjælland - Sunday 26 July (provisional date)
The club can confirm we are initiating the ticketing process for the Brøndby game in preparation for confirmation of our official allocation.
Therefore, it is important that all season ticket holders and subscribers read and respond to emails you have received this week.
Distribution of tickets
The plan is to distribute the tickets between season ticket holders / subscribers and partners in a way that broadly reflects the normal distribution for a home match. There are no general ticket sales.
All tickets are personal and cannot be redistributed. All seats are numbered and divided into sections of 500.
  
Payment for tickets
If you have chosen increased rebate discount or donated to the fan area, then you will NOT pay for your ticket. If you have chosen a full refund for your season ticket or put your subscription on hold, then you will have to pay, but you are included on an equal footing with the others in the procedure for allocating seats. The prize is DKK 150 for tickets on the length of the field and DKK 100 for tickets behind the goals.
Priority of matches
We want to fill every possible seat and therefore ask all season ticket holders and subscribers to tell us which of the last three home matches you want to come to. And of course it is important that you also come - or sign up, so that others can get the chance. If you do not use your ticket or sign up via Customer Service, you will not be offered a ticket to the remaining matches.
If all seats cannot be used by season ticket holders and subscribers, then they will be placed on open sale at billet.fck.dk.
 
Cards & subscriptions: loyalty points and rotation
Our hope is that season ticket holders and subscribers with the most loyalty points can get to at least two out of the three matches, but that depends on the final capacity. In any case, we also want everyone to have the chance to get to at least one match, which is why we have agreed a "rotation procedure" with our fan representatives.
 
We have sent an email to all season ticket holders and subscribers and ask you to state which home matches you want to come to. The deadline to respond is Monday 6 July at 10am.
If, for the first home game, there are more requests than we have seats, then we will distribute the tickets on the basis of loyalty points. Those who do not get a ticket for that match will be first in the queue for the next home match they want to get to. (See also FAQ below).
 
Season ticket holders & subscribers - read your mail!
We have contacted season ticket holders and subscribers via the email with which your card / subscription is linked to on billet.fck.dk. This email needs to be read, and it is a must that you use a form in the email to let you know which of the three home matches you want to come to. It is important for the further process that you answer no later than Monday 6 July 6 at 10am.
Note, however, that match dates and kick off times against AGF and FC Nordsjælland are only expected to be decided during next week, but as a rule they are on 19 and 26 July.
 
Important guidelines to reduce the risk of infection
This article only contains information about the ticket procedure itself. Everyone who receives tickets will later receive a separate email about behaviour and safety rules, etc., and they will also appear on fck.dk and our social media.
There are a number of special rules that we must become accustomed to when going to football and which are extremely important in the situation that society is in right now.
We expect everyone to be thoroughly acquainted with the rules and also adhere to them. Otherwise, it may result in expulsion from the stadium.
FAQs
How many matches will I be offered?
It depends on your loyalty points as well as on how many people want tickets for the three home matches in relation to the allowed capacity.
For example, if there are 10,000 fans who want a ticket to match with Brøndby and there are less than 10,000 seats for season ticket holders and subscribers, we will award those first with the most loyalty points. They then move behind in the queue for the AGF match, where we first award tickets (by loyalty points) to others. But if that match is only desired by around 2,000 of the season ticket holders / subscribers who did not want or got a ticket to the derby, then there would still be many tickets for distribution via loyalty points among those who were also at the BIF game.
This works in the same way for the the FC Nordsjælland match. Those fans who haven't been to any of the first two home games will be first in line here.
The whole idea of ​​this model is that those with the most points get to the most possible matches - but that fans with fewer points will also be able to get to at least one match.
 
Can I get a ticket even if I have been refunded for my season ticket or suspended my subscription?
Yes. All season ticket holders and subscribers are considered in this solution, where it is loyalty points and thus long-term loyalty that qualify you to get / buy a ticket. The difference is that you have to pay for the ticket if you have been refunded or have your subscription suspended.
 
Where will I be offered space?
You can't expect to get your normal seat or terrace. This is due to the layout of the stands. We need to comply with the Covid-19 safety rules.
 
Can I sit with others?
Only people sharing a household can get seats right next to each other, and this applies to a maximum of four people. If necessary, tickets must be ordered in the same transaction, otherwise we cannot resolve this.
 
When do I know if I can get to a game?
The first thing to do is to read your email if you are a season ticket holder or subscriber. There you can confirm which matches you want to watch.
Once we know the capacity, we will award loyalty points to Brøndby game on 12 July. If you have enough points to be offered a ticket, we will contact you and confirm that you still want your ticket.
If you confirm your wish, you will receive an email with a link to billet.fck.dk. The whole process takes place in the days leading up to the match, and unfortunately we do not yet know the exact times - so keep an eye on your email as well as FCK.DK.
What about the Istanbul Basaksehir fight?
It is not yet clear how many spectators there will be for this match. More info will follow as soon as it is decided.
More questions?
If necessary, please contact us at kundeservice@fck.dk.