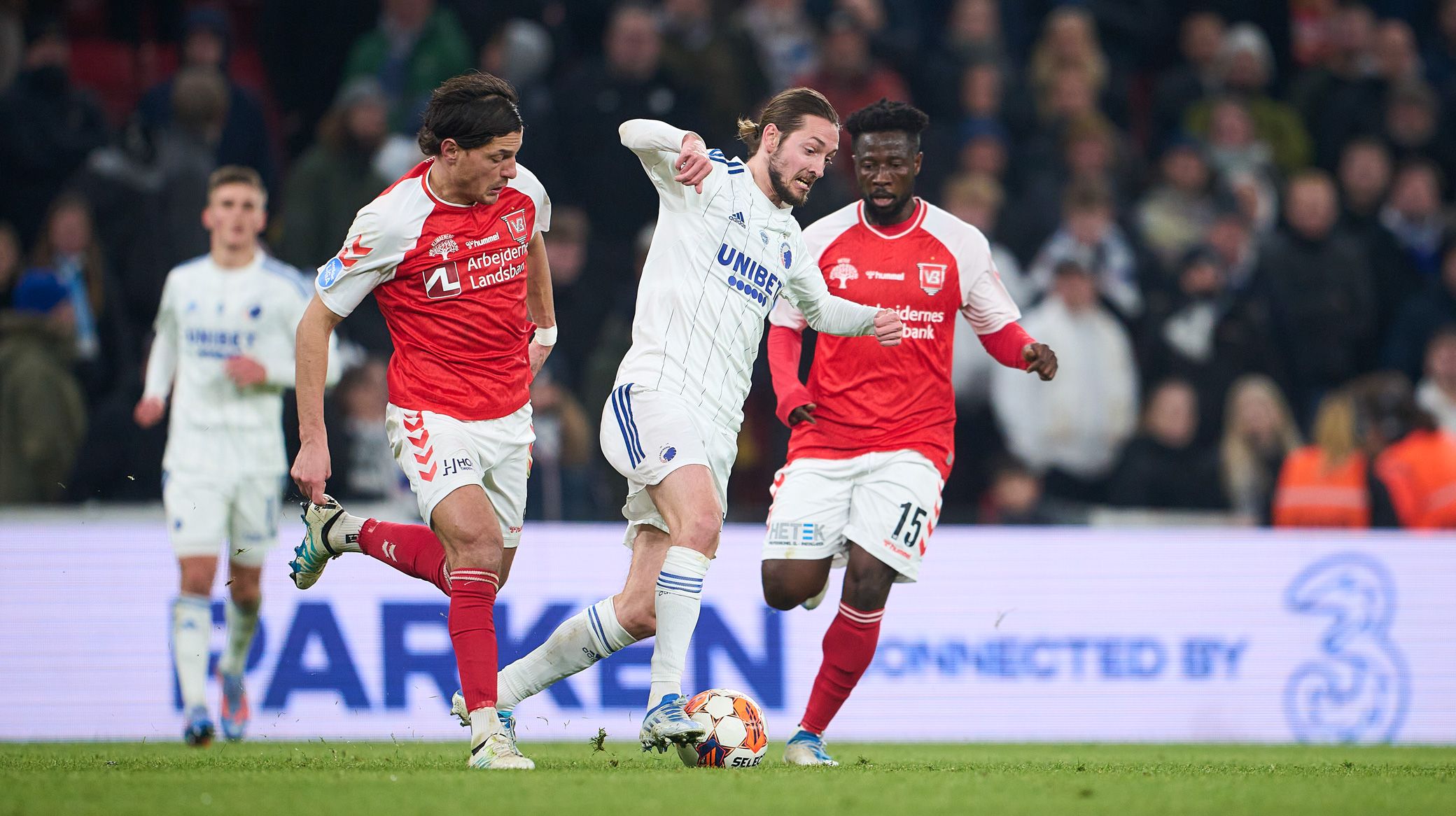 Lars Rønbøg, Getty Images
Falk: A full Parken is amazing to see
02/03 2023 14:45
Rasmus Falk says the F.C. Copenhagen players are taking notice of the boost in supporter numbers at Parken Stadium this season – and hopes to thrive off another full house on Sunday against OB.
More than 31,000 supporters watched Parken's Danish Superliga opener against AaB last weekend, and interest in watching F.C. Copenhagen matches has never been higher.
The Lions take on Odense BK at 6:30pm on Sunday and tickets for new fans and visitors to Copenhagen are still on sale.
And Falk says he cannot wait to play in front of the raucous crowd once again.
"It's great that so many people come to the games," says Falk.
"I've played here for many years, and I've been able to see and feel the development that has taken place. It's so much better to play matches when there are so many people in the stands in Parken. It gives us energy and puts pressure on our opponents, so we're looking forward to the game already."
>> Buy F.C. Copenhagen tickets
Supporters are advised to arrive early for the game at Parken on Sunday and enjoy the experience in the FCK Fan Park.
'We have a strong foundation'
As for the match itself, the Lions squad are looking to make it six league wins in a row, and secure another clean sheet.
"We have set a strong foundation in the team and the way we play," says Falk.
"We are really deadly when our combinations flow, and we are really difficult to create chances against when we have periods where we have to defend a little more.
"There's a sense of calmness and stability in our performances that we can both win games like the one in Silkeborg, where we had less possession, and games like the one against AaB, where we had the ball a lot and created many chances."
Hard-working OB
As for Sunday's opposition, Falk has no doubt that OB will prove a tough challenge.
"OB are always a hard-working and solid team, and offensively they have some fast and individually strong players that we have to be aware of," says Falk.
"In Parken, it is always us who have to take control of the games and force the opponent to adapt to us, so that is also the goal against OB.
"We have a really broad squad with great quality. It means that during the matches we can bring on players who can make a difference, so that we always have the right intensity in our pressing game.
"It's a great strength for us, and we know that it's not just about the 11 who start, but to a large extent also about the players who come on along the way and leave their mark on the game. It sharpens everyone in the squad and makes it difficult for our opponents to have an answer to everything we throw at them."
If you're new to F.C. Copenhagen or are perhaps visiting the city for a long weekend then you can get your hands on tickets today. Read our How to Buy F.C. Copenhagen Tickets guide for more info.