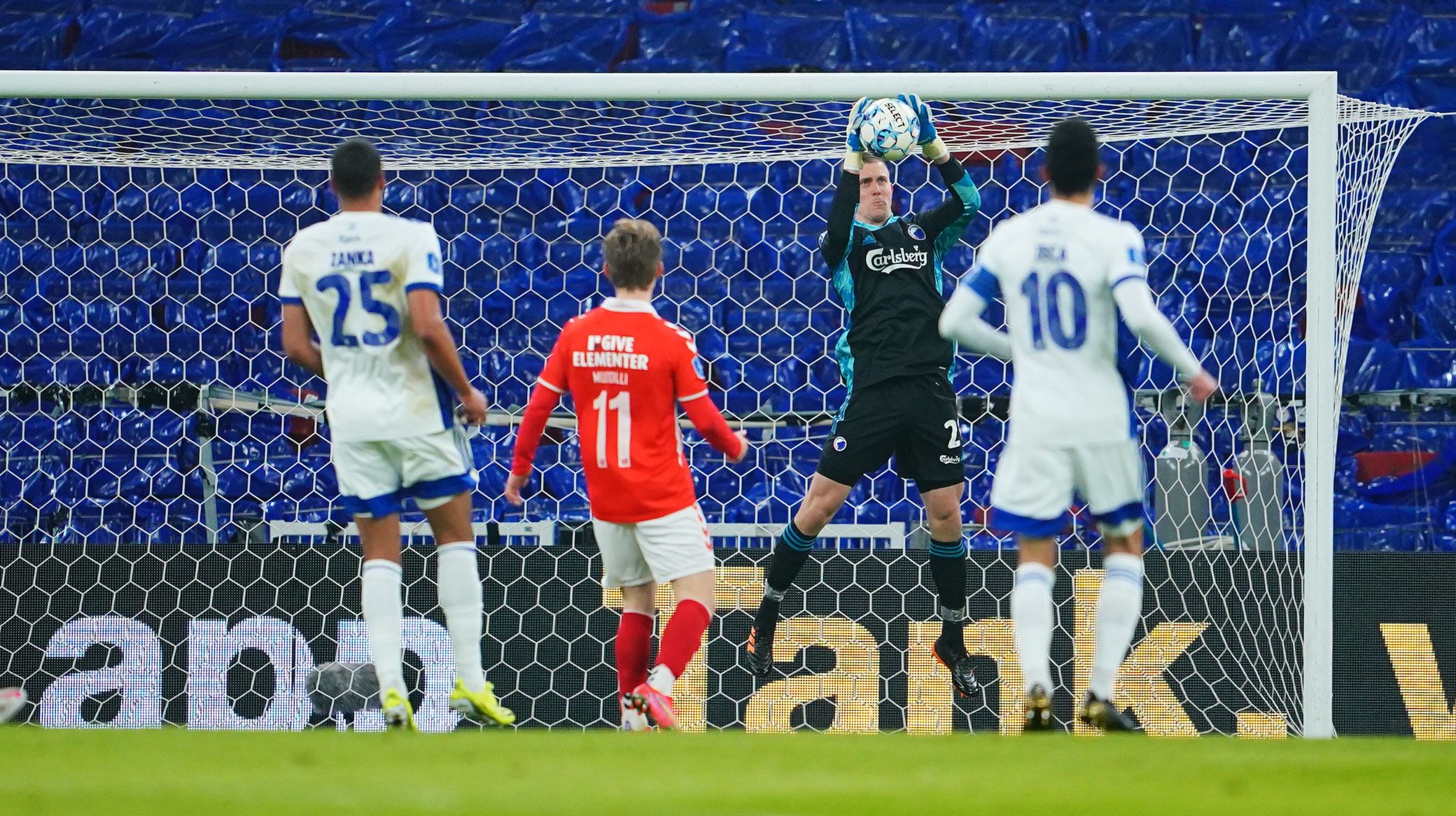 Lars Rønbøg, Getty Images
Daramy: I'll take confidence into the weekend's derby
04/03 2021 13:31
Mohamed Daramy says his winning goal in F.C. Copenhagen's 2-1 victory over VB on Wednesday means he will head into Sunday's derby against Brøndby with even more confidence.
Daramy came off the bench after an injury lay-off to net four minutes from time in FCK's triumph at Parken.
And FCk.dk caught up with the youngsters and his Lions team-mates after full time, with the derby was on everyone's minds.
Mohamed Daramy
"Of course it's great to be the match winner and secure three points for the team. About the goal, I had time to take a touch position myself and get a good finish.
"It was a great match, we had a lot of play but needed to score more goals, and it was a pity that they came back with a deflected goal.
"I have just returned from a two-month injury break, so I knew I wouldn't play the whole match - but Jess (Thorup) had told me that I could come on and decide the game - and with the goal I naturally take confidence into this weekend's derby.
"I think the derby will be a good match. We face a good team, they are good on the counter - and for us, of course, we can't concede so many goals. But I think it will be a tough match between two good teams. There will be many battles and there is also a lot of honour at stake.
"We're just keeping an eye on ourselves and with time we're getting closer to the top. What awaits us now are two big games, but I would like us to pick up six points in these matches."
Jonas Wind
"It may not have been our best performance but we won and it's the three points that count. It was not easy today, but more of a working victory, because not everything came off today.
"The first half was OK, we did well defensively, but offensively we lacked the last ball in decisive situations. After the break it was great to see that we had two substitutes who could come on and decide the match.
"There's no doubt that a victory helps lift our spirits and now we are looking forward to the upcoming derby, which will be a real top match."
Nicolai Boilesen
"I felt a little pull in my thigh, so in order not to take any chances I asked to be replaced and take it steady, so I expect to be ready to play again on Sunday."