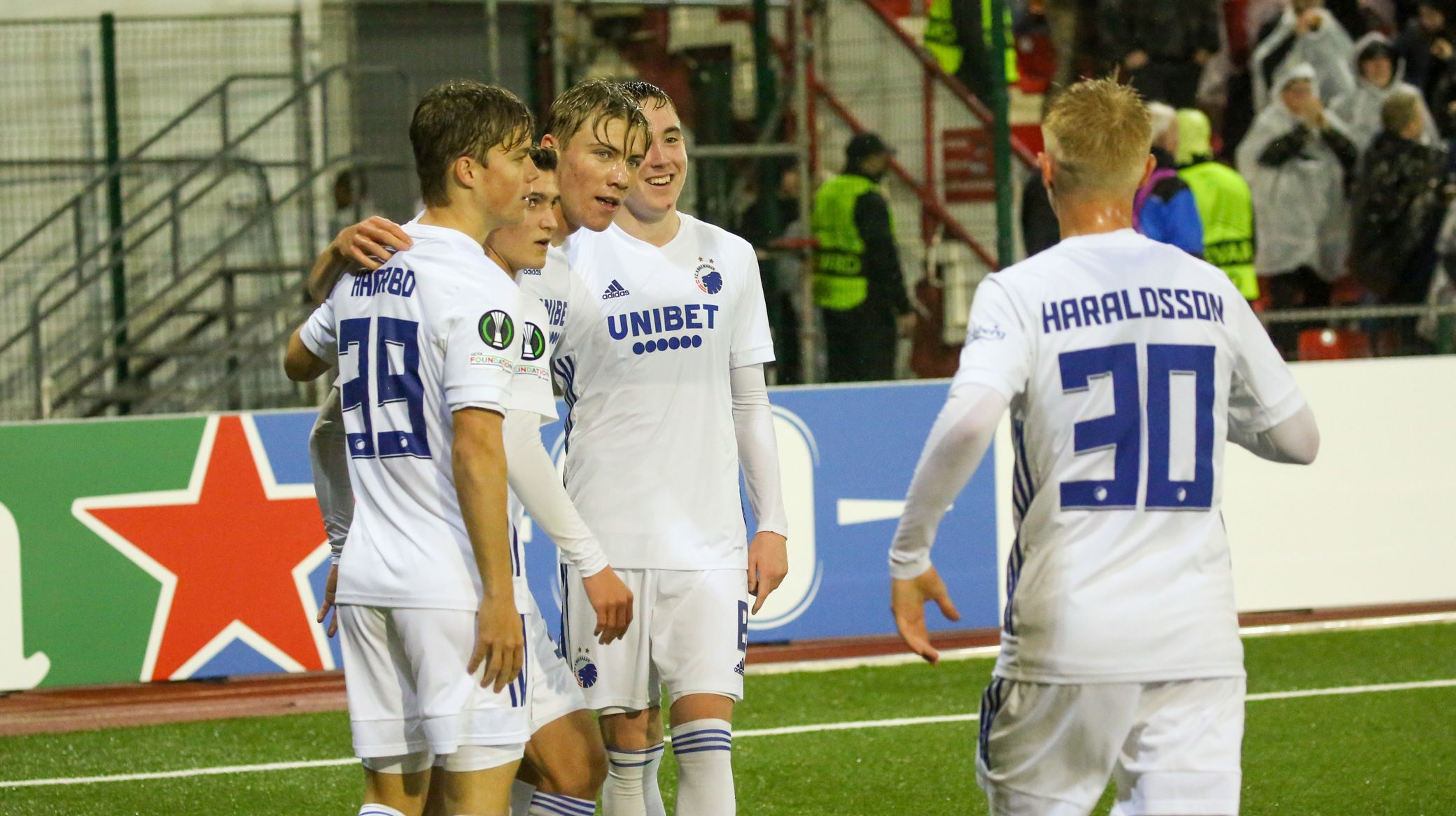 Mathias Sørensen, FCK.DK
Bøving: European games great experience for us youngsters
26/11 2021 11:13
F.C. Copenhagen's young players are benefitting from playing European games this season, says William Bøving.
FCK have promoted a number of players from the Talent Department this term, in part due to injuries but also because head coach Jess Thorup believes they are ready to challenge for places.
Bøving, Ísak Bergmann Jóhannesson, Hákon Arnar Haraldsson and Victor Kristiansen all started in Thursday's 4-0 UEFA Europa Conference League victory over Lincoln Red Imps.
Elias Jelert, Rasmus Højlund and Daniel Haarbo also came on in the second half.
And Bøving, who scored just after the hour mark in Gibraltar, is delighted with the minutes he and his young team-mates are earning.
"I think we delivered an excellent performance tonight and it also means a lot that we've now won the group and so skip the preliminary knock-out round," says Bøving.
"We got two early goals and settled down the match, and we played the ball around well and kept them almost completely away from chances, so it was a good performance from our side.
"Such a match is also a very good experience for us young players. They can be difficult, because you still have to get a result, but we succeeded today.
"The rainy weather was also good for us, because it resulted in a smoother and faster pitch. I suppose it wasn't so fun for the fans! But that's why it was great that we could give them a victory tonight."
Substitute Haarbo only extended his contract at FCK earlier this week and was delighted to get minutes in Gibraltar.
"It was a proud moment for me to run on the pitch for my debut!" he says. "It's a big dream come true, and comes right after I extended my contract.
"It's all about having some good experiences, and I really got that today. An experience I will never forget. It almost felt like being at home with all the fans who supported us down here, it was a great feeling!"
FCK captain Nicolai Boilesen played 76 minutes before being withdrawn for Marios Oikonomou.
"It went as it should," says the defender. "We got an early lead and were in full control throughout the match, but we would have liked to have scored four goals already the break, and we had the chances to do so.
"But we fixed that in the second half, and it was nice that I and a few others could be rested a little bit. The youngsters also got a lot of valuable playing time today and did really well down here, so we can only be satisfied."