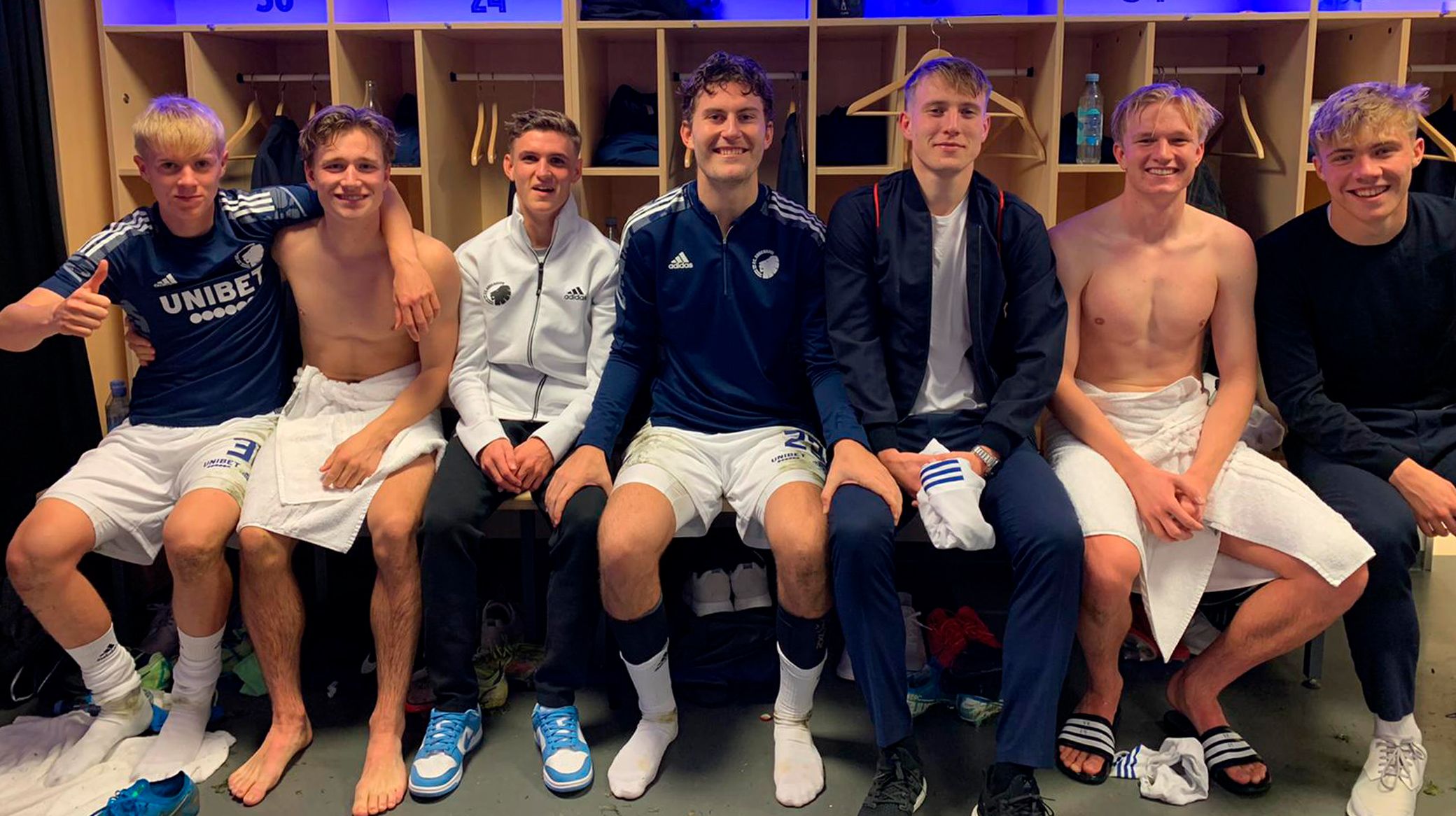 Kristoffer Skadhauge, FCK.DK
7 F.C. Copenhagen Talent Department players help Lions beat Vejle
01/11 2021 13:00
The F.C. Copenhagen Talent Department produced seven of the players that helped the Lions beat Vejle 3-0 in the Danish Superliga on Sunday afternoon in Parken.
That included six 18-year-old, while striker Jonas Wind (22) could almost be called a veteran compared to his young team-mates.
Jonas Wind
Victor Kristiansen
William Bøving
Hákon Arnar Haraldsson
Elias Jelert
Rasmus Højlund
Valdemar Lund
FCK head coach Jess Thorup set up with left-back Kristiansen, left-wing Böving and forward Haraldsson all starting. Jelert, Højlund and Lundd got game time in the second half.
Only twice in Superliga history has a team had six 18-year-olds on the field in the same game. This is according to Kristian Hougaard, who is one of the people behind superstats.dk.
Nineteen-year-old Andri Baldursson was also on the field on Sunday, which meant the team had seven players under the age of 20 competing in the same match.
Og for kun 3. kamp i Superligaens historie sender et hold 6 18-årige på banen. Kun @FCNordsjaelland har tidligere gjort det mod hhv. AGF (https://t.co/x1Se2LrTKD) og mod Brøndby 2 uger senere (https://t.co/oz3o3txIIK). Så det var første gang så mange 18-årige vandt en kamp 🙃

— Kristian Hougaard (@kghougaard) October 31, 2021
Most important thing of all: We won
Fielding seven home-grown talents is an achievement in itself. But the fact the Lions also won the game speaks volumes of what the Talent Department is producing right now.
"It's about winning matches, not about just bringing in as many young players as possible," says head coach Thorup. "We bring them because we always try to field the team that we believe is the strongest possible to win the specific match, based on the opportunities we have available."
>> Wind: Great having youngsters in form
F.C. Copenhagen's Talent Department
FCK have never before had so many players from the Talent Department on the field in the same match. This includes the period when the Talent Department was called the School of Excellence, which was what it was first called when established in January 2009.
However, the club have fielded players of this number from our collaboration with KB and B1903.
FCK had seven 'self-developed' players on the field in a cup match against Viby IF on 26 September 2018: Mads Roerslev, Niklas Vesterlund, Jacob Haahr, William Kvist, Carlo Holse, Ahmed Daghim and Mohamed Daramy.
What's more, with this broader definition, there were eight 'self-developed' players in a cup match away to Thisted on 20 September 2006: Benny Gall, Nikolaj Hansen, Hjalte Nørregaard, Jacob Neestrup, William Kvist, Jeppe Brandrup, Martin Bergvold and Martin Bernburg.
Even further back in history there are examples of more FCK teams built from KB and B1903 products. In a Superliga match at Odense on 17 April 2000 we had Karim Zaza, Bo Svensson, Kim Madsen, Piotr Haren, Kofi Dakinah, Hjalte Nørregaard, Mads Westh and Thomas Kjærbye all featuring.
And there are probably many more examples going back into the 1990s when players such as the Johansen twins, Lars Højer, Diego Tur, Christian Lønstrup, Morten Falch and others, who came up through the youth departments at either KB or B1903.