F.C. Copenhagen season tickets and subscriptions for 2021/22 
F.C. Copenhagen season tickets for the 2021/22 campaign are now on sale for new fans wishing to experience the atmosphere and passion of Parken Stadium.
FCK is a welcoming club located in the heart of Copenhagen and we have numerous ways in which you can sample elite-level sporting action at Scandinavia's biggest football club.
Of course, what with social distancing due to Covid-19 there are many challenges ahead for all of us. But to have fans back in Parken and hear the noise coming from Sektion 12 and the C Stand is something we cannot wait to experience.
We expect access to all matches to be at full capacity in 2021
The club expects all season card holders and subscribers in the 2021/22 season to be offered space for every game (without registration for matches), and that we will have full capacity by the autumn.
See below for the various options and prices for each section of Parken Stadium here: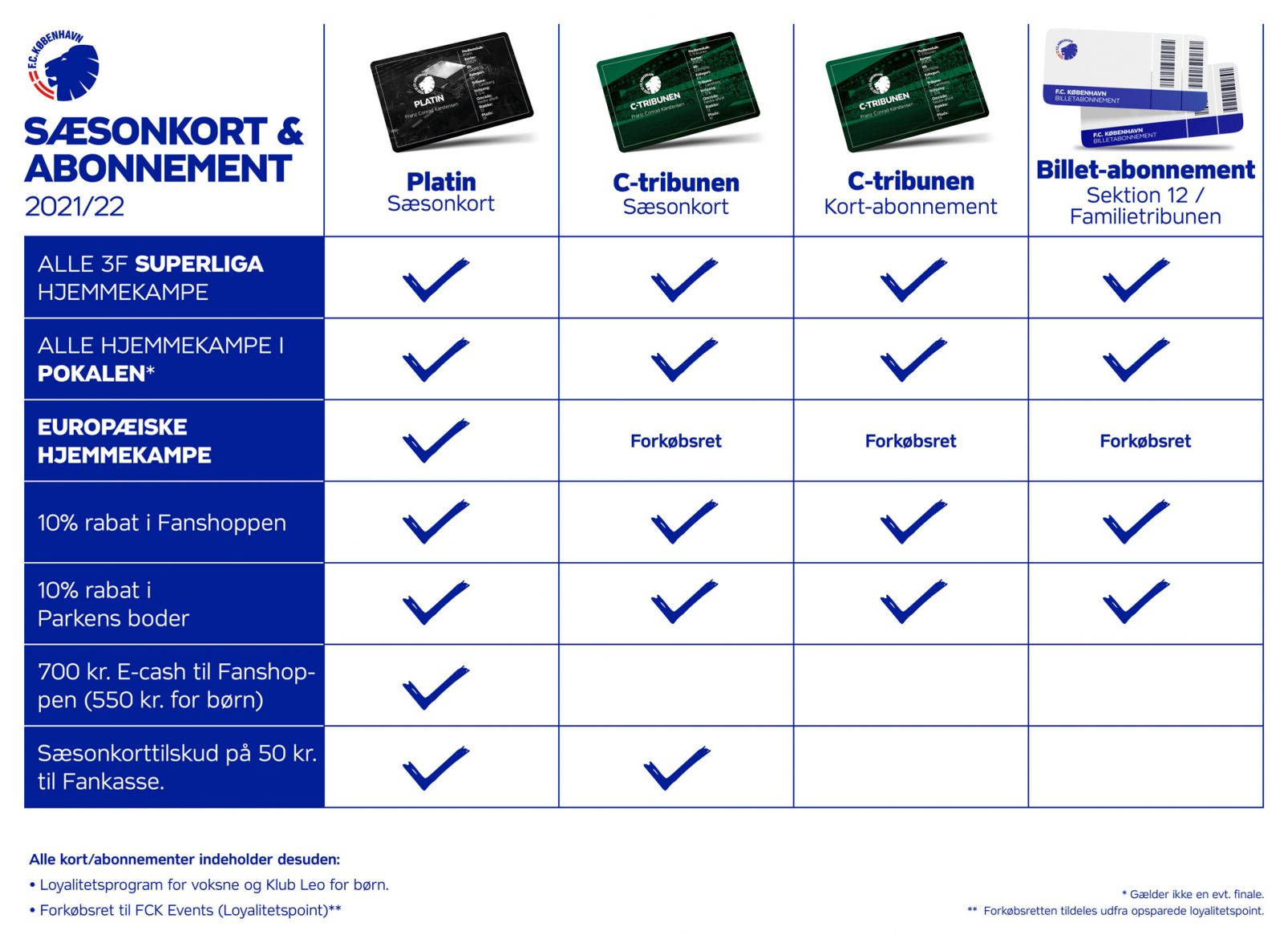 Which stand is right for you?
F.C. Copenhagen has room for all types of people and ways of enjoying football. You could choose to buy a season ticket or subscription for the Family Stand, or perhaps opt to join in with the vocal Sektion 12 behind the home goal? You can get season tickets and subscriptions to any stand and be part of the atmosphere that's right for you.
Lower C - The Lower C stand runs the length of the Parken pitch and is the place to watch football amongst the widest variety of Copenhageners anywhere in the city. The Lower C is an iconic stand that has passionately supported the team since 1995.
>>> See the possibilities of getting your permanent place on Lower C
Sektion 12 - Behind the home goal is Sektion 12, where the most vocal and active supporters watch games with banners, flags and other signs of support. Sektion 12 generates the atmosphere and supports the team hugely. Get ready to sing along and create some noise!
>>> See the opportunities to become a regular part of the fantastic atmosphere at Sektion 12
Family Stand - If you have kids then the Family Stand is the perfect place to watch games safely and comfortably. There is always entertainment for the youngest FCK fans with autographs, selfies, the Fanzone, competitions and other cool activities available, as well as the opportunity to dine in the exclusive Klub Leo Lounge.
>>> See the opportunities to enjoy a day out in the Family Stand
Upper C - The Upper C offers the best overview of Parken Stadium. This is where plenty of passionate FCK fans who appreciate the stadium's best view sit and enjoy a good game of football.
>>> See your options for securing your permanent place in the Upper C