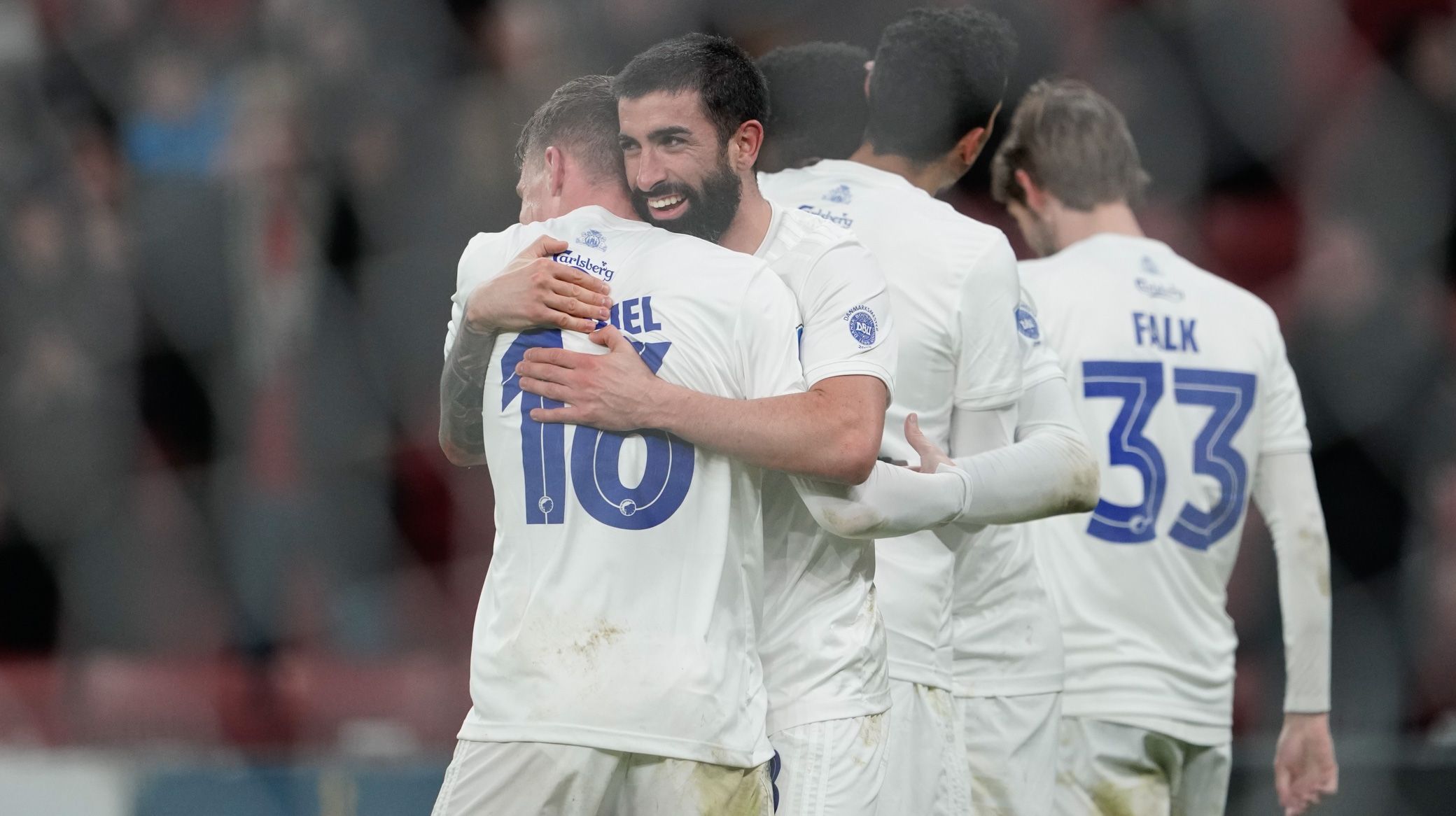 Lars Rønbøg, Getty Images
3-2 efter dramatisk afslutning
01/03 2020 19:56
N'Doye måtte udgå af opvarmningen og blev erstattet af Daramy, men vores offensiv skabte alligevel tre store chancer i de første 20-25 minutter. Pep Biel og Santos kunne dog ikke overliste Jakob Rinne i AaB-målet, og Falk og Daramy havde også behjertede forsøg uden at finde vej til netmaskerne.
Defensivt stod vi også bundsolidt, og AaB blev ikke noteret for en eneste afslutning før pausen.
Efter pausen fortsatte vi dominansen, og efter ti minutter gik der endelig hul på bylden, da Santos headede et perfekt Oviedo-indlæg i mål. Bare to minutter spillede Daramy Pep Biel helt fri, og spanieren kvitterede ved at sende bolden i netmaskerne.
Nu var der tale om ren opvisningsstil, hvor angreb efter angreb bølgede ned mod de rådvilde nordjyder, og midt i halvlegen gentog Santos sit første mål, da han pandede et indlæg fra Daramy ind til 3-0.
Det fik dog AaB i gang, og pludselig blev det lidt mere spændende, end man havde regnet med. Lucas Andersen reducerede små tyve minutter før tid på et fornemt frispark nogle meter uden for feltet, og et kvarter før tid blev det 2-3, da Iver Fossum styrede et indlæg fra Lucas Andersen i mål - selv om det i første omgang lignede, at Zeca uheldigt styrede den ind.
Siden tog vi lidt af trykket, og Daramy havde en stor mulighed for at gøre det til 4-2, men langt inde i overtiden måtte Kalle frem med en fænomenal redning for at forhindre en helt fri van Weert i at stjæle det ene point - men vi holdt stand!
Onsdag kl. 18.30 i Aalborg mødes de to hold igen i kvartfinalen i Sydbank Pokalen, og herefter har vi hjemmekamp igen næste søndag, når AC Horsens kommer til Telia Parken kl. 16.00.