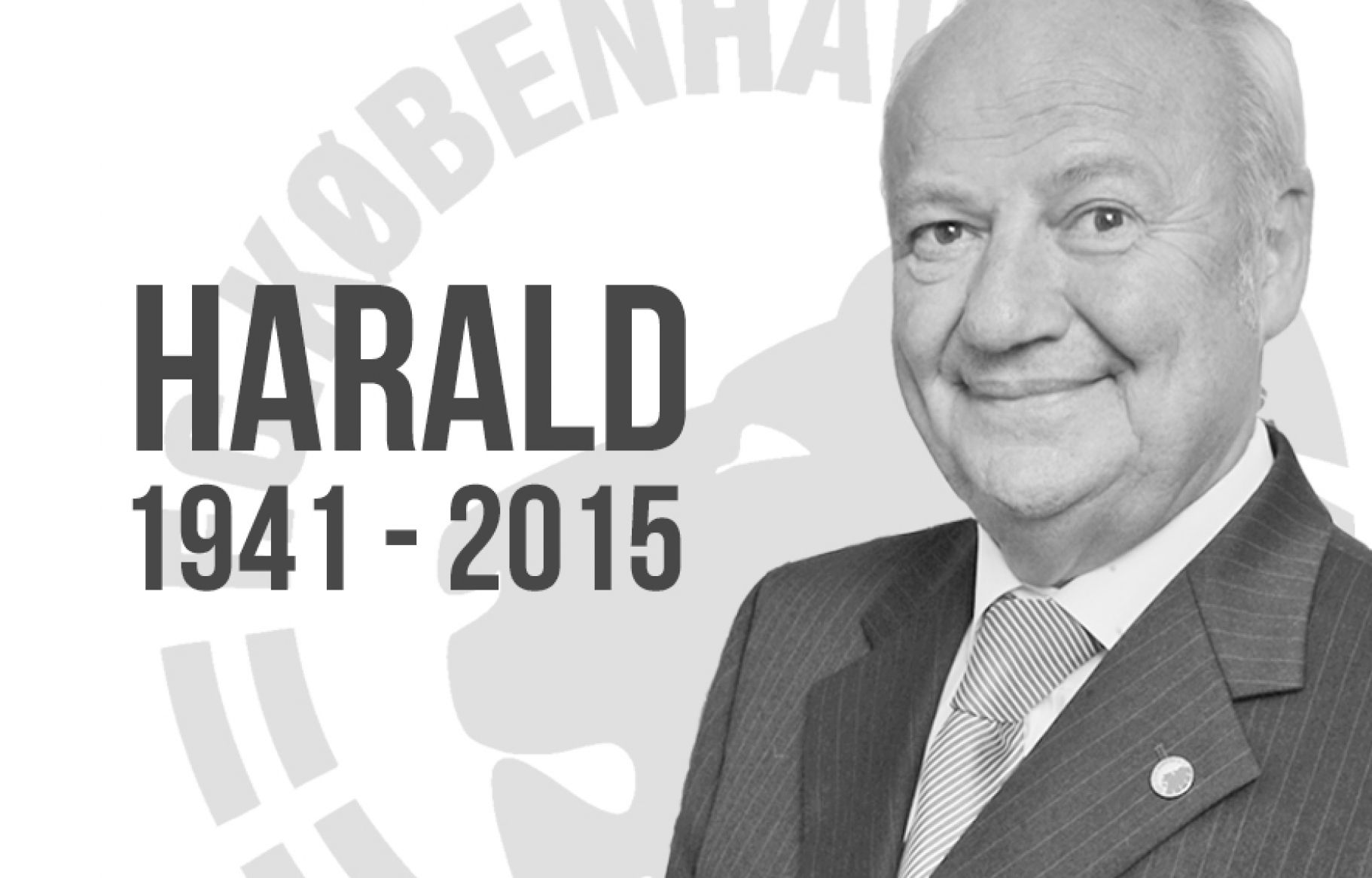 FCK.DK
Harald Nielsen
Harald Nielsen var med til at stifte F.C. København i 1992 og arbejdede siden som bestyrelsesformand fra 1992-97, hvorefter han fortsatte som menigt bestyrelsesmedlem til 2006. Her udtrådte han af bestyrelsen på generalforsamlingen og blev samtidig udnævnt til klubbens første og eneste æresmedlem. En betegnelse, klubben ikke længere anvender.
I 2014 blev Harald protektor, da F.C. København etablerede Legends Club, som er klubbens fornemmeste udmærkelse til at markere, at en person har ydet en helt ekstraordinær indsats for klubben.
Harald afgik ved døden den 12. august 2015 efter længere tids alvorlig sygdom og blev blandt andet hyldes ved F.C. Københavns efterfølgende hjemmekamp mod AGF. Han efterlod sig hustruen Rudi og to børn.

Med sit altid positive væsen, sin arbejdsomme indsats og som en af sportens helt store gentlemen satte Harald sit tydelige præg på klubbens udvikling og identitet.
Inden sit virke i F.C. København var Harald i 1960´erne en af verdens bedste fodboldspillere med en flot karriere i Italien for Bologna, Inter, Napoli og Sampdoria. I 1959 blev han den hidtil yngste debutant på det danske A-landshold, hvor han opnåede 14 landskampe og scorede 15 mål, inden han blev afskåret fra at spille på holdet, fordi han blev professionel i Italien.  
I 1978 var Harald Nielsen en af drivkræfterne bag indførelsen af betalt fodbold i Danmark. Siden fortsatte han med sine visioner i F.C. København og blev i 2010 optaget i Fodboldens Hall of Fame.
I forbindelse med at Harald ville være fyldt 75 år den 26. oktober 2016 blev "Harald Nielsens Plads" indviet få meter fra der, hvor han begyndte sin fodboldkarriere – i fødebyen Frederikshavn foran det lokale stadion og sportshallen Arena Nord.