Mikael Antonsson til F.C. København
21/06 2007 12:29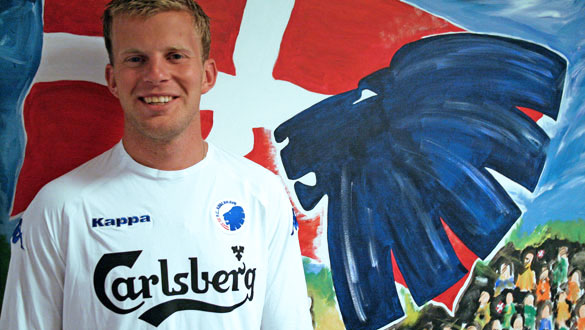 Mikael Antonsson - eller 'Anton' - i sin nye spilletrøje
Foto: Daniel Rommedahl / © F.C. København
F.C. København har i dag indgået aftale med den svenske forsvarsspiller, Mikael Antonsson, der kommer fra den græske topklub Panathinaikos FC.
Kontrakten mellem F.C. København og den 26-årige Mikael Antonsson løber i 4 år fra 1. juli 2007.
Den 189 centimeter høje Mikael Antonsson kom i 2006 til Panathinaikos FC efter to sæsoner i Austria Wien. Før dette repræsenterede han IFK Göteborg i Allsvenskan. Han har i de senere år været en fast del af det svenske landsholds bruttotrup, og han har indtil nu opnået 3 landskampe for Sverige.
- Vi har haft øje for Mikael siden hans tid i IFK Göteborg, og han er en ideel type til vores hold. Jeg er sikker på, at han bliver et stort aktiv for os, siger sportschef Carsten V. Jensen, mens Ståle Solbakken uddyber:
- 'Anton' er en spiller jeg har fulgt i meget lang tid. Han har et stort potentiale, er hurtig og vil fungere godt i vores forsvarskæde. Jeg ser frem til at have ham i truppen, siger F.C. Københavns cheftræner.
Mikael Antonsson siger selv om skiftet til de danske mestre:
- Jeg glæder mig utrolig meget til den nye udfordring og har kun hørt og set godt om F.C. København. Jeg havde flere tilbud, men så de største udfordringer og muligheder i FCK. Det er ikke kun Skandinaviens største klub med en stor tilhængerskare, men også en stor klub i Europa, og jeg ser frem til mange spændende kampe – især ude i Europa.
F.C. Københavns bestyrelsesformand, Flemming Østergaard, er særdeles tilfreds med købet af Mikael Antonsson:
- Vi står foran nogle vigtige kvalifikationskampe til UEFA Champions League, og vores naturlige målsætning er at komme mindst lige så stærke ud af transfervinduet, som vi gik ind i det. Med købet af Mikael Antonsson er den første vigtige brik i den ambition faldet på plads, siger han.