Mackan træner!
21/03 2007 16:56
Med ni mænd væk med diverse landshold og et par skader i truppen, var der kun elleve mænd til rådighed for Ståle Solbakken til dagens to træningspas på Nummer 10.
Den store positive nyhed for FCK-fans (og de blå/gule fra Sverige!) var, at Marcus Allbäck trænede med resten af truppen. Dagens første træning startede med en hård omgang højintensiv træning med positions- og intervalspil i et lille område, og træningen sluttede med spil til to mål.
Det var en meget tilfreds Marcus Allbäck som FCK.DK fangede efter træningen:
- Det var hårdt i dag, men jeg føler at det går godt. Det kan godt være at jeg mangler 15-20 procent, men jeg kan sagtens være med til træning, selvom knæet stadigvæk er lidt ømt. Jeg vil gerne deltage i næste uges vigtig landskamp for Sverige, men jeg vil selvfølgelig ikke spille hvis jeg ikke er 100 procent klar, sagde Mackan til FCK.DK.
Marcus rejser til London i morgen for at mødes med det svenske landshold som spiller mod Nordirland næste onsdag.
Tobias Linderoth er også i kraftig fremgang og trænede i dag sammen med klubbens fysiske træner Anders Storskov. Tobbe var i godt humør - som sædvanlig - og han kan mærke at det går fremad, men han er stadigvæk lidt usikker på hvornår han vil være klar til kamp.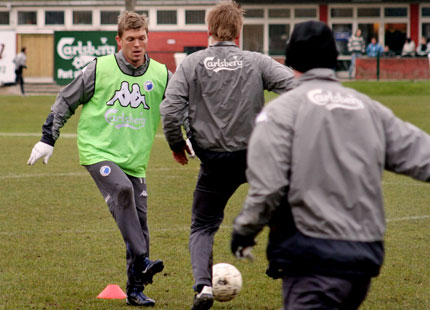 Marcus Allbäck ved dagens træning...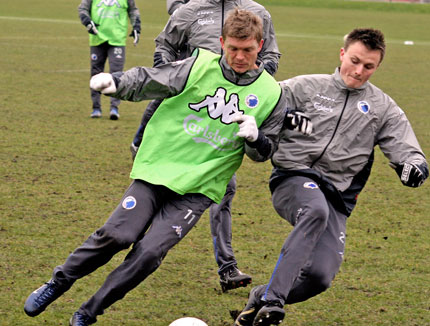 ...og han gik til den!
Fotos: Charles Maskelyne / © F.C. København