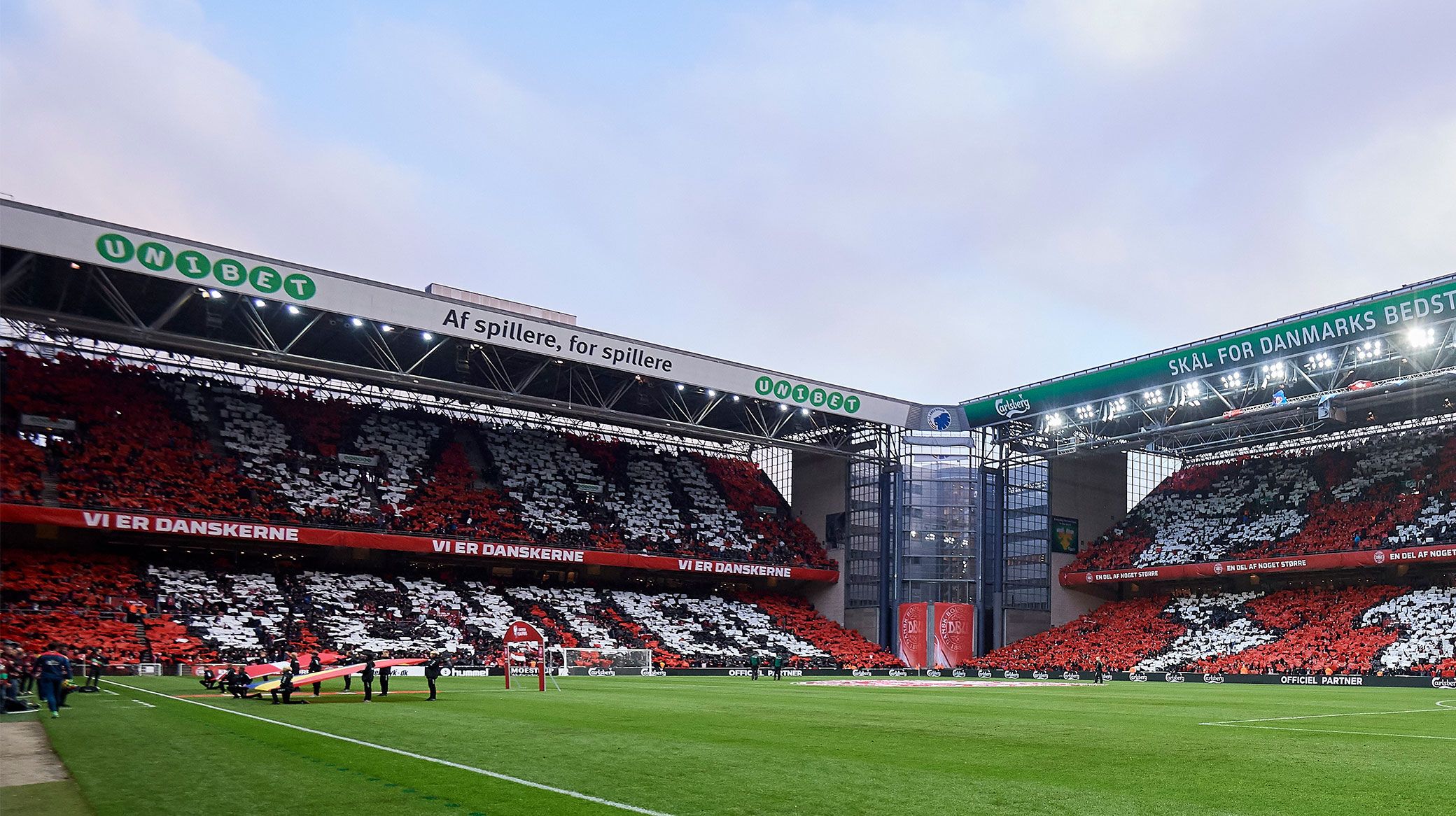 Lars Rønbøg, Getty Images
Watch Denmark vs Peru at the World Cup in Telia Parken
14/06 2018 12:09 - Updated: 13/06 2018 18:00
Denmark vs Peru will be shown live on the big screens at Telia Parken, Denmark's national stadium and home of FC Copenhagen, on Saturday, June 16.
Entry for the event is free to all fans but there is a capacity limit.
The match kicks off at 18:00 and football fans wishing to watch Denmark vs Peru live are advised to note the following:
TICKETS
Tickets are free but capacity is restricted. There are 20,000 spaces available on the pitch for the game, and 6,000 in the stands.
OPENING TIME
Gates open at 14:00 on Saturday, June 16.
ACCESS
Entrance for seats in the Carlsberg (C) Stand are on Øster Allé.
Entrance for on-pitch fans are via the Unibet (B) Stand, B2 and B8 and the old tunnel entrance in the Imerco (A) Stand, A6A.
PRACTICAL INFORMATION
The pitch is a standing area and you can take blankets, but not collapsible chairs. You can sit on blankets as long as there is room.
Telia Parken is a non-smoking area, but it is possible to go outside the stadium and smoke.
The roof is on at Telia Parken. Umbrellas may not be brought into the stadium.
BIG SCREEN
The match will be shown on a huge 22 x 12 metre (264 square foot) large screen in extra sharp TV quality Ultra HD / 4K.
MERCHANDISE
There will be two merchandise stalls on the pitch, where you can buy a large selection of Denmark merchandise.
FOOD AND DRINKS
Telia Parken's many stalls and bars sell beer / water / shots and food. It is not allowed to bring food and drinks yourself.
SKIP THE QUEUE WITH FAST TRACK
You can skip the queue at the Carlsberg (C) and Unibet (B) stands by ordering food and drinks via the Telia Parken Live app (and pay via MobilePay, and you can easily pick up your order in the Fast Track box).
Note that Fast Track is not possible in the booths on the pitch.
Read more about the app and download it here
PARKING
See the general information on the Telia Park website here.
ORDER AND SAFETY RULES
It is a good idea to read the Telia Park Rules of Procedure, which will ensure the best possible experience for everyone. It can also answer some question about what to bring and not bring.
Read the Rules of Procedure here
Violations may result in expulsion or other sanctions.