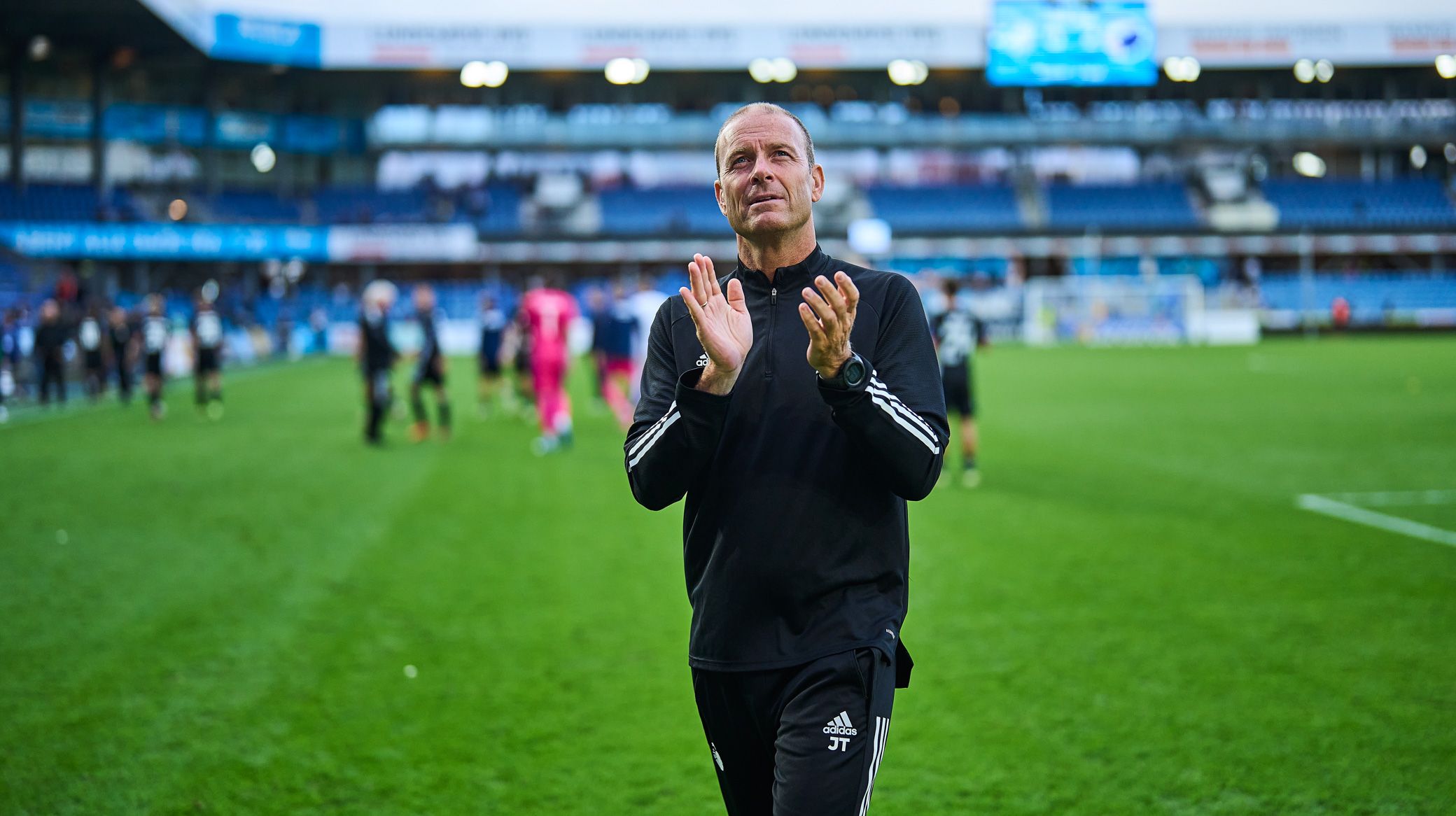 Lars Rønbøg, Getty Images
Thorup: We have a secure foundation
14/09 2021 10:50
F.C. Copenhagen head coach Jess Thorup expressed his delight at the Lions' 2-0 win over Randers on Sunday that ensured the unbeaten start to the season wasn't interrupted by the international break.
Goals from William Bøving and Jens Stage either side of half time earned FCK three points and maintained top spot in the Superliga.
"We had talked about how important it was to get back to the momentum we had before the international break, but we also knew that Randers have been motoring along well this season and that it is a difficult place to play," Thorup said.
"Against this backdrop, I am very pleased that we both won and kept a clean sheet. We took the lead early on but then gave too much initiative to Randers.
"Even though at times we were pushed back, we kept a cool head and did not panic, because we had to defend for longer than we wanted to. It shows that we've found security in our foundation that has built up amongst the player.
"We can and must still get better at defending, but we kept them from any major chances and therefore, as I said, I am very happy with this first match after the break, where we have only had a single training session with the whole squad on Saturday."
Thorup also spoke about the development of 18-year-old Bøving on the flank.
"I'm also particularly impressed that we came here and played like we do with so many young players, and it was great to see William Bøving score his first Superliga goal," he said.
"He should not be seen as Mohamed Daramy's replacement, because his strengths lie in completely different areas. But we have given him a lot of playing time in the autumn, and he has lived up to that confidence. He also came back from the break with extra confidence from his trip with Denmark's U21s, where he scored the winner (against Kazakhstan U21s).
"Just as Bøving and several others have had to learn to play in a shape through matches, so it was also important that Ísak Jóhannesson got his first minutes on the field, so he can quickly develop those relationships with others and learn the way we play."
Next up for FCK is a UEFA Europa Conference League group clash at Slovan Bratislava on Thursday.
"Now a new, difficult away game awaits on Thursday in Bratislava, but I understand that the fans are already looking forward to the big top-of-the-table clash against FC Midtjylland in Parken next Sunday," said Thorup.
"It will be great to go into a hopefully completely Parken and play against such a huge backdrop!"