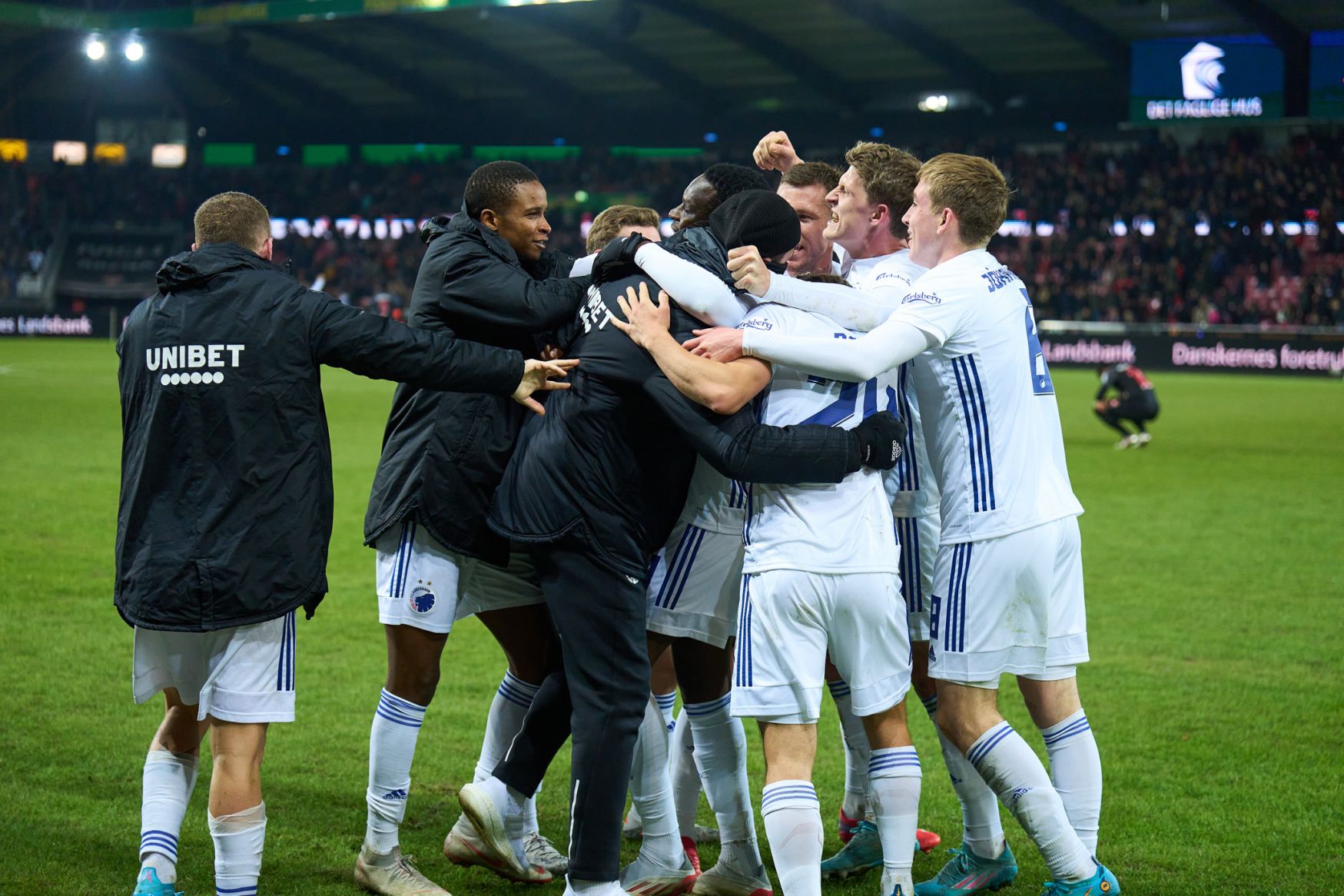 Lars Rønbøg, Getty Images
Thorup: I didn't see Babacar's winner!
14/03 2022 10:03
F.C. Copenhagen head coach Jess Thorup admits he didn't see Khouma Babacar's winning goal in the 1-0 victory over FC Midtjylland on Sunday – because he was too cross with the striker for missing his first shot.
Babacar scored with the last touch on the game when he leaped highest to head home a ball that had ballooned in the air after his first effort was blocked.
Thorup initially turned back to the bench assuming the chance was over – only to then be swamped by his celebrating staff a second later.
Asked if he saw the goal, the head coach said: "No, I had just turned around in annoyance over Babacar's first shot, which had hit Daniel Høegh. But I then heard the reaction from everyone else and then the celebrations broke out.
"It was a huge finish to an even game, where I think we delivered a solid performance, but we would have liked to have been on the ball more and created more chances. Compared to Thursday (against PSV), when we created a lot of chances, we lacked that last link today in the timing of our play, but we had faith until the very end."
FCK are still yet to concede in the Superliga since the winter break and are now on a four-game winning streak in the league.
The result over FCM moves the Lions five points clear of second-place Brøndby. And Thorup was all praise for his substitutes – Elias Jelert, Ísak Bergmann Johanesson, Lukas Lerager, William Bøving and Babacar – who helped turn the game.
>> Watch: Babacar's winning goal
"For the fourth game in a row, we brought in players from the bench, who helped force the result by sprinting and applying pressure in the 94th minute and benefitting from that effort. It is again a testament to the fantastic attitude we have in the whole squad," said Thorup.
"We had a tough match (against PSV at home) on Thursday, but we never use that as an excuse, because that's how we want it with European and domestic matches. We arrived with great faith in our work today, and especially the first 35 minutes of the first half was good.
"This match does not determine the championship, and I still do not want to dwell so much on our position and that of our closest competitors. There are 11 matches left, but of course we have put ourselves in a favourable position.
"But we look first and foremost at just our own performance, and now we have to go home and evaluate the match, and then we have an important game again on Thursday, both for us for Danish football."
FCK vs PSV tickets selling fast
The club expects Thursday's UEFA Europa Conference League last-16 second leg with PSV to be a sell-out in Parken Stadium.
Therefore if you want to buy F.C. Copenhagen tickets then we advice you do so well in advance of the game.
If you haven't visited Parken before and would like to experience a European night under the Copenhagen lights, check out our How to Buy F.C. Copenhagen Tickets guide here.