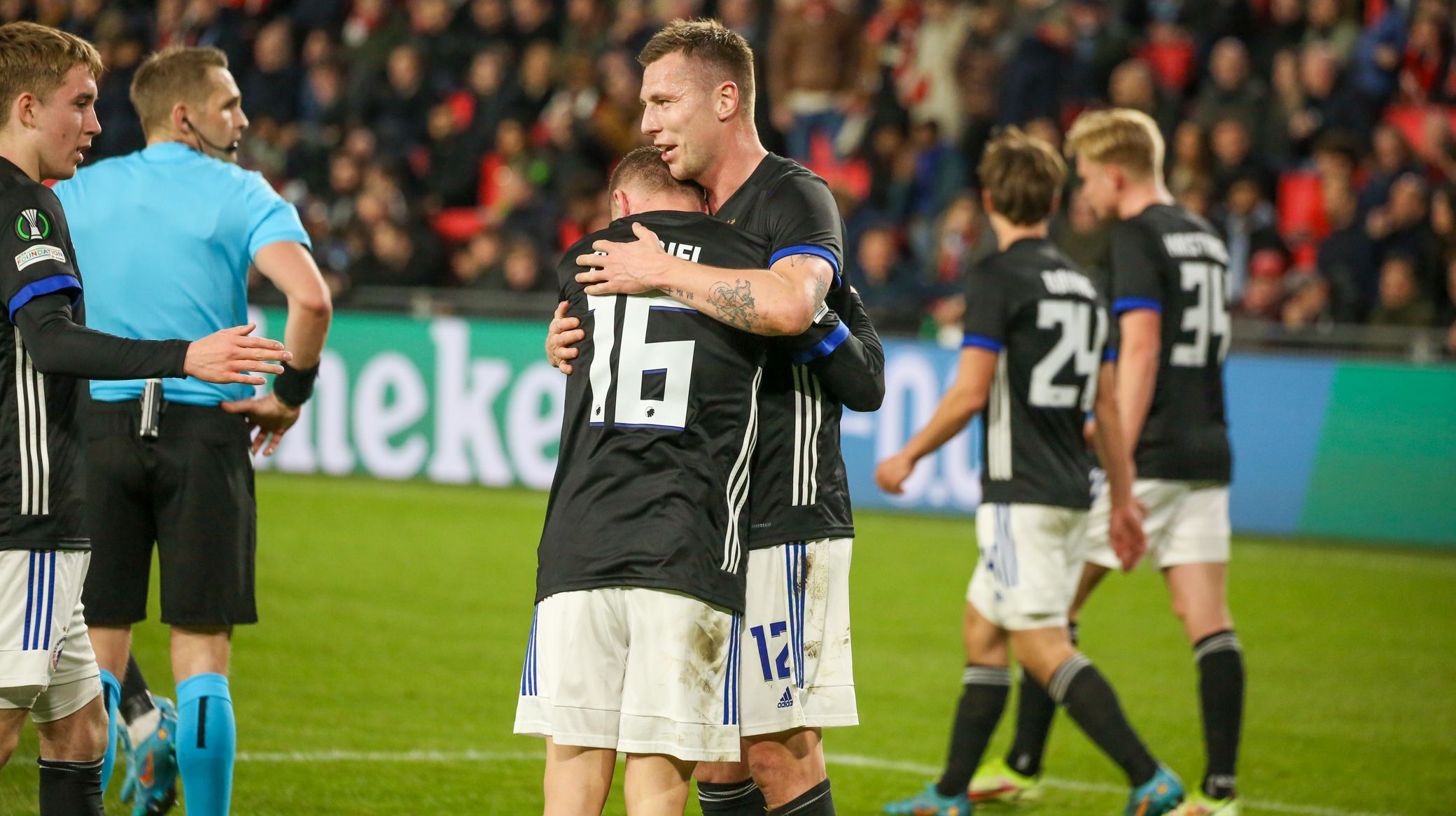 Kristoffer Skadhauge, FCK.DK
Thorup and Boilesen react to 4-4 draw at PSV
11/03 2022 00:44
F.C. Copenhagen head coach Jess Thorup says his troops were "disappointed" not to come away with a win in Eindhoven despite Thursday's valiant performance ending in a 4-4 draw with PSV.
The Lions led 3-1 at the break and had a number of chances to go ahead when the scores were level towards the end.
The result means everything is still to play for in this UEFA Europa Conference League last-16 clash when FCK host PSV in Parken next Thursday.
And Thorup was delighted with how the boys performed against the Eredivisie's second-placed team.
"What is important for me is what we talked about inside the team, which was the get a result," says the boss.
"We wanted to make the game next Thursday a viable possibility to get through to the next round. That's why we are here and I think the guys on the pitch did an amazing job, so I can't wait for next week where the second leg will be played in Parken. I think we have a good opportunity (to progress)."
Goals from Ísak Bergmann Jóhannesson, Pep Biel and Lukas Lerager put the Lions 3-1 up at half time, before Biel grabbed a second after the break.
And Thorup was delighted with how his team began the game.
"If you look back at the first half I think we played amazing," he says. "Every time we had the ball we played with courage.
"We outplayed PSV and we created the two chances that everyone is talking about. Despite not having some players we scored four goals, and that is an amazing job that the guys did on the pitch.
"It doesn't matter who we have – on the pitch they know exactly what to do and I think we delivered the right gameplan today.
"The players were actually a little frustrated after the game in the dressing room. To draw 4-4 in PSV and to play an amazing game… but we were that close to winning and that's of course why we had hoped for a little bit more at the end."
FCK defender Nicolai Boilesen played at PSV's rivals Ajax for seven years earlier in his career, and admits the 4-4 draw in the Philips Stadium was one of the weirdest games of his career.
"It's definitely top three. I don't know it its the strangest but it's definitely up there. A crazy game," says Boilesen.
"The first half, to get a goal and then two more… to have the ball and all that possession, and enough time on the ball and creating more chances at the end to win the game.
"As a defender you don't want it to be 4-4 but I am proud of my teammates. They fought really well and they had courage throughout the whole game. Next Thursday is going to be wild."